INDIANAPOLIS – Heading into 2014 in New England, the trio of starters at linebacker in the Patriots 4-3 front would seem to be pretty much set.
Having drafted Dont'a Hightower in the first round two years ago and Jamie Collins as the team's top pick (coming in the second round) last spring, those two should join returning Pro Bowler Jerod Mayo as coordinator Matt Patricia's second line of defense. Hightower would seem destined to fill Brandon Spikes job in the middle, assuming the veteran departs via free agency as expected.
It gives New England a corps of young, versatile, athletic players to help counter the many diverse offensive attacks they'll face on a weekly basis.
So it's unlikely that Bill Belichick and Nick Caserio approach May's 2014 NFL Draft with linebacker at the top of New England's needs. But adding more athleticism, depth and special team contributors at the spot certainly can't be ruled out, especially considering that Belichick has taken at least one linebacker in 12 of his 14 drafts in New England, and hasn't gone without taking at least one in a draft class since 2004.
The 300-plus prospects on hand at Lucas Oil Stadium this week for the Scouting Combine includes 35 linebackers, many of whom made their way through the media workroom of the Faegre Baker Daniels Club on Saturday.
According to NFLDraftScout.com, some 30 outside linebackers could end up being selected on draft weekend, while another 17 or so inside 'backers might get the draft day call.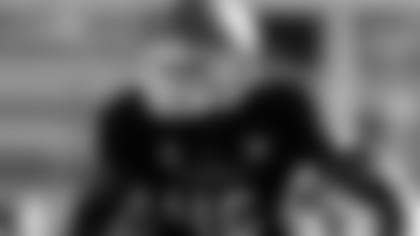 Generally the higher profile of the linebacker spots, the outside linebackers group in this year's class includes a guy that NFL Network analyst Mike Mayock says he would take with the No. overall pick – Buffalo's Khalil Mack (6-3, 248).
"Mike Mayock's the man," Mack said with a big smile. "I want to prove him right."
Mack played a hybrid role in Buffalo's 3-4 defense that allowed him to pile up production. He finished his career with 28.5 sacks while setting FBS records with 75 tackles for a loss and 16 forced fumbles. Despite coming out of a lesser conference like the MAC, Mack is considered a future stud playmaker at the next level as well.
Mack clearly still has a lower level college football chip on his shoulder despite making plays against teams like Ohio State. He also remembers not too long ago when an NCAA college football video game came out that gave him a 46 – his uniform number – for a player rating, and a 36 for speed. Those pretty low ratings are out of a best score of 100.
Now he's likely going to be a top-five selection at the very least.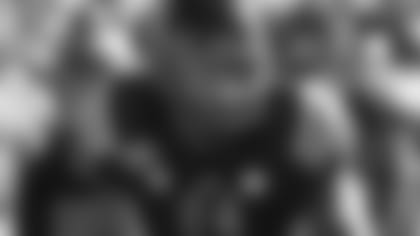 Another outside guy who could go as high as the top 10 picks come May, and who isn't even conceding the No. 1 overall pick to Mack, Jadeveon Clowney or others, is UCLA's Anthony Barr (6-4, 255). The star defender converted from running back midway through his career with the Bruins in 2012 and flourished. Many think Barr could be a fit in either the 4-3 or 3-4, after combining for 23.5 sacks and 41.5 tackles for a loss over his final two seasons terrorizing the Pac 12.
"The transition was pretty smooth, honestly," Barr said. "Difficult at first. I think moving backwards, going back in coverage, was something that was new to me. But now I feel comfortable with that. Just sort of getting used to the position. It's still sort of new to me in a sense. It's exciting. If I continue to work, the sky's the limit."
Barr hopes that he may run even better than the 4.4 he reportedly timed at UCLA, but clearly the confident athlete is focused on selling to the world that his best days as a dominant defender are ahead of him as he masters the skills of linebacker.
"It's still new to me. If a team gets me, if they like what they see they're going to love what they get because I'm just going to continue to get better," Barr said before saying he'd one day hope to be talked about with the likes of Von Miller, Aldon Smith and other NFL stars on the edge of the defense.
Two other outside linebackers who might make a bid to go in the first round are Ohio State's underclassman Ryan Shazier and BYU'sKyle Van Noy (6-3, 243).
Van Noy is one of the many linebackers at the Combine selling his versatility this week, both in terms of scheme (4-3/3-4) and position (inside/out). He's also guy with an impressive record for making plays. He forced 11 fumbles in his career and scored five touchdowns.
"I feel like I've done a lot of things that people around me haven't done," Van Noy said. "I scored five career touchdowns playing defense, so I feel like I'm an offensive player on defense. I want to get the ball in the offense's hands, but also have the aggression to play linebacker. I feel like every time you get a sack, you try to get the ball out. Quarterbacks, some can't see you from the backside or some are looking down field when you're coming from the front side. I feel like getting the ball is key. At the end of the day it's all about getting the ball."
The next tier of potential talents includes Utah's Trevor Reilly (6-5, 255), Florida State'sTelvin Smith (6-3, 218), Arizona State's Carl Bradford (6-1, 243) and Georgia Tech's Jeremiah Attaochu (6-3, 252).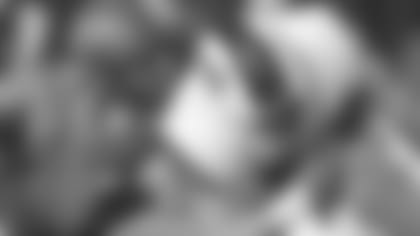 Reilly is a really interesting guy in that he's 26 years old, married and has two kids. He spent four years out of the game on Mormon mission, but is now seen as a long, versatile athlete for the edge of a defense who had 100 tackles, 8.5 sacks and three forced fumbles in his best season last fall.
But Reilly knows his age may be an issue.
"I'm sure it's on the minds of some teams," said Reilly, who's recovering from minor knee surgery. "One thing, though, I didn't do anything for four years. My body, I like to think, is only 22. I worked construction for a year, I went on a church mission for two years. It wasn't like I was playing minor league baseball, or doing something else. I wasn't playing sports."
He joked that sometimes he feels like he's 40 when he's around the younger players at the Combine. But as a captain for Utah, he learned to interact with all the players.
Reilly also brings a certain maturity and level-headedness due to the fact that he's had to deal with his youngest daughter, 17-month-old Shayn, battling cancer. She's doing well after having a kidney tumor removed.
He's worked through enough real life issues to know that football and pressures of an event like the Combine can be put into perspective.
"You know, I lost a brother when I was 13, he was 6. Looking back at that, it could always be worse," Reilly rationalized. "That's how I look at life. My daughter's still here. As long as she's here, life could always be worse. It's good to have a positive attitude about it. There's nothing I can do about it, except be positive."
According to NFLDraftScout.com as many as 20 outside linebackers could go in the fourth through seventh rounds of the draft, an area that might pique the Patriots interest in terms of depth and special teams work.
That area showcases guys like Notre Dame's Prince Shembo (6-1, 253), a couple Boston College products in Kasim Edebali (6-2, 248) and Kevin Pierre-Louis (6-0, 222) and South Dakota's Tyler Starr (6-4, 249), among many others.
Shembo is a high-effort guy with athleticism, that combination led to 17 quarterback hurries last fall, most by an Irish defender since 2004, as he played primarily as an end. Shembo certainly is more proven as a pass rusher than in coverage, but is confident he can excel in that area with more practice.
"I just want to showcase my athleticism," he said. "I think my biggest strength is my inner strength and that carries through to my outer strength."
From a Patriots perspective, assuming the former second-round pick Spikes moves on, there could be a need for depth at inside linebacker, although the team did draft Steve Beauharnais late a year ago.
Alabama's C.J. Mosley is clearly the top inside guy in the class after strong career in Nick Saban's defense, and will likely be the only inside linebacker taken in the first round.
One of the next guys who might get picked come May is Massachusetts native and UConn four-year starter Yawin Smallwood (6-3, 236). Smallwood is more of modern day inside linebacker who was asked to cover and be more than a run stuffer for the Huskies. He notched his second straight 100-tackle season as a junior last fall, and showed the ability to make plays all over the field.
A former high school quarterback, Smallwood enjoys being the leader and voice of a defense.
"I'm an athletic Mike (middle linebacker)," said the self-proclaimed big Patriots fan. "I feel like I can cover the tight ends, the fast tight ends now. I feel that I can stop the run, make plays out there on the football field.
"I have a good IQ and a high motor."
And who does Smallwood follow in the NFL or try to pattern his game after in terms of modern linebackers?
"Jerod Mayo from the New England Patriots and also NaVorro Bowman from the 49ers," he responded quickly. "If you watch those two people on the field, they are always flying around. They're always around the football and that's something that I try and do as well. Besides that, those are great guys to look after on the field, they're great role models off the field."
The handful of inside linebackers slated to go in the middle rounds includes Wisconsin's Chris Borland (5-11, 245), Stanford's Shayne Skov (6-2, 245), Florida State's Christian Jones (6-3, 234) and LSU'sLamin Barrow (6-1, 229).
Like so many of the linebackers, inside or out, Jones is well aware that he'll likely have to earn a role on special teams before defense becomes part of the picture. He wouldn't have it any other way.
"I've been playing ever since I've been in high school," he said. "I played four years in college. It's something I'm used to. I'd be worried if I wasn't playing special teams. I'm expecting to play it when I get there. I think I have the right mindset so far."
He's also another versatile athlete who moved all around the front seven for the Seminoles. That might be something that is of value to NFL teams in the age of significant sub packages and unique fronts.
"I consider myself to be a versatile guy," Jones said. "I'm not too sure where teams want me – inside or outside. A lot of teams have different schemes. Whoever takes me is getting somebody unselfish who will play whatever they need me to play to help out the team."
Two interesting names to keep an eye on late in the draft in terms of inside linebackers are Michigan State'sMax Bullough (6-3, 249) and Iowa's James Morris (6-1, 240).
Bullough was the centerpiece of the Spartan's No. 1 defense, a two-time captain and leader on the field. He was supremely productive with 299 career tackles and 40 starts.
But he was also suspended last Christmas prior to Michigan State's trip to the Rose Bowl.
"I'm not discussing it right now, it's a personal issue, I'm moving forward from it, I made a mistake," Bullough said of the suspension for an unspecified violation. "I let down my teammates, I let down my coaches, I let down my family but right now I'm moving forward."
He said he's explained the situation with NFL teams and seems comfortable with how that played out in interviews.
"I've talked to the NFL teams, they all know what happened, the situation," Bullough concluded. "Moving forward, it's not going to affect my draft status whatsoever."
Moving forward Bullough feels like he can be a great team player and leader on defense just like he was for the Spartans prior to the controversial end to his college career.
"I think the most important thing is if you draft Max Bullough you're not only getting a football player, you're getting a leader," he said. "You're getting a guy who's been around success. If you look at our defense we've been top 3 in the nation the last three years and I've been a mainstay part of that — along with a lot of other guys and our coaches. In no way am I taking credit for that. But there's definitely been success around our program and I've been there for it. I think I make the whole unit better, I think I make the whole defense better. Not just being a playmaker and being out there, but I think I can make the whole team better."
Morris is well-rounded athlete who had by far his best season for the Hawkeyes as a senior when he had 106 tackles, 17 for a loss, seven sacks and four interceptions.
"If you had asked me before this year I'd say I didn't put a lot of stock in statistics, because I didn't have any," Morris joked.
Morris is also a National Football Foundation National Scholar-Athlete, a rare feat for a draft-eligible prospect.
"It means a lot," he said of the honor. "It's very humbling. I'm proud of it."
It would also mean a lot to Morris to hear his name called on draft weekend, a hope that all the linebackers in attendance this week at the Combine share.
Given the Patriots track record taking linebackers with great frequency over the years, even if not near the top of their picks, there is a good chance one of those guys will get the call to come to New England come May.