INDIANAPOLIS – The pass rush-needy Patriots traded fifth- and seventh-round picks to the Seahawks for edge player Cassius Marsh at roster cutdowns last September.
Little more than two months later, New England cut Marsh after he struggled against the run and offered little to the pass rush for the Patriots defense in his short-lived stint in Foxborough.
Marsh subsequently was claimed by the 49ers, where he recorded two sacks and a pair of forced fumbles over the final six games of the 2017 season. That resulted in San Francisco rewarding the four-year veteran last month with a two-year contract extension worth up to $7.7 million with $3.1 million guaranteed.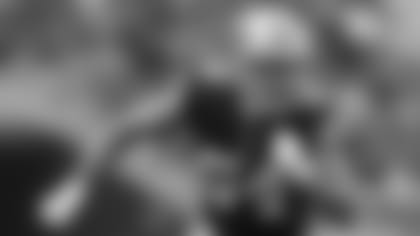 Thursday morning at the 2018 NFL Scouting Combine, 49ers GM John Lynch explained what he saw in Marsh to warrant the extension for a player who never found a way to settle into a role for a New England defense that was desperately undermanned on the edge of the front seven.
"I think he found an environment that No. 1 fit his skill set. We have that Leo position, an edge rusher," Lynch explained. "And everyone is looking for an edge rusher. And maybe it was a better fit for him in terms of the scheme. And then I think he just felt comfortable in our culture and in our locker room. He played well for us. When guys play well and we can see a future for them we're going to do our best to sign them. We did a deal that I thought was fair for him and fair for us and that gives him a lot of upside if he really performs. We think he has an opportunity to do that now. It's incumbent on him as a player to make that happen. We're pleased to have him as part of us moving forward."
While the Patriots continued to search for pass rushers throughout last season – including signing aged Steelers castoff James Harrison in late December to play a pretty significant role into the postseason – Lynch sees Marsh as filling that key role in San Francisco.
"He's also a great special teams player. He could play some Sam linebacker. But really we see him as an edge rusher," Lynch concluded.
For whatever reason, the skill never came to fruition in Marsh's short time in a Patriots uniform.