INDIANAPOLIS - Cam Newtonis a star. He's a great athlete. One day he may even be the icon he desires to be.
But is he a great NFL quarterback prospect?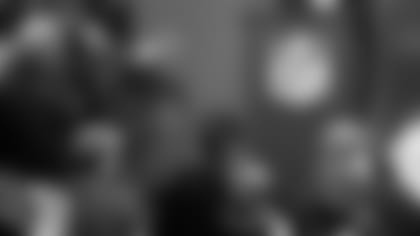 The answer to that final question will evolve in the coming days, weeks, months and years. But it took an initial step Saturday afternoon at the Combine when the Heisman Trophy winner, who led Auburn to a national championship in his only season at the school, took center stage in Indianapolis.
Having created a stir in recent weeks with his media-only workout and comments that he indeed wanted to be an "icon," Newton spoke to a packed house at the Baker & Daniels Club inside Lucas Oil Stadium, beginning by reading an opening statement that dealt with the "icon" mini controversy.
"First and foremost I understand that my obligation is to be the best possible football player that I can be," Newton read. "I know and believe that. The recent comments were made during the announcement of my new endorsement partnership. I was making the point that I want to be the best possible ambassador for them just as like I want to be best possible ambassador for whatever team I am lucky enough to play for.
"I'm excited to compete this week. And you will see me doing everything possible to become the best player I can possibly be. First and foremost, I'm blessed to be in this whole situation and I couldn't be in a better place right now than I am right now."
Later Newton mentioned the best players in the game in regards to what he hopes to be some day.
"Well, first off, the biggest thing for going into this whole transition into the NFL, I think, it preparation. I admire the guys like Tom Brady, Peyton Manning, who is a professional at what they do," Newton said.
"No offense to those guys, but they might not run the fastest 40, they may not jump the highest in this year's combine, they might not jump the farthest in the broad jump, but I guarantee you from what I've heard from their teams, you're not going to outwork them. They're in the film study or they're watching film before the offensive coordinator is watching film. So I respect somebody that treats their job they way they go about handling it each and every day."
As more questions began to come about his questionable past, Newton tried to nip them in the bud.
"I'm going to let you know right now what I did in the past is in the past. My sole focus is to perform at this year's Combine," Newton said. "I'm not going to entertain anything that happened in my past. I'm all about the future. I'm trying to prepare today to make my future as best as it can be."
Though there has been a string of solid first-round franchise QBs in recent years - Sam Bradford, Matt Ryan, Joe Flaccoand Mark Sanchez to name a few - it's still a very scary proposition to put the future of a franchise, and millions of dollars, in the hands of an unproven twenty-something. Especially one who's already had his fair share of issues dating back to his time as a backup at Florida on through an NCAA investigation into his recruitment to Auburn, and who comes from anything but a pro-style offense.
"Coach [Bill] Walsh told me in 1984 when I was picking up his dry cleaning that the hardest position to evaluate was the quarterback and it was even harder to coach," NFL Network analyst and former NFL personnel man Michael Lombardisaid.
"I think the time you spend with the players here and learn their work ethic and who you're bringing in to your locker room, that guy's going to be the face of your franchise if you pick him in the top 10, you better make sure he works hard, you better make sure he does all the things necessary."
Lombardi thinks that evaluation is especially difficult for Newton, who some believe could go off the draft board as high as the first three picks.
"I think the hardest thing now is the college game has moved further away from the pro game. The college offenses, Cam Newton's thrown what, 285 passes? In an offense that doesn't resemble anything in pro football," Lombardi said.
This weekend in Indy Newton is working to not only clean up some of the questions about his character, but also those about whether he has the physical and mental skills to be a franchise quarterback in the NFL.
"For me I'm just going to continuously keep working on my craft. And that's to become the best quarterback possible during this transition," Newtown said. "Obviously, everybody knows that Cam has been in a spread offense... I'm trying to be the best player that I can be."
The other marquee QB at this Combine is Missouri's Blaine Gabbert(6-5, 235), who appeared well-coached in his delivery of answers to media questions Friday at Lucas Oil Stadium.
Unlike Newton, Gabbert has decided not to compete in all the physical activities at the Combine. He'll only throw at his Pro Day on St. Patrick's Day, as many other recent QB prospects have done.
"It's been successful in the past," Gabbert reasoned. "Of course, Sam [Bradford] had his injury, so he was only going to throw at his Pro Day [last year]. But Matt Ryan, Matthew Stafford, these guys have only selected to throw at their pro day, and they've been extremely successful in doing that. It's more of a controlled atmosphere, you have a script. I'm not shying away from competition or anything, but I'm just throwing at my pro day and that's really about it."
Gabbert also discussed his decision to leave school early for the NFL Draft.
"It was difficult at first," he conceded "but at the end of the day, it became pretty black and white. After my bowl game, I sat down with my family and my coaching staff, and we made pros and cons for each situation. Leaving school early and coming back. The biggest thing that was important to me was finishing my degree out and I'm not very far away from getting my degree in finance. I'm going to finish that sooner or later, but this opportunity was too great to pass up."
Washington signal caller Jake Locker(6-3, 230), on the other hand, has been criticized by some for his decision to stay in school for his senior year because it may have hurt his draft prospects.
He doesn't see it that way, though.
"As a player and as a person, I'm a lot more prepared for this [draft] process," he told reporters. "Doing things like this, going through this process, and being comfortable going through it. I don't think I would have been as prepared for it last year. To be able to go out and go through the workouts and have confidence in what I was doing personally. I feel a lot better after having another year playing with the coaches that I did and the system that I did. I'm very thankful for that."
Baylor offensive lineman Danny Watkins(6-4, 310) has quite the story to tell. The 26-year-old Canadian (he hails from British Columbia) became a firefighter right out of high school because, as he put it, "that's what I wanted to do."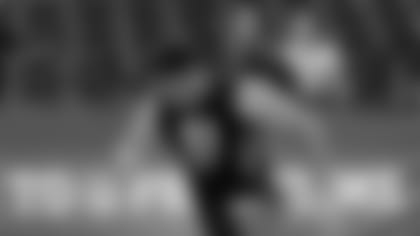 "I did that for four years," he explained, "and after I moved to a school in California to advance my career as a firefighter. I talked to the football coach there and after two years of playing football, I enrolled at Baylor for two seasons and things have taken off."
The affable Watkins was asked if his relatively advanced age for a rookie concerns him as he prepares to enter the NFL.
"Well I don't have arthritis..." he laughed. "I feel pretty good. I was one of the first guys out of my physical. I'm a little more mature than the other guys. I don't think it's a negative."
He did admit that he misses his former occupation.
"I do. I miss the guys. But I get the same satisfaction from working with football. Working with the same guys day in and day out."
Watkins wasn't done with one-liners. A former hockey and rugby player in high school, did he ever consider the NHL as a possibility?
"When you're 270 lbs. in the 12th grade," he replied, "there weren't many players in the NHL that size."
For Fresno State guard Andrew Jackson(6-5, 303), jokes about his historic name are commonplace.
"It comes up a lot, but I enjoy it," smiled the young man named for America's seventh president. "It's a good conversation starter. Sometimes I get some mixed reviews on it."
In high school, friends and teammates called him "Old Hickory," in honor of President Jackson's famous nickname.
"That one stuck," chuckled Jackson.
A Throwback You Won't Want to Throw Back
Owen Marecicwas a two-way star as a senior at Stanford, starting at both fullback and middle linebacker. Much like Bill Belichickreferred to Tedy Bruschias the perfect Patriot, now former Stanford coach and new 49ers boss Jim Harbaughcalled Marecic the perfect football player.
But now that Marecic - who cut his long locks in preparation for this week's Combine and will donate them to charity - is looking to make the jump to the NFL the throwback player is in Indy strictly as a fullback.
"I think I've felt most comfortable there. And I think that's how I project best, I believe, at the next level," Marecic said. "Blocking is what my responsibility has been on a team for years now, both high school and college. I love doing it. I take it very seriously. It's just my role on the team."
Marecic said that no teams have talked to him about being a two-way player, or even playing any defense, and that it's not even on his radar at this point.
"That's way out of my mind right now. I'm just focused on what I have to do here and what I have to do when I get back to school to train and have a shot," Marecic said, looking to show his athleticism in the running back drills. "I look forward to competing in every drill. I think that's the biggest thing, just the competition."
And he doesn't seem worried that not as many teams use a true, battering ram fullback in the modern NFL where hybrid players have taken over the role on many offenses.
"I think a fullback is a still a really important position in the NFL," Marecic said. "If not there, hopefully I can find a niche on special teams or something like that. Hybrid players, they're just football players. So hopefully if that's what I have to become hopefully I can transition to that."
One thing Marecic clearly doesn't lack for is intangibles. Not only a two-way leader on the field, the soft-spoken 248-pounder was a noted motivational speaker for his team.
"With coach Harbaugh, he always picked out one or two guys to speak after every practice," Marecic said, recalling times when teammates would chant "The Wisest, the Wisest is coming!"
"So you always had to have something working in your head in case it was your turn. You never knew who it was going to be. There were little things that you'd think about in case your name was called."
Thought not overly outspoken, Marecic (who spent part of his childhood living in Boston) enjoyed that role as a leader.
"Especially if you feel like you have something to say and not kind of put on the spot. It's important. Anybody can be the guy who talks. It's good to hear what other guys had to say on the team. What's so special at Stanford is that everybody has those leadership characteristics that you look for. So it's great to hear what other guys have to say, especially if it's guys who aren't too vocal on the team."
Oh, and Marecic is a throwback in more than just his two-way playing career at college - unlike most prospects at the Combine he doesn't have an agent.
UNC receiver Greg Littlehad plenty of good things to say about his former Tarheel teammate and current Patriots WR Brandon Tate.
"I was a backup to Brandon. I really grew as a player, seeing him play and taking notes from him, sitting alongside him in the meeting rooms. It was very beneficial to my game.
"I'm a student of the game. That's something that I took very early in my career playing behind Brandon," Little added. "That was just something that I always wanted to do, to do more. You can never study enough film. You can never catch enough balls. That's something that I do watch myself on because sometimes I do over-train. With that you don't receive proper rest and recovery. That's something that's very serious these days. I still have to put in the work during the week to feel confident about my game on game day."
Little said the last time he spoke to Tate was at UNC's 2010 spring game, but that he plans to reach out to him in the near future for advice on how to approach the NFL Combine and Draft processes.
The Combine is famous for, among other things, providing some rather unusual questions when players meet with team officials for formal interviews.
Florida punter/placekicker Chas Henry(6-3, 215) found that out this year.
"Off-field problems, on-field problems... Failed tests of any kind, academic problems," Henry recounted. "Family status, favorite color... Anything you can think of, that's the questions being asked."
So, which question did he field that was came most out of left field so far?
"One of the questions I had last night," he divulged, "was 'What's the dumbest thing you've done in four years of college?'"
"I'm not going to answer that one."
Tori Gurley(6-4, 215), a redshirt sophomore wide receiver from South Carolina, was born and raised Tori Childers - his mother's maiden name. However, he changed to Gurley, his father's surname, in 2008, after his father was killed in a car accident on - of all days - Mother's Day.
His grandmother is also deceased, and he said he still thinks about both of them every day.
"My dad and my grandmother motivate me a lot. They both passed away, but I know they still live with me, live within me, and I just work hard and treat every day like it's my last."
Florida o-lineman Mike Pouncey(6-4, 310) recalled squaring off in practice against Patriots ILB Brandon Spikesduring their years together in Gainesville.
"Anytime you got to block a 260-pound mike linebacker, you're gonna have a battle," said Pouncey, who's twin brother, Maurkice, just finished his rookie year with the Pittsburgh Steelers.
"Spikes was a great player, had great career at Florida, and had great rookie year [in New England]."
Unlike past Combines, most players are refusing to divulge which teams they've met with this week in Indy, choosing instead to go the generic route. The majority of players are saying they've met with "everyone" or "a lot" of teams. Perhaps clubs are taking a more conservative approach, similar to New England's, in keeping a lid such information by telling players not to discuss the subject with the media. ...
Cameron Jordanmust've lined up against USC tight end Jordan Cameron, another prospect in this year's draft. Both played in the PAC-10 Conference, but Jordan said he "Can't remember if I have or not... but my teammates have razzed me about that before."...
Mississippi State defensive lineman Pernell McPhee revealed that he reached out a couple of days ago to Patriots d-lineman Kyle Love, a former college teammate, for advice on how to handle the Combine and pre-draft process. ...
Texas defensive end Sam Achohas a unique, attention-grabbing middle name. "Onyedikachi... It's an African middle name," he proudly explained with a wide smile. "My parents are from Nigeria. It means 'who is like unto God.' It basically means there is nobody that compares to God. I think that it is very fitting with the situation all of us are in because to be where I'm at, nobody compares to God. God is the only person that could have got me here."