INDIANAPOLIS - There is perhaps no area of the Patriots team that is scrutinized more than the offensive line. It seems one of the lingering questions each year deals with Tom Brady's protection and whether it will hold up throughout the playoffs.
In 2017, pass protection was at times a major issue before settling down a bit later in the year. But ultimately, it was Brandon Graham's strip sack, Philadelphia's only one of the game, that ultimately led to the Eagles 41-33 victory over New England in Super Bowl LII.
Longtime offensive line coach Dante Scarnecchia appears poised to remain on staff for his 33rd season in Foxborough. He also figures to have much of his starting lineup returning intact in 2018. The lone question mark is Nate Solder, who is set to become a free agent on March 14 when the new league year begins.
Solder enjoyed a strong finish to his season at left tackle and played well in the postseason. There has been some speculation that Solder is contemplating retirement and his comments following the Super Bowl did little to allay those fears.
Citing a source, the* Boston Herald* tweeted on Thursday that Solder does indeed intend to play in 2018. If that's the case the Patriots would still need to re-sign him, and that might not be easy. Solder is considered the top offensive lineman on the market and some have speculated that he could garner something in the neighborhood of a four-year deal worth $55 million with about half that guaranteed.
It will be interesting to see if the Patriots are willing to make that commitment to Solder, and if they're not there doesn't seem to be many options at tackle in the draft. The crop has been widely panned by some of the national draft prognosticators, who all agree that the strength of the class lies on the interior offensive line. In fact, one of the top prospects, Texas' Connor Williams, could transition to guard according to at least one Combine follower due to his short arms.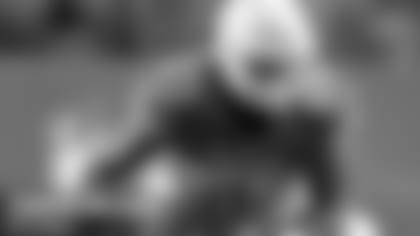 Many of the teams have expressed excitement over the interior spots, however, and it's possible the Patriots could have some interest in a guard in the middle or late rounds. Shaq Mason, the starter at right guard, is entering the final year of his contract so it's possible that a potential replacement could be drafted this spring.
In the meantime, tackle is unquestionably the bigger need, and that remains the case even if Solder returns. Last spring the Patriots selected a pair of tackles but neither appears to be part of the future. Conor McDermott was taken in the seventh round and was cut at the end of the preseason. He was claimed off waiver by Buffalo and remained there all season.
Tony Garcia was taken in the third round but barely saw practice time during the summer before being lost to an undisclosed illness. Garcia wound up on the non-football injury list, and Howe also tweeted about him, saying an issue with blood clots in his lungs was the cause but that there was optimism moving forward. But Garcia lost his rookie season of development time, and when last seen in the locker room late in the season he looked quite thin. There's no telling of or when he would be ready to contribute.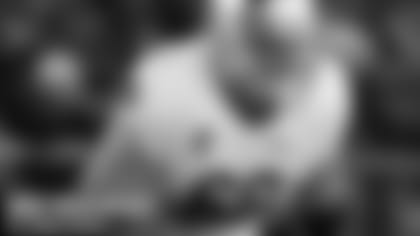 Unfortunately there doesn't seem to be much help on the draft front. NFLDraftScout.com lists 25 tackles with potential draftable grades and only three in the first round. In addition to Williams (6-5, 515), Oklahoma's Orlando Brown (6-7, 345) and Notre Dame's Mike McGlinchey (6-7, 315) received first-round grades. Mississippi State's Martinas Rankin (6-5, 315) is a possibility to go in Round 1 as well.
As for Williams' transition to guard, he wasn't necessarily on board with that line of thought. "Personally, if you ask me I think I'm a tackle," he said. "I feel like I can play the position at a high level. But obviously I'm willing to do anything or play anywhere they want."
Williams was just one of several well-spoken offensive line prospects who spoke on Thursday. McGlinchey and his Fighting Irish teammate Quenton Nelson(6-4, 330), the top-ranked guard of the class who could be a top 10 pick, impressed as well.
McGlinchey is first cousins with Atlanta quarterback Matt Ryan, and spoke with great reverence of growing up idolizing his famous family member. He grew up in Philadelphia and spent a lot of time with Ryan on the Jersey Shore, where they worked out often.
"Matt has guided me every step of the way, whether he knew it or not," McGlinchey said. "And just watching the way Matt goes about his business, the way that he works, the way that people respect him is something that I've always worked for. He's been my football hero ever since I was a little kid going to his BC games in fourth, fifth, sixth grade, and when he got drafted into the pros when I was in eighth grade, we all went up for the trip and it was at that moment that I said, you know what, I want to do that too.
"And everything that I've ever learned from him has been great. He's obviously a member of my family and I love him for that too. But the experience and the values that he's taught me have been invaluable, whether he's said things directly to me or not."
"I think I was either a junior or senior in high school at the time, I was playing tight end and we all needed to work out," he continued. "We all went to a field — he needed to throw, I played tight end, I said I'll go catch for you. I was running routes for him and he was throwing the ball over my head and I was like, 'what are you doing?' and he's like 'that's where Julio goes up and gets it.' I said, alright, I'm not that guy. But it was really cool."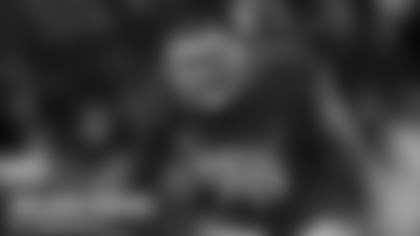 Brown is the son of former NFL tackle, the late Orlando "Zeus" Brown, who played for the Browns and Ravens from 1993-2005, the first three of those seasons for Bill Belichick in Cleveland.
"I never really tried to model my game after him," Brown said. "He wasn't always the most technically-sound player. But his mentality was what I took. He was just so strong and tough mentally."
Brown was quite disappointed in himself after managing just 14 reps at the bench press and expressed concern how that would negatively impact his status.
Rankin is an interesting story. He received no scholarship offers coming out of high school in Mississippi, not even from the FCS level. He explained that he was just 235 pounds as an offensive lineman, so he was forced to go the junior college route. The late-bloomer has versatility and potential and could be an attractive option.
"I never gave up on myself," he said. "I worked out with a trainer, I ate a bunch of jelly sandwiches and eventually I put on 30 pounds. I got stronger in the weight room and I know I can continue that hard work."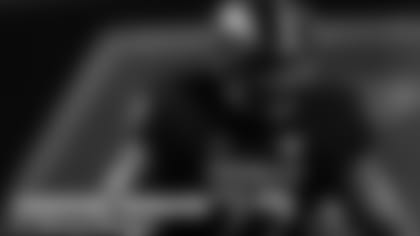 Western Michigan's Chuks Okorafor (6-5, 330) has a second-round grade as he attempts to make it in the NFL after coming from Botswana. He has uncommon athleticism for the position but said he needs to increase his strength. One thing he won't need to learn is how to impress scouts after listening to him discuss the importance of versatility.
"Most teams have talked about me as a left tackle," he began. "But I'm comfortable playing on either side or really anywhere. Versatility is very important; you need to be flexible. Teams are always looking for guys who can play multiple spots."
NC State's Will Richardson (6-5, 322) was also well versed on the versatility drill. The projected fourth-round pick was suspended for the first two games of 2017, his second suspension with the Wolfpack, but rebounded with a solid season that led to his decision to leave early.
He spoke glowingly of former teammate Joe Thuney, the Patriots starting left guard, saying that he's "always been an inspiration." He also took responsibility for his troubles at NC State, saying his lack of maturity at the time caused him to lose focus.
"Teams only have 53 players and 11 are on the field at once," Richardson said when explaining how a move to guard would be welcomed if needed. "Teams have to make decisions with the their rosters and on game day coaches are looking for guys who can play multiple spots. I can play either tackle or guard and on both sides. I'm hoping that is something that teams are looking for."
Pitt's Brian O'Neill (6-7, 298), Oregon's Tyrell Crosby (6-5, 319), North Carolina A&T's Brandon Parker (6-7, 303), Ohio State's Jamarco Jones (6-5, 310), Humboldt State's Alex Cappa (6-6, 299), UCLA's Kolton Miller (6-7, 310) and Louisville's Geron Christian (6-5, 315) are all mid-round prospects at tackle.
Miller hails from Rosewell, California, a place made famous by Tedy Bruschi. "Tedy's the man at home," Miller said with a smile. "He helped pay for a brand new weight room and has done all kinds of stuff. We see him on TV now and we smile."
Some interesting late-round prospects are West Georgia's Des Harrison (6-6, 279), Miami's KC McDermott (6-6, 316), Army's Brett Toth (6-6, 306) and Wagner's Greg Senat (6-6, 294).
Harrison began his career at Texas, where he was considered one of the top-ranked prospects in the country. But multiple suspensions led to him being out of football in 2015 and 2016 before he landed at West Georgia last season.
"I spent two years away from the game that I love and that really hurt," Harrison said. "I was working moving furniture but I never gave up on my dream and I realized I had to do something about it. I kept working hard and I always had a belief that I would be here. I feel like I'm the best tackle in the game."
Senat played four years of basketball at Wagner before trying his luck at basketball his final two seasons. "I always loved the sport," Senat said. "My coaches saw my potential before me and they kept working with me. I dedicated myself, put on some weight and I'm getting stronger all the time."
Nelson is one the most highly-rated prospects not only at guard but in the entire class. Listening to him speak it's easy to see why.
"As a blocker, my mindset is to dominate. I want to take their will away to play the game," Nelson said while admitting that he considered himself a nasty player.
While guards like Nelson, Georgia's Isaiah Wynn (6-3, 308) and UTEP's Will Hernandez (6-3, 340) have a chance to go in the first round, the Patriots may be looking at some guy later in the draft.
Iowa's Sean Welsh (6-2, 296), Clemson's Taylor Hearn (6-5, 319) and Maine's Jamil Demby (6-5, 323) should be available on Day 3 and could be targets for depth.
"Coming from a small school I think we all have a chip on our shoulders," Demby said. "I spoke with Trevor Bates (who spent time with the Patriots) and he told me some things to keep in mind during this process. There's a lot of talent in the CAA (Colonial Athletic Association) and hopefully I can open some eyes. I feel like I can play both guard and center, and I felt I proved at the Senior Bowl that I could compete with anyone."
The Patriots frequently target offensive linemen in the draft and have done a great job developing them over the years. While tackle figures to be the more pressing need currently, it wouldn't be a surprise to see Belichick look for additional depth up front at any spot.