Mac Jones has never had a chance to get comfortable. A gifted athlete with good pedigree, the kid from Jacksonville that everyone calls Mac has kept bouncing back and competing non-stop, a trait that has defined his rise from undersized youth football quarterback and Alabama second thought to eventual record-setting national champion. But he's never rested on his accomplishments, never taken the foot off the gas of constantly competing.
There's always been a new mountain to climb and that's something Mac Jones has embraced and used to propel him.
Jones' quarterback strengths are familiar ones – a high-end competitor who processes quickly and gets the ball out with good accuracy -- but it has been his resiliency that has been the key ingredient to his early development and it's something that will only become more vital in the NFL.
Eric Yost first met Mac Jones when he was in Kindergarten, a year ahead of Yost's own son in Jacksonville, as he coached the boys through their early years where he immediately looked to instill discipline.
"The first year I tried 'everybody plays everything,'" recalled Yost, "we got the crap kicked out of us. Kids are crying. I'm like, 'we're going back to old school,' like it's football, right? You're going to have to be hit. You have to hit people. You're gonna have to have discipline."
In Jones, Yost found a young quarterback that always had an arm. As a centerfielder in his town's baseball field, Mac could fire the ball into home plate even if his baseball accuracy wasn't quite where his football accuracy was. Once he hit his growth spurt, he had the size to match his throwing ability.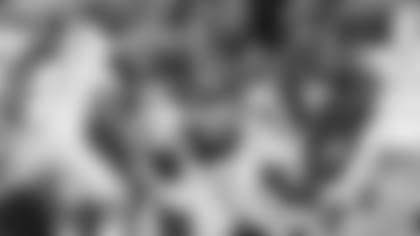 Mac would go on to play for high school coach Corky Rogers at The Bolles School, a proponent of the run-heavy Wing-T offense. Rogers coached 45 years, going 465-54-1, winning 10 Florida State Championships and sending 150 players on to play college football.
A notoriously tough coach who required all-white socks and shoes and loved to throw his quarterbacks into the Oklahoma drill, Rogers pushed Mac more than just about anyone who'd ever played under him, but it developed a special bond between the player and old-school coach.
Mac's ability to throw helped ease his early coaches away from those run-centric game plans, while his ability to stand in the pocket and keep throwing strikes even when things weren't going well gave them the confidence to lean on him.
Mac helped lead Bolles School to the Florida 4A State Championship game as a senior in 2016, passing for 1,532 yards and 29 touchdowns, as he began to take his quarterback craft more seriously, enlisting the help of quarterback coach Darin Slack, who runs the Quarterback Academy.
"Well, what I saw was a lot of energy, you know, he loves the game and I think that's where it starts for a young man," Slack told Patriots.com. "He's competitive. He wants to be out there. That's what I saw in Mac when he was a young man.
"Just his capacity to process coaching, his capacity to process feel as a quarterback, that's an important thing. And those were all evidence of the intelligence that had already resonated."
Originally committed to Kentucky, Alabama came calling late in the recruiting process and plenty of Mac's advisors thought his decision to attend the national powerhouse might keep him on the sidelines.
"A lot of people are like, he'll never play," recalled Yost. "He'll never get on the field. And then they bring Tua in, in the same class!"
"I think a lot of people probably said, you know, 'why is Mac going there when he could have gone somewhere, he could have played sooner?'" said Slack. "Knowing Mac, cause I did, I think he had it in his heart because he wanted to do something that, you know, was difficult. I think he wanted to try to make something happen. I think he believed in himself when maybe nobody else did. And I'll tell you, he made a lot of doubters believe [with] the way that he played this past year, for sure."
Jones would redshirt his freshman year, making headlines for the wrong reasons in November of 2017 after being arrested for DUI. Yost called it a major turning point for Jones and a tough taste of reality, and one that sparked him on to better things the following spring.
In Alabama's 2018 spring A-Day game, Jones would lead his Crimson team over Jalen Hurts' White team going 23-of-35 for 289 yards with two touchdowns and interception as he turned some heads in Tuscaloosa. He'd see some limited snaps in 2018 as the third-string quarterback with Alabama going 14-1 and losing their only game of the season to Clemson in the National Championship.
The following year, in 2019's A-Day game, Jones defeated Tua Tagovailoa's team, albeit with Jones going against the second-team defense, but he'd finish the day 19-of-23 for 271 yards, with two touchdowns and an interception. The performance continued to inspire confidence in Jones as his opportunity would arise later that fall when Tagovailoa went down with a major hip injury.
Jones was ready to take advantage of his opportunity.
"He responded really well when he took over for Tua because he had been preparing like a starter all along," said Steve Sarkisian in an email response to Patriots.com. "One thing I learned a lot about Mac at that time was how he handled adversity. He proved to be a resilient guy that bounces right back, so when he was the full-time starter, we knew he'd be able to do that. He doesn't dwell on a difficult play. He's a tough guy who he'll stand in the pocket and has the ability to handle the adversity that football presents a quarterback in-game."
Jones' first college start was a 66-3 cakewalk in which he completed just 10 of 12 passes, throwing three touchdowns and no interceptions. But the following week's contest against Auburn, a 48-45 loss, in which he threw two pick-sixes, one of which a 100-yarder, showed the quarterback's true character, as he continued to keep Alabama in the game, re-taking the lead three different times.
"The Auburn game was a heartbreaker," recalled Yost as Jones would also throw four touchdowns and 335 yards to go with those pick-sixes in the game, "but he stayed and battled. He got his ass kicked in that game."
Jones would bounce back in the Citrus Bowl, throwing two second-half touchdowns that would enable Alabama to pull away in what was a close game early on, cementing a 35-16 victory over Michigan.
In January of 2020, after a prolonged fight with cancer, Mac's high school coach Corky Rogers passed away, making a deep impact on Jones, who told his coach he'd dedicate his 2020 season to him in a touching story from Sports Illustrated that showed how deep the bond between the player and coach was.
Motivated to build on his three 2019 starts and the loss of his high school coach, Jones enlisted the help of Slack again. But it wasn't just a throwing session, it was a focused workout that impressed the quarterback coach.
"Pre COVID, he brought me up to do some training on his own and just wanted to dial in some things," said Slack. "That's kind of how our relationship's been. It's never been just going out and playing catch. He's always sought to gain an advantage or come up with something that he felt like he could hit, always looking for an edge. And I saw that as a very, very important aspect of his character.
"When I went up there, I was shocked. I saw a young man, playing like he was already in the NFL, his mindset, how he was carrying himself. I said, 'you're the next Joe Burrow. You're going to have that kind of unexpected explosive year. You got great people around you and good things are going to happen if you can stay healthy.' And sure enough, my prognostication was accurate."
Jones' 2020 season was one for the ages, as he led Alabama to a perfect season and a National Championship, set an NCAA record for competition percentage (77.4) and a school record for passing yards (4,500 yards), while also being named a Heisman finalist.
But many doubters still lingered, pointing out that Jones played with what was essentially an all-star cast of weapons and coaches that made his job easy. Still, his draft stock continued to rise throughout the spring, helped in part by Jones' willingness to attend Senior Bowl practices, where he was named the top quarterback on the American team, and throwing at two different Pro Days, something none of the other first-round prospects at his position had done previously.
Jones made a point at one pro day to run a Wing-T play in honor of Rogers.
"The main reason is my coach that passed away last year, he ran the wing-T his whole career, all the way until 2017," said Jones after the session of the play. "I just kind of wanted to do that as a tribute to him, so that was kinda cool."
When asked about the overly active pre-draft process during a radio interview with Patriots.com shortly after his arrival in Foxborough, Jones said it was all about competing.
"The thing about Mac is, he's really talented himself, but he allowed the guys around him to play at a really high level and I think that's what the best quarterbacks do," said Sarkisian. "The reality is, a really good quarterback puts the other guys around him in a really good position to have success. When you look back at the highly successful ones in the NFL over the years, they all knew how to get the ball in the hands of their weapons and in a position to make plays. Mac can do that at a really high level and that's why I believe he'll be an outstanding NFL quarterback."
Jones' fit in New England was always apparent and early in the spring, he was a popular mock draft pick for the Patriots. But soon after San Francisco traded up to the third-overall spot there was much speculation that Jones was their target.
But as the first round unfolded and the 49ers went with Trey Lance, the Patriots soon found Jones available at 15 and made the selection.
"We wanted him to go to the Patriots," said family friend Yost, who initially hoped Jones might end up under Brady's wing in Tampa Bay. "He's always been a Tom Brady fan or modeled himself after Tom."
Jones admitted he too wanted to be in New England, telling commissioner Roger Goodell it was where he wanted to be all along as he took the stage in Cleveland upon his selection. Now it is just a question of how quickly Jones can assimilate into the Patriots' complex offensive scheme and when he'll get his shot.
"I would liken him from a mental standpoint to Matt [Cassel]," said Sarkisian. "I coached Matt for three of his four years in college and when he got to the Patriots, I think his approach is one that Mac will take. He really dove in, he knew what the plan was, he prepared really well and when he got his opportunity, he played at a really high level. I think Mac is going to similar in the sense. He's going to know what Coach McDaniels and Coach Belichick want to do in practice and in a game, he's going to have a real sense of preparation and then at that point it's up to him to go out and perform."
Slack agreed that Mac ended up in the best place for him.
"I think a lot of the quarterbacks in the draft ended up where they're supposed to be and I think Mac probably among all of them ended up in the most appropriate fit," said Slack. "His work ethic, you know, this is what goes on behind the scenes and Mac is a worker and there are a lot of guys with a lot of talent, but talent will only get you so far. It's the work you're going to put in to keep it going. And Mac did it when no one was watching, Mac did it when no one cared, Mac did it when nobody gave him the time of day."
Sarkisian echoed Slack's observation of Mac's work ethic.
"He'll put in the work, he'll do whatever is asked of him by Coach McDaniels and Coach Belichick to put himself and the team in a position to be successful," said Sarkisian. "He's detailed oriented, a very well-prepared guy and demands the best of himself and those around him. Mac knows where to go with the ball, throws it accurately, throws a catchable ball, is willing to take shots down the field, willing to stand in the pocket and deliver the ball with some contact courage and knowing he's about to get hit.
"In this class, I honestly think he's probably the most qualified rookie quarterback to start in year one. He's been exposed to a lot being in school for four years and putting in that time and work. He had to persevere and wait his turn behind Jalen Hurts and then Tua, and when he got his opportunity, he made the most of it. I think he's seen a lot from the defensive side of the ball – whether it was at practice or in-game – and he had to compete at a really high level in the SEC. The one year he started, we played an all-SEC regular season schedule and had Notre Dame and Ohio State on top of that. He performed at an extremely high level week in and week out. I think he's in a great position to go and compete in New England. Now, it's time to put those tools to work and perform. He's a guy that will keep putting in the work and then let his play speak for itself."