Jermaine Cunninghamdoesn't appear to be a young man of many words. But among his most favorite words, it seems, are "get" and "better." He must have used them at least a half dozen times in a three-minute interview with reporters on Tuesday.
The rookie, a second-round draft pick, predominantly was a defensive end at Florida, but is making the switch to outside linebacker in New England's base 3-4 defense. The unexpected absence of Derrick Burgessand release of former third-round pick Shawn Crablehave catapulted Cunningham into more of a high-profile role in these early days of training camp.
He was asked if the opportunity for him to contribute immediately is more likely now without Burgess or Crable in the equation.
"I've always felt like that," he answered, "but it's a long time till Game 1. I'm just trying to get better."
Toward that end, Cunningham has sought the advice of another former Gator on the Patriots roster, defensive lineman Gerard Warren, himself a former first-round pick. The rookie says he values the lessons his veteran teammate has offered.
"Just different techniques, different fundamentals, how to work your hands. I'm just trying to figure out whatever I can to help me get better."
Given the shortage of bodies at the position, the Patriots may need Cunningham to get better in a hurry, which may be one reason why he's also been getting post-practice instruction from some of the assistant coaches and spending all his free time absorbing the defensive playbook.
A reporter pointed out that head coach Bill Belichickrecently offered words of praise for Cunningham's performance thus far, particularly his ability to understand the Patriots' complex defensive scheme.
"That's one thing you gotta do, you gotta be able to pick it up," Cunningham noted. "I'm just coming out here trying to give it my all, stay in that playbook, and let it translate out on the field. If you're not in your playbook, you come out here and look lost and you're 10 steps behind everybody "You gotta do the little things to try to stay up."
It seems to be working for Cunningham, who appears to be getting more and more reps with each training camp practice.
"That's what practice is for, to come out and get better every day. That's my job and my goal. I feel like that's what I'm trying to do," Cunningham added.
When asked about the differences between defensive end and outside linebacker, and which position he feels more suits him, Cunningham gave perhaps the best response who could get from any player.
"I tell everybody, I feel like a football player. I get on the football field with cleats on and tackle the person with the ball."
Weather: Overcast, breezy, low 80s**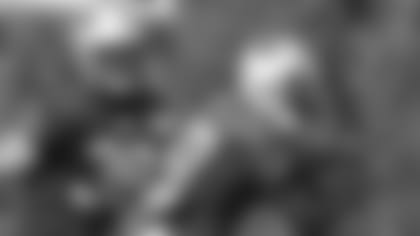 ]()Who's Hot: Kyle Arrington* **Received major props from special teams coach Scott O'Brien during the coach's press conference at the start of the day, and has been providing blanket coverage as a cornerback more frequently in drills and in team periods.
Who's Not: Brandon Meriweather **In one-on-one drills and team period, the safety was victimized on a number of pass receptions, including a few touchdowns.
*Play of the Day: Hernandez TD from Brady
*During a 2-minute drill setting, the offense spiked the ball in the red zone and Belichick barked out that it was second down, 11 seconds left, no timeouts. The rookie tight end broke free down the hash marks and was wide open at the goal line when Brady hit him with the "winning" touchdown pass.
Twelve players were either not in pads or not in attendance at all. Wide receiver Matthew Slater, defensive back Bret Lockett, linebacker Gary Guyton, o-linemen Logan Mankinsand Nick Kaczur, and defensive lineman Ty Warrenwere not seen on the field, while cornerback Jonathan Wilhite(right knee sleeve), safety Patrick Chung, cornerback Terrence Johnson, and defensive linemen Myron Pryor, Ron Brace, and Mike Wrightwere on the field working with the rehab staff.
]()On a positive note, running back Thomas Claytonwas back in full pads on Monday morning.
In what has become a training camp tradition on August 3, the alert fans who showed up for practice today sang "Happy Birthday" to Tom Brady, who's now 33. After the song, a young fan cried out, "You're my hero, Tom!"
Receivers/DBs went one-on-one in goal-line situations in an early drill. Results were mixed, as both the offense and defense had their share of good plays. In particular, rookie Devin McCourty, Terrence Wheatley, and Darius Butlermade great pass breakups, while Taylor Price, Randy Moss, and Aaron Hernandezdidn't look so good running their routes. That was offset, however, by eye-popping TD catches by Julian Edelmanand rookie tight end Rob Gronkowski.
When the Team Defense lined up against the scout team offense, we often saw Butler on the right side and McCourty at left corner. Cunningham and Tully Banta-Cainworked on either side at outside linebacker, while Jerod Mayoand Brandon Spikeswere a frequent tandem on the inside. Damione Lewis, Vince Wilfork, and Gerard Warren lined up together on the d-line. On the first play, Spikes read a running play perfectly and shot the A-gap to make a stop in the backfield.
The kickoff return units featured the combinations we've seen most often this summer: Brandon Tatewith Sammy Morrisas his up-man, Edelman with Kevin Faulk, and Price with McCourty.
During 7-on-7 action, Arrington made a highlight-reel INT. Backup QB Brian Hoyerthrew a short dart to his right intended for Price on the hash marks. Arrington read the play and got in position to extend his arm and deflect the ball. But instead of falling to the ground, the ball shot up in the air a good 15 feet. Once gravity took hold, Arrington came down with the ball and might have had a decent return if these were game conditions.
Hernandez tripped over his own feet a few times during his routes, something we've seen almost on a daily basis and at least once a day from him.
Edelman and Tate fielded the punts during that special teams period. Rookie punter Zoltan Meskohad another good day booting the ball, including directionally. He appears to be getting the hang of his new and improved technique.
During down-and-distance work, both sides of the ball worked on getting their sub-packages on the field as quickly as possible. On one play, Hoyer just overthrew Tate on a deep ball for the end zone. Arrington was stride for stride with Tate all the way.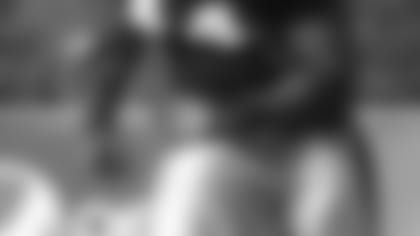 ]()When the teams worked on red zone/goal line situations, inside linebacker Tyrone McKenziecame up big again. He read a run play to Fred Taylorover the right guard and filled the gap nicely, stuffing Taylor less than a yard from pay dirt.
In the two-minute drill, Moss appeared to haul in a perfect deep ball from Brady, but McCourty was there to knock it away. Meantime, Tate was wide open along the sideline a couple plays later, but dropped what should have been an easy pass to get out of bounds and stop the clock.
Later in that period, Hernandez would've had a great one-handed TD catch over the middle, right under the goal post, but he couldn't quite hold on as he fell to the ground. Spikes was trailing him in coverage.
Kicker Stephen Gostkowskiwas perfect on all his field goal attempts in live group action. He nailed a pair in the two-minute drill, and another half dozen to conclude the practice.
Two-a-days resume Wednesday morning at 9:30.