Just four days after trimming their roster to 75, the Patriots began the process of getting all the way down to their final 53-man roster Friday, as mandated by the NFL.
If the release on Monday of veteran wide receiver Jabar Gaffney caught you by surprise, then the news today that Deion Branch was following him out the door must have stunned you. The well-respected Branch was one of several players reportedly given a pink slip today by New England.
Branch later announced via his Twitter account that his second run as a Patriots had come to an end. Safety James Ihedigbo did likewise after reports began leaking that he'd been let go. Dan Koppen, the long-time center, reportedly was served walking papers as well.
One player who doesn't have to worry about making the 53-man roster is rookie Chandler Jones. The first of New England's two first-round draft choices this year quickly earned a starting job at right defensive end.
However, he took to Twitter this week to lend support to some of his fellow rookies who are living precariously on the roster bubble.
"Just being encouraging," explained Jones, "trying to be a leader of this rookie class, saying, "Whatever happens, there'll always be a place for you somewhere else. Just don't give up on your dreams. That's the biggest thing: never giving up."
In the month-plus since training camp and preseason began, Jones says he can tell the difference already in his game.
"Experience. Having the opportunity to go against professional talent," he observed. "I feel like I'm well-prepared and I'm ready to go, personally."
Jones also maintains he'll take the same approach to the regular season opener next week in Nashville.
"Just like I was doing in training camp," he added. "For me, nothing's changed. I take every day like it's a game day. Soon, it'll actually count."
But there is one thing that will be different for the rookie. He'll finally get one of those permanent wooden lockers and move out of his temporary metal one that all Patriots rookies inhabit initially.
"That's the biggest thing, actually. I'm looking forward to getting out there [in the locker room]. Cross my fingers tonight," Jones joked. "Hopefully I don't get cut. We'll see what happens."
Fletch lives, for football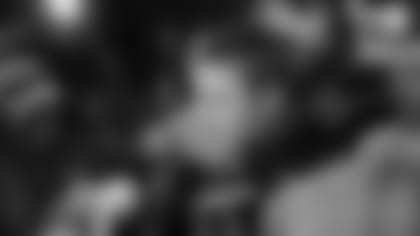 Injured linebacker Dane Fletcher, sitting out this season on IR, made a cameo in the Patriots locker room this morning. He was nice enough to stop for a few minutes to update the media on his health status. The third-year player, who blew out his left knee just minutes into the preseason opener against New Orleans, revealed that he's having surgery next week.
Fletcher's injury wasn't even a result of a tackle or other contact from another player. He simply planted awkwardly and his left knee buckled in the wrong direction. He admitted to having some "why-me" moments immediately afterward, but quickly dispelled them.
"You always think, 'If I was in a different position in a different time…', that kind of deal," Fletcher explained. "That honestly lasted for a day, then after that, I was over it. You can only feel bad for yourself for so long. It does no good for rehab. You've got to be positive."
Yet, that didn't stop him from being a bit anxious when the Patriots cut him – a procedural move that was necessary before he could be placed on injured reserve (any player who isn't vested with four complete years of NFL service must first be released before being place on IR).
Ultimately, though, Fletcher said he's been concentrating on what he can do, which is to strengthen the mental aspect of his game.
"I think that's half of it… On my own time I like breaking down different offensive coordinators [on film], I like just seeing what other teams are doing, because you never know. I just love studying the game. Even when I'm out of here, I might not be in a couple meetings - I still come to meetings and what not - I dig it. I love football. When I'm at home I still watch all the other games and just break down formations and what not, just to stay on top of the mental aspect of the game."
"I mean, obviously I want to be on the field," he continued, "there's no question about that. But sometimes you get caught up in the moment of trying to rehab, you know, take care of your body and stuff… I look at this in a positive light and I kind of just say, 'This is my year where I'm going to really harness in and study the game and learn it from head to toe, what I can in one season.'"
For details about today's Patriots practice (which begins at 4 p.m.), please visit the PFW blog.