There were a lot of similarities between the work the Patriots did over the first two days of camp. Thursday once again featured virtually the entire roster available, a lively crowd, lots of red zone work and more success for the defense than the offense.
There were some differences in the two practices, however. While most of Wednesday's action took place in the low red zone inside the 10, Thursday saw more snaps taking place closer to the 20. Given more room to operate, the offense was able to make a few more plays, particularly when Mac Jones and Bailey Zappe were at the controls.
Another difference came in the form of Zappe, who strictly worked with backups on Day 1 but took some reps with frontline players after relieving Jones during one set of plays in 11-on-11 action. Both quarterbacks had uneven days but unlike Wednesday there were more highlights to track.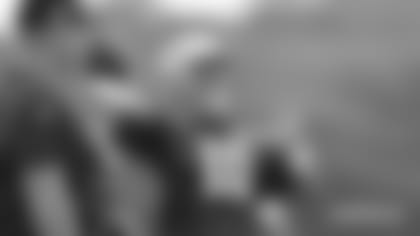 Jones connected with DeVante Parker and JuJu Smith-Schuster for touchdowns, the latter coming off an impressive inside move on a slant. Smith-Schuster made a quick cut toward the goal post and beat Marcus Jones, allowing the quarterback to sling him the pass for the touchdown.
The good vibes were short-lived, though, as the next snap saw Jones roll out to his right before tossing an ill-advised pass back toward the middle, where it was easily intercepted by Kyle Dugger. It was Dugger's second pick in as many days, and Jones was visibly frustrated with himself and immediately dropped to do some push-ups.
Most of Zappe's early passes were short outs or screens, but on the second set of team reps he worked with the regulars and was able to find some open targets. He used tight ends Hunter Henry and Mike Gesicki at times, and also hooked up with Parker in the corner of the end zone.
One drawback for Zappe is his propensity to throw side arm. Standing just 6-1, Zappe needs to work to find angles for passing lanes, but the lower arm slot leads to some of passes getting knocked down. It also leads to some inaccuracies, particularly on quick throws to the flat in the face of an oncoming rusher. The timing on those plays was lacking for both quarterbacks on Thursday.
Overall the red zone struggles aren't discouraging those involved as both Henry and Smith-Schuster talked about the importance of working in the scoring area after practice.
"The red zone is the toughest part of the field," Henry said. "Everything is tight and it's all about timing and trust down there. It's really tough but it's the most crucial part of the game and it's fun to compete against our defense down there."
"I feel like I'm a reliable guy to go to in tough situations," said Smith-Schuster, who added that feels like he and the offense have a long way to go and a lot to improve on. "[The slot] has been a big position around here from Troy [Brown] to [Julian] Edelman and I've been able to play some inside and out."
Most if not all of Smith-Schuster's snaps have come from the slot, and both touchdowns on Thursday came from that alignment. Now it's important for the offense to continue to build each day as it works to overcome a disappointing campaign in 2022.
"[Smith-Schuster] has come in and worked really hard," cornerback Jonathan Jones said. "He's a physical receiver and moves well. The red zone is always a good place for us to start and it's been good,"
Here are one man's observations from Day 2 of training camp.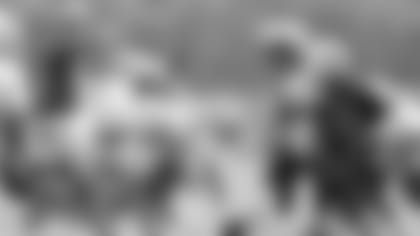 No changes to the attendance report as Mike Onwenu (ankle) and Cody Davis (knee) remain on PUP and Calvin Anderson on NFI. Rookie Marte Mapu is still wearing his red, non-contact jersey while Matthew Judon continues to take part in warmups but has yet to take any team reps. Judon looks to be moving well and spends time rehabbing diligently on the lower field. No word as to what is preventing him from taking part in any competitive action against the offense.
Lawrence Guy skipped minicamp but immediately jumped into his normal spot at defensive tackle alongside Davon Godchaux on Wednesday. He remained there on Thursday, and after practice he said he was going to keep private any potential discussions he's had with the team. Various reports have indicated that Guy is unhappy with his current contract and the minicamp holdout was an attempt to improve that situation, but he wouldn't get into any of those rumors. "I'm here and I'm just going to keep it positive," Guy said. "I'm just enjoying the game right now. I had a baby born around [minicamp] and my job is to play football. I'm a Patriot and I'm out here."
Bill Belichick spoke before practice and was asked to comment on the recent retirement of Bruins star Patrice Bergeron. The Patriots coach offered some high praise for the future Hall of Famer. "It sounds like he was kind of their Devin McCourty, just did everything right. A great leader and player, so congratulations on a tremendous career."
Robert Kraft was once again on the field early in practice and watched most of the action. Speaking of Kraft, the Pro Football Hall of Fame's Coach/Contributor Committee reduced its list of semifinalists down to 12 and the Patriots owner made the cut for the second straight year. Former Patriots scouting director Francis "Bucko" Kilroy joined Kraft on the final list, and the committee will meet August 15 to select one of the 12 for final consideration for the Class of 2024.
Strength and conditioning coach Moses Cabrera once again gathered the non-linemen following the opening warm-up period but there was a change to the routine thereafter. The group of receivers, backs, linebackers and defensive backs dragged weights and worked on explosion on Wednesday, but Thursday saw the group start at the goal line and work through a handful of cones before high-stepping over two dozen low hurdles spaced about 2 yards apart out to the 50. Following that, the group ran tightly around cones in a semicircle before switching to a slalom-like course zigzagging around flexible poles stuck in the turf. Meanwhile the linemen on both sides of the ball continued their pre-practice jogs from sideline to sideline.
As the offense prepared for the day's work with a walkthrough to start, it was interesting to see Demario Douglas with a group of frontline players with Mac Jones. For the second straight day Jones led a group that included Smith-Schuster, Parker, Henry, Gesicki, Tyquan Thornton, Ty Montgomery, Kendrick Bourne and Pierre Strong as well as Douglas. The rookie slot receiver took some reps and is exceptionally quick but undersized at 5-8 and 192 pounds. It will be interesting to see if his elusiveness translates to a role down the road.
The two special teams periods featured kick returns with Marcus Jones, Dugger, Montgomery and rookie Isaiah Bolden taking the reps as the returners.
Marcus Jones saw extensive action in the slot in a secondary that included Christian Gonzalez, Jonathan Jones, Adrian Phillips and Dugger. He was involved in both 7-on-7s and full team action and was competitive in coverage. He gave up some plays, including the Smith-Schuster touchdown, but he also made his share and stood out with tight coverage against Bourne on one snap. With Jack Jones' availability uncertain, Marcus Jones could factor into the mix in the slot and held his own on Thursday.
One of the more unheralded players on the roster is Matt Sokol and the tight end made some plays on Thursday. Sokol showed strong hands on a couple of occasions, most notably when he snagged a high pass from Zappe in the back corner of the end zone for a touchdown. The fight for a roster spot at tight end behind Henry and Gesicki could be interesting with Sokol, Andrew Firkser and undrafted rookie Johnny Lumpkin. Of the trio, Lumpkin looks like the best option as a blocker and it will be interesting to see how Belichick decides to play it.
After watching veteran Nick Folk take the lead to close practice on Wednesday, rookie Chad Ryland handled the field goals on Thursday. Ryland connected on all six of his attempts, moving from 28 to 48 yards in length from both hashmarks. Solid start for the rookie.
In addition to Guy, Josh Uche, Mack Wilson, Jonathan Jones, Henry and Smith-Schuster also spent time chatting with the media after practice.
Day 3 of training camp is on tap for Friday with gates set to open once again at 8 a.m. Belichick will meet with the media at 9:15 a.m. and practice will get underway at 9:30 a.m. As always, please check with Patriots.com for the latest updates in the training camp schedule.