Earlier this week, former Patriots cornerback Ty Law was in Boston being honored at The Tradition – an annual sports gala at TD Garden that celebrates the careers of local great athletes.
In interviews prior to the event, Law said he often thought about the Pro Football Hall of Fame to prepare himself for games... that he would take the field with the confidence of a player who was worthy of one day being inducted in football's pantheon in Canton, Ohio.
He added that while he often dreamt of getting a call to the Hall, he wasn't sure if it would ever become a reality.
Seemed to us like a perfect topic for this week's Debate Friday:
Is Ty Law's career worthy of induction in the Pro Football Hall of Fame?
Read the arguments of the Patriots Football Weekly writers, then cast your vote in our poll.
Erik Scalavino says, "Yes..."
Law will get serious consideration for the following reasons.
First, while he wasn't ever universally considered the best cornerback in the game in any year of his career, he was one of the best and was always assigned to New England's opponents' best receiver.
Second, he will be forever remembered for his big-play production in Patriots playoff games and Super Bowls, which helped create the Patriots dynasty of the last decade. Rightly or wrongly, these credentials have helped other Hall of Famers get the nod when perhaps they wouldn't have been considered if they hadn't played for championship teams (Lynn Swann, for example).
Third, Law had longevity and was consistently productive throughout his career. His later years saw a slip in numbers, but overall, he performed among the best at his position for a long time. Not a lot of players can boast of that.
I don't necessarily think Law was one of the best cornerbacks in football history, which is what one should be if being considered for such an honor. However, the Hall has too many inductees already who probably shouldn't be there, but were voted in because of their links to great teams. When the Patriots of the 2000s start to be eligible for consideration for the Hall of Fame, Law's name will be right up there with Tom Brady, Bill Belichick, Robert Kraft, and Adam Vinatieri.
Law may be on the fence, but ultimately, I think HOF voters will give him the benefit of the doubt. He'll be in Canton one day.
~ ES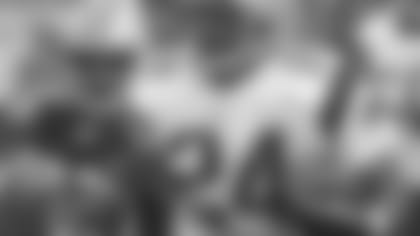 Every party needs a pooper, that's why Paul and Erik invited me to this special 4th of July weekend edition of Debate Friday. Despite all the good will and good memories that were stirred up this week with Law's honoring at The Tradition, the fact remains that while he's one of the best defenders in Patriots history, No. 24 is not worthy of being a Pro Football Hall of Famer.
Sure he made big plays at key times for the Patriots. Sure he was a Pro Bowl-caliber player. Sure he was a part of a dynasty and is remembered fondly for his contributions to those titles. But, he was never in the conversation as the best player in the NFL at his position. Law's career overlapped the likes of Rod Woodson, Deion Sanders, Champ Bailey and even Darrelle Revis. All were better players – over both short and extended periods of play – than Law.
Cornerback is also a position that has pretty limited representation in the Hall of Fame, with only 10 true corners currently enshrined (five of which were elected in the last five years). While a guy who was the fourth-best at his position during his career might get in at quarterback or wide receiver, only the truly best of the best get in on defense, especially at cornerback. Heck, Law isn't even the best cornerback in Patriots history – a spot reserved for Hall of Famer Mike Haynes.
So while we can all remember how much Law meant to New England, how fun a guy he was to watch play, how enjoyable he was to listen to talk about "Ty Law, Inc." and look forward to the day that he's inducted into the Patriots Hall of Fame, the cold, hard, unbiased reality is that Ty Law is not worthy of enshrinement in Canton.
~ AH
Your turn! Cast your vote in this week's Debate Friday poll.Will Ty Law one day be in the Hall of Fame?
http://polldaddy.com/poll/5195717/