Shortly after the 2008 season ended, Patriots safety Rodney Harrisonhinted that he'd make a decision about his football future within a month or two. Today, however, he told the *Boston Herald *that an announcement would come no later than June 1.
"I seriously don't know what I'm going to do at this point," Harrison said in today's report. "I'll decide once I weigh all my options from a TV standpoint as well as a health standpoint. All I'm doing right now is rehabbing, golfing and having a good time with my family. I'm not pressed either way. We'll see what happens."
Asked about a report that the Atlanta Falcons might be interested (note: Harrison has a home in the Atlanta area), Harrison responded, "I know there's teams that have interest, but I haven't visited with anyone … By June 1, I will have made my decision, definitely."
The *Patriots Football Weekly *writers can't seem to agree on what Harrison will decide, leading us to this week's Debate Friday topic:
Will Rodney Harrison play football in 2009?
Erik Scalavino says, "No …"
Harrison has been a fan favorite since he first arrived in Foxborough six years ago. He became an integral part of back-to-back Super Bowl teams, establishing himself as a leader in the Patriots locker room and on the field. His contributions will always be remembered fondly by followers of this franchise.
]()Of late, however, Harrison has been injured far too frequently. Serious injuries, too, that cost him significant playing time and ended his seasons prematurely. His heart and head may want to say, "Go," but his body is clearly telling him, "No."
The Patriots, meantime, seem to have found a capable stand-in for him in Brandon Meriweather. Though certainly still learning the system, the former first-round draft choice did lead the team in interceptions last year and started in place of Harrison from mid-October on, after Harrison was lost for the season due to injury. New England could add another talented young player at the position in this month's draft, so there doesn't appear to be a glaring need for Harrison's services in the starting lineup at this point.
Never one to shy away from a camera, Harrison's a natural presence when he's in the media spotlight. It's no surprise to me that he has been pursuing television analyst opportunities during the most recent playoffs, Super Bowl, and throughout this offseason. And he seems to be genuinely enjoying the experience. By June 1, I predict Harrison will have locked up a full-time TV gig and that's where we'll be seeing him from then on.
Paul Perillo says, "Yes …"
Up until recently, I didn't feel that Harrison was coming back. The serious injuries he's suffered over the past few years have really [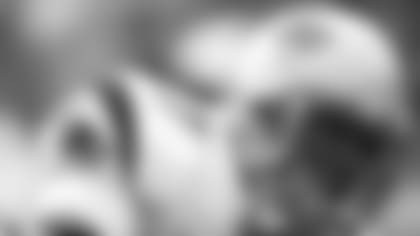 ]()taken a toll on him mentally as well as physically. But reading his comments recently has me feeling a comeback is likely.
He told the *Boston Herald *that he plans to make a decision by June 1. At that point he'll let everyone know his plans for 2009. My feeling is if he didn't plan on playing he wouldn't need to wait another two months to make the decision. Couple that with the Patriots thinning ranks at safety and there would appear to be a better than average chance that he returns.
Harrison is not the player he was back in 2003. But his experience and presence are worth bringing back, as long as he's healthy enough and willing to play. Nobody works any harder than Harrison, and few people play with the passion that brings each and every day. It sounds to me like Rodney isn't quite ready to write the final chapter just yet. He'll be back.
http://polldaddy.com/poll/1514061/
Now it's the fans' turn to share their opinions in this debate. But first, the results of last week's Debate Friday poll. We asked fans to tell us if they support the so-called "Tom Brady Rule," which restricts defenders from hitting quarterbacks low. The vote, as usual, was a close one. Most fans (53%) voted yes, saying they believed the game's star players needed to be protected better. The rest (47%) voted no, arguing that the rule puts defensive players at a disadvantage.