(On the injury report)
"[s] Mike Adams, thigh, full, probable. [s] Duke Ihenacho, knee, full, probable. [CB] Kayvon Webster, thumb, full, probable. [TE] Joel Dreessen, knee, full, probable. [QB] Peyton Manning, ankle, full, probable. [T] Winston Justice, finger, full, probable. [G] Chris Kuper, ankle, full, probable. [WR] Demaryius Thomas, calf, limited, probable."
(On CB Marquice Cole)
"He's had a good week. He's picked up our system fast and had an excellent week."
(On whether it's safe to say S Rahim Moore will be inactive)
"Safe to say he's inactive for this game, or he's not been brought off of IR."
(On the offensive line)
"I think we had a key injury (T Ryan Clady) early on. [T] Chris Clark has done a tremendous job. We lost two centers in camp, so I think [C] Manny Ramirez has filled in. As a unit, I think they've been pretty consistent both in the run game and the pass game. We'll have a huge challenge this week."
(On former Broncos WR Rod Smith being an honorary captain)
"It's great to have those two Super Bowl trophies sitting in front of our locker [room] as our guys come out to practice every day. To have guys that were a part of that in the community like Rod still live here in Denver, I think it's huge."
(On whether he gives a speech before a big game like Sunday)
"We treat it like any other game, actually. It's still played on the same size field. It happens to be a home game this week instead of a road game. It's just the normal nuances. Then it's about who executes, and usually that's about who prepared the hardest."
(On the week of preparation)
"Outstanding."
(On whether he's encouraged by the weather forecast for Sunday)
"What I've learned in going on my three years here in Denver is it can change quickly. So the forecast is what it is. We'll see what the weather brings when we get there."
(On how excited he is for Sunday)
"I'm ecstatic. It's a one-in-a-lifetime deal. Some guys get a chance to actually get to this game. We've been to the playoffs the past three years and I've never gotten to this game. So I'm extremely excited, happy and blessed for this opportunity."
(On whether he hopes the game-changing play comes on special teams)
"Oh yeah, definitely. We did it last year and we did it throughout most of the season this year. We just want to go out there and help our team win. If that means we have to go score, so be it, we'll go score. If we have to go block a punt, block a kick, that is what we're going to do. We're always looking for that big play."
(On opportunities on special teams)
"I feel like there is always some type of vulnerability within a unit. Somewhere, we might do something better than what they're capable of blocking or covering or whatever. We're going to take advantage of whatever little nuances they may have up, or what they've been flawed with all season. We're just going to go out there and have that attack mentality—go get it, go get it, play hard and balls to the wall."
(On whether CB Marquice Cole will be available on special teams)
"Every man is available. Every man is a possible candidate to be out there, dressed for us. I don't know—it's the coaches' decision what he's got going on. I know he's a very capable player, he's got experience and going against his former team and I know he's jacked about it, too."
(On whether he has respect for Patriots WR Matthew Slater for his special teams play)
"Oh yeah, definitely. Respect his game, respect—he's been a Pro Bowl-caliber player the past few years. And at the same time, it's competition. I go out there versus all the special teams players out there and try to prove that I'm better than them or whatnot. It's that whole mindset of a competitor and that's just what we're going to take forth charging onto the field come Sunday."
(On whether he has studied film of P Ryan Allen punting or K Stephen Gostkowksi punting for the Patriots)
"We're preparing for Ryan Allen, but we're not going to be surprised if it's Gostkowski is back there. We've just got to take that same mindset of whoever is back there is going to get our full effort and if we get the blocked punt, he's going to get the worst of it. So that's just our mentality, no matter who is back there punting the ball."
(On potentially changing a game on special teams)
"We look at it as it's what we can do to help the team. It's something that we have to take advantage of those opportunities to make those big plays. We had the opportunity to; we've got to capitalize on them. If somebody misses a block and we're one block away on a return, we don't want to leave that bad taste in our mouth come film study on Monday, or whatever, of the game—knowing that we could have helped the team even more than what we already planned to do. We can't let the little opportunities slip us by. Getting your block, taking care of your job, the little things, having your eyes right, eliminating fakes and stuff like that—special teams is just that one play and you've got to give it your all for that one play."
(On treating this as just another home game)
"It's not another home game. That's what it comes down to. It's the AFC Championship Game. It's the last game before you go to that '[Champion]ship.' It's a dream game in two weeks. We're taking it as there is added pressure to this game. Everyone wants to go out and perform well, perform to the best of their abilities. We know that it's going to be a tough game, it's a very high-caliber opponent with multiple weapons offensively, defensively and special teams. It's just going to be our best versus their best and see whose best comes out on top."
(On finally playing the Patriots in Denver)
"About time. Let's get loud. Let's make it uncomfortable for [Patriots QB] Tom [Brady] back there. Let's get it rocking because it was rocking last week and I expect it to be decibels higher this week since we're a lot closer. Our fans have been great so let's just keep that riding."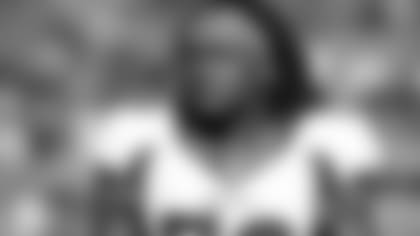 LINEBACKER DANNY TREVATHAN
(On how excited he is)
"I'm really excited. It's an opportunity for us to go out there and get one game closer to the Super Bowl. We have this game in front of us. We aren't going to do anything different. We're just preparing and staying within our realm. Just getting excited and getting motivated to go out here and try to put together a good 60 minutes."
(On CB Chris Harris Jr.'s injury)
"It's tough. Chris was a big part of this defense. He was in on a lot of plays and he made a lot of plays. He was a big leader on this defense. We are going to miss him. We need some guys to step up. Like we say, it's 'next-man [up]' mentality. Prayers with him, but we need some guys to step up this game and go out and compete. We are going to need them for the long road. Whatever happens, happens, but we are going to put our best foot forward. We have prepared for his for a long time. We are just trying to make the most of this possibility that we have."
(On whether waking up was different for him this morning)
"No, I'm just motivated. I'm just ready to go. It's another game, it's another opportunity for me to play the game that I love and be out here with my dogs. We have fans involved—we have a lot of people that are rooting for us. That just makes you wake up extra motivated. I wake up, do the same thing—eat my breakfast and come in. But in the back of my head, I'm ready to go. I'm down for whatever to go ahead and get this win."
(On what CB Champ Bailey brings to the defense)
"Champ is a big leader. Champ has been doing it for a long time. You know when he's out there because he talks to your real smooth and lets you know everything is alright. When you're out there with Champ, you just get a good vibe from him. It is an honor to play with a guy that is going to be in the Hall of Fame. Him being out there just adds to our leadership and our character on defense. We started out kind of slow but we're picking this up. We are trying to get to this big game."
(On what Bailey says)
"He is reassuring. He communicates. That's what we need out of our leaders. All of us need to communicate and be on one page so when stuff gets hectic you don't just fall out of place and stay within your realm."
(On Bailey's demeanor)
"He's just Champ. He's just cool. When you're out there, you want to play for that guy because you know he has your back through whatever."
(On Patriots RB LeGarrette Blount)
"That is a big, physical runner. He plays his game well. He knows his strengths and he knows his weaknesses, but he plays to his strengths a lot. We are going to try to keep him contained. They are going to come in here and try to run and do all that, but we are going to be prepared for whatever. It's game time. Our defense knows what time it is and our offense knows what time it is. We just have to be prepared for that."
(On getting a lot of playing time this year)
"I really don't think about stuff like that. I'm just enjoying this game. It is just my character, coming from the background I come from and having guys there in my life and people in my life that just want me to play ball. It is a dream come true to be right here and I want to make the most of this opportunity. Playing with these guys—this might be the last time this group of guys is together. You never know. So, you want to go out there and play for these guys and play for what you dreamed of for so long."
(On his relationship with LB Wesley Woodyard)
"Whoever is on the field, we're rooting for each other. That is just the way it goes. Me and Wesley have been through it for a long time. This is our second year together, but it feels like 15 years. Having that guy out there—he has really been a great role model in my life, talking to me, helping me get it together Even though he's not on the field, he's with me in my head all the time. That's how I'm going to carry him."
(On DE Jeremy Mincey)
"He's energetic. He has that motor that we need. We have a lot of injuries that occurred, but a lot of guys stepped up and I think they did a good job of picking some guys up. He definitely fit well with this defense."
(On picking the brains of veteran players)
"When I first came in I watched them, had a year with them. Some new guys came in and I got to watch them. I kind of feed off of how they come in, how they lead, how they handle themselves off the field with the media and stuff like that. It's going to make me be a better players and a better person. Being a player is more important right now, but I'm a person inside. So, playing this game—you want to take as much away from it as you can. You never know how long you're here, so you have to make the most of whatever."
(On why the Patriots were able to come back in the second half in Week 12)
"They came out and played a great second half of football. There is no doubt about that. There is nothing else to say. They just came out and played—they fixed what they needed to fix and we didn't adjust well to what they fixed. We have to be able to when we're up, stay up and if we're down, get up on them and keep them down."
(On whether he's learned from that Week 12 game)
"Every game is a learning experience. But that one really taught us something. It is a different day, a different attitude and a different mindset. We're going to go out here and do what we have to do to get a win."
(On whether it has felt like a long or short week)
"It's kind of flown by. But, I've been taking it one day at a time trying to get the most of it that I can. It could have come a little sooner, but it's here and now. I'm ready to go. I'm down for the cause. I'm ready to go. It's game time. We're just going to let everybody else talk and we're going to play."
(On people asking him for tickets)
"A couple. You have to learn how to handle that stuff. Stuff is going to occur and you have to be a pro about everything you do. Last year I didn't handle it well. This year, I'm a different man, different attitude. I'm ready for whatever."
(On the challenges the New England defensive line poses)
"They take advantage of any loose balls. They do a good job of creating turnovers. Their offense does a good job of keeping it to themselves. We've got to be on-point with our ball security, maintaining our drives and staying out of third-and-long."
(On if New England is one of the more challenging defenses they've faced this season)
"Every team poses their own threats. I think we've done a good job—and the coaches as well—with our game plan. I think we've done a good job this week preparing and it was a good week of practice for us."
(On if the best way to stay anonymous as an offensive line is to keep its quarterback's jersey clean)
"Absolutely. We don't ever get glory—it's always the skill guys—but we get thanked in the locker room by the guys and that's our reward. We feel appreciated to be out there and keeping those guys clean and upright."
(On putting up a 280-yard rushing performance earlier this season against New England)
"We feel that that is their big emphasis—to stop our run game. So we've been grinding all week to maintain our run efficiency and that just helps out the passing game. Any time we can be balanced, our offense is clicking on all cylinders at that point."
(On if it seems strange that there is so much talk about the run game in a game featuring two of the top quarterbacks)
"As an offensive lineman—and even our offensive line as a whole—we don't really pay attention to all that. We pay attention to how we're going to win the game, how we're going to keep [QB Peyton Manning] No. 18 clean, our running backs clean, and open up holes. That's our main focus."
(On if they embrace a battle in the trenches)
"That's what we get paid to do. That's our mentality. We take it upon ourselves to win it up front. Any time we're winning it up front that usually means good things are happening in the backfield or out on the edge."
(On how excited he is about playing in the AFC Championship game)
"This is my first time being this far. Just talking to a few guys that have been to this level—or even the Super Bowl—their advice was play it like any other game, just play harder and longer. But just imagine it's like any other game, the outcome will speak for itself."
DEFENSIVE TACKLE SYLVESTER WILLIAMS
(On the challenge of not knowing if the Patriots will run or pass)
"At the end of the day you have to play your technique, you have to play the block that is in front of you. The linebackers have to play what they see in front of them. You just have to play football. At the end of the day, if you use good technique and do what you have to do, you'll be able to get the job done."
(On the Patriots' offensive line)
"They have a great offensive line. They play well as a unit. It's like they're on a string—they all play together as a group. They get the job done."
(On the Patriots running for six touchdowns last week)
"it isn't always about passing, especially in the playoffs. Sometimes you have to get it done on the ground and that's pretty much what they did. They have a great quarterback though. I'm sure he can throw some touchdowns, we just plan on not letting him get it done this week."
(On the difference between what the Patriots did in Week 12 and what they do now)
"I think the biggest thing is that their running backs are just motivated. They had some fumbles early in the year and they cleaned that stuff up. I think they're just motivated and they're on a roll—getting the ball downhill and the offensive line is blocking well."
(On how you can see that someone is motivated)
"You can look at the yardage that they are putting up. It's just as much them coming together as a unit and getting the job done."