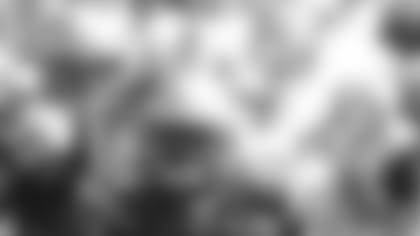 ]()The Patriots have been here before. New England is one of the few teams in NFL history to win a Super Bowl without a dominant running game. Actually, they won two Super Bowls without relying heavily on the run but that was with Antowain Smith as their primary ball carrier, not Corey Dillon.
Dillon's first season in New England was all moonlight and roses. His lowest rushing output of 2004 was 73 yards, and that came in the AFC championship game against the Steelers. Dillon ended last year with 1,635 yards rushing and 13 total touchdowns. But that was last year.
So far this season, the Patriots running game hasn't been able to match last year's success. After two games, Dillon has rushed for a total of 99 yards, including a disappointing 36 yards last week against Carolina. Dillon is averaging 2.7 yards per carry, down from 4.7 last season.
While many outside the Patriots organization probably expect Dillon to be frustrated after the slow start, he has been just the opposite this week. Dillon even took time to talk and joke around with the media on Wednesday, something he doesn't do very often.
When he was met by reporters and television cameras in the locker room, Dillon asked if some of the lights could be turned off. "It's the cataracts," Dillon said jokingly while holding his head. That remark seemed to set the mood for the rest of the interview.
"You are not going to go out there and rush for 100 or 200 yards every game," the Pro Bowler said. "When you don't, it's not the end of the world."
Dillon went on to say if people are expecting him to get all bent out of shape after only two games, it's not going to happen. "I know everyone is waiting for this big eruption but it's not going to happen. That volcano blew its top a long time ago. I'm calm. I'm just ready to work this week, try to do something positive and get things started."
The lack of success in the running game can't all be placed at Dillon's feet. The offensive line has been rotating players in and out during the first couple of weeks and the holes just haven't been there for Dillon to run through. There seems to be two or three defenders waiting for the 225-pound back as soon as he takes the hand-off, forcing Dillon to try and bounce runs to the outside, which typically isn't his style.
Dillon refused to put any blame on the line saying, "There isn't going to be any finger pointing from me or from anybody else around here. It's a team thing and I'm gonna ride with my boys."
Things won't get any easier for Dillon and the Patriots this week in Pittsburgh. The Steelers are traditionally one of the top defenses in the league against he run. Dillon may not be panicking yet, but it will be interesting to see how long the volcano stays dormant if the running game continues to struggle.
Two great teams as different as night and day
Patriots backup quarterback Doug Flutie has had the luxury to play on teams that are considered to be two of the best in NFL history. Flutie joined the Chicago Bears a year after their dominant Super Bowl victory and he is now a part of a Patriots team that has won three of the last four Super Bowls. Besides the fact they are two great teams, Flutie says there is little else the 1986 Bears and 2005 Patriots have in common.
"The two teams are as different as you can get, actually," Flutie said. "There were a lot of personalities on that Bears team, a lot of outspoken guys. Here it's a little more low-key. Guys keep to themselves more here and just keep their heads down and work hard. The general public knew a lot of those Bears players because of their personalities. Here there are some high-profile guys but it's more low-key and I think that comes from Bill. That comes from the top on down."
Harrison only focused on the Steelers
Sunday's game will feature two of the premier safeties in the NFL. Veteran Rodney Harrison is one of the Patriots defensive leaders and a guy that has been producing big plays for the past 11 years. Steelers safety Troy Polamalu has only been in the league for three years now but he is fast becoming one of the top safeties in the league. Although the two players are often compared to one another because of their physical style of play, Harrison isn't interested in talking about Polamalu. "I'm not thinking about him right now," Harrison said on Friday. "All I'm thinking about is the Steelers offense. People want to know what I think about other players. Who cares? Seriously, who cares? Ask me at the end of the year what I think about Polamalu. Right now my only concern is the Steelers offense."
Notes
At his Friday press conference, Bill Belichick said the Steelers are similar to Carolina defensively; they just do everything with a three-man line. "Everything they do gets built from a three man front and they do things off of that," the Patriots head coach said…When breaking down the Steelers kickoff returns, Belichick said teams in the NFL either use a sideline or middle return and the Steelers are a sideline return team. Belichick also expressed concern over Ricardo Colclough, Ike Taylor and Antwaan Randle El's explosiveness as kick returners…The Pittsburgh Tribune-Review reported on Friday that Steelers running back Duce Staley could see some playing time against the Patriots. According to head coach Bill Cowher, "He [Staley] has looked very good. There is a good chance that he may be able to participate Sunday."