Dolphins Head Coach Joe Philbin
OPENING STATEMENT: I thought it was a team win all the way. All phases contributed to this. Our guys stepped up and made plays. We talked about it at halftime. We were going to have to play our tails off and play a complete game. This is a very good opponent; they're a good football team. We made enough plays. It was especially a fitting way, I think, for this team who's been through a lot to win the game in that fashion. I think it's fitting.
(On the last call of the game)
You've got to give Kevin Coyle [defensive coordinator] and our defensive staff a lot of credit. These guys - we had a player in there that I think got into the building on Tuesday [S Michael Thomas] and Lou Anarumo [defensive backs] and Blue Adams [assistant defensive backs] and Jeff Burris [defensive assistant] spent extra time with this guy. All the credit goes to the staff.
(On if this win is a statement game)
I think we knew going in it was going to be an important football game. We had talked to the team about playing our best football of the year in December. We talked to the team last night about being 1-0 and improving. We're going to have to play awfully well. Certainly there are some things we need to do better but we played a good game.
(On the depth chart)
Anybody that dresses for the game has to be ready. They have to be prepared. That's part of our job as the coaching staff, is to get these guys ready to contribute if something happens. We can't call...the coordinators can't call three different types of games based on who's in it. Guys have to step up and perform and execute like they're professional football players.
(On the play of S Michael Thomas)
I don't know him that well. He's a serious guy. He came into work every day and spent some extra time because he was so far behind. We gave him some reps in practice. We didn't give him a hundred reps - I'm not going to tell you we did that. When you meet the guy, you like him. He's a bright guy. He picks stuff up and when we needed him he contributed.
(On the play of the defense) -
We tried to mix it up. This is a very good offense we're playing. They're well coached, they have good players. We wanted to present a couple of different looks. We played some two-deep schemes, we played some three-deep schemes, and we played some man coverage. We played off, we pressed...I have to give them credit. They executed well.
(On the play of QB Ryan Tannehill)
I thought our guys were playing hard in the first half. We really didn't make a whole lot of plays. It was very, very important that we make something happen. We called a couple of time outs, saved some time, and Ryan took the team down. He got good protection and good execution in the pass game. I think it was a fitting way to win this game. We got the ball I believe at the 40-yard line at the end and once again, our protection was better, the routes were good. We made a couple of nice throws. The guys executed the plan. You have to credit Mike [Sherman, offensive coordinator] and the offensive staff with the execution we've been getting at two-minutes. We're one of the top teams in the league and that's a credit to those guys and the players.
(On the play of WR Rishard Matthews)
They committed some resources to [TE] Charles Clay obviously, so it opened up some things for some other guys. He was one of those guys. The big thing we talked to the team about was when you have opportunities, you've got to step up and make the plays. I think that's what happened.
(On today's win)
It was a team win. I like the way all the guys contributed. I thought all three phases made plays in this game to get the outcome that we got. It wasn't one play, it wasn't one unit, and I think it was a total team effort. This is a very, very good football team, they're very well coached. They play very well in December. It was a good win.
(On if this is his biggest win with the team, coming at the end of his second season)
I'm not worried about that. Hopefully we have an important game next week. They're all important. This is a good win. All the guys, our staff, did a good job getting the players ready. There will be time for that stuff.
(On the team's play so far in December)
It's the same group of guys. I like the way this team worked during training camp. I liked their professionalism in the pre-season. I like the way we started the season. We went through a string there...we didn't win a lot of games. We were very, very competitive in those games but we didn't make enough plays to win. We didn't deserve to win. They're the same guys. They're a good group. They're a hard working group. I think it's important for them to represent this organization on and off the field the right way. They're not perfect. None of us are. It's a good group of men.
(On how he'll celebrate today's victory)
I might jump in my pool. I've been in it once since I've been here.
Dolphins WR Brian Hartline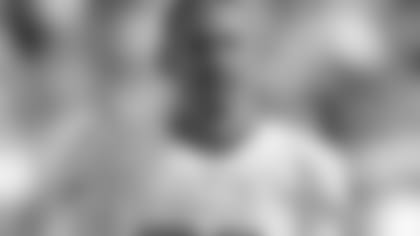 (On more guys making plays in this game)**
Yes, and I'll be honest it really comes down to opportunities. I think guys are getting a lot more opportunities. I don't know if it's how the games are playing out but I feel like at times, more than majority of the time we're staying more invested in our play calling and we're throwing the ball down the field a little more and in turn we're making some big plays. I attribute it to opportunities, guys have always been there, have always worked hard but the opportunities have increased.
(On if it felt like a playoff game, or just another game)
No, it felt like it was an important game. I can't comment on the playoffs, I've never been there. What I think for what it's worth it was an important game. We found importance in it, they had importance in it, as far as their home field advantage. It was an important football game overall.
(On if he felt like the wide receivers would get chances today, they put Aqib Talib on Charles Clay)
They moved him to me in the second half. It was good, I think that it's important I think staying aggressive. I wouldn't say we're still looking for an identity, we're running the ball well. I think that our receiver's...we're proud of what we're doing, we have a good group of guys so all I can really say is the opportunities have gone up and the guys are making plays for the team.
Miami Dolphins OL Bryant McKinnie
(On the win)
This is big because it was a division opponent and one that we haven't beaten in the last seven tries. This feels like finally getting over the hump of facing this team. Seven or eight games, that's four years, you know? It's big.
(On the play of the offense)
The offense has been playing well. Ryan [Tannehill] has a lot of targets and he's using them well. We have a lot of receivers and I think they are playing their best ball at this point of the season.
(On if he knew who Michael Thomas was)
I just knew he got here this week. It was funny because me and [Tyson] Clabo were just saying, number 31? And I just looked in the locker room to see what his name was. Didn't know. But he made some big plays for us, in special teams and in the game. He prepared himself like a pro, and he did a great job.
(On the team coming together)
This is coming together at a good time. Because you know December is when you want to be playing your best ball. We can't look too far ahead, this was a good step for the organization, and I was told you celebrate it for 24 hours and then you move on to the next. At the end of the day you have to take care of your business, because otherwise it doesn't matter what other teams do.
(On the locker room helping new players step in and have success)
The guys in the locker room are pretty good guys and they embrace you. As long as they know you're here to help them win, they accept you and just work.
Dolphins QB Ryan Tannehill
(On the emotional fourth quarter)
It was a wild fourth quarter. I think we knew going into the second half it was going to come down to the fourth quarter. Guys stepped up and made big plays to go ahead, and they scored a touchdown again. We knew what we had to do. Guys around me just really stepped up and played big. You think about the fourth down to Charles (Clay) and how big that was. That's just a great effort by him to get that first down and keep the drive alive. Then (Marcus) Thigpen making a good adjustment and catching the touchdown.
(On if the timing was off on the fourth down conversion to Charles Clay)
Yes we usually want to hit it a little quicker. He had press coverage. A guy came to my face with his hands up, so I had to throw it around him, which brought him backwards. That's one thing you don't want to do. Just a great effort by Charles (Clay) being able to make the catch, first and foremost and then make guys miss and get the first down.
(On the touchdown pass to Marcus Thigpen)
It wasn't how we expected it to play out. He had outside leverage and we expected inside, but he found a way to win. I couldn't really see him at all behind big (Bryant McKinnie). I trusted him, threw it out there and he made the adjustment and got into the endzone.
(On how hard it was to watch the final 75 seconds)
It was the longest 75 seconds of my life. I always say I would rather be on the field any day than have to watch from the sideline to be down four and having to drive the length and have to watch. But defense did a good job of keeping it out of the endzone and making a huge play there at the end.
(On how he has played in the three-game winning streak)
Guys around me are just helping me out so much making big plays, making small throws into touchdowns. You think about the one to (Mike) Wallace at the two-minute in the first half catching an in-cut, making the guy miss and going the length of the field for the touchdown. Just plays like that where the guys are around me are playing big and making big plays out of normal plays.
(On how comfortable he was in two-minute situations today)
I feel great in two-minute. I think our offense feels really good in two-minute. We've had a lot of practice at it going back to OTAs throughout camp and throughout the season. I think we've scored a lot of points in two-minute situations. We expect to score to some extent, either a field goal or touchdown , every time we get into a two-minute situation. To have the confidence of the guys around me, the offensive line protecting, it's a lot of fun to have those drives.
(On what changed from first to second half in pass protection)
I know on one we had a miscommunication up front. It wasn't necessarily someone getting beat, but I think the guys really stepped up. They knew the game was on the line the second half. It was going to come down to us making plays. For me to be able to make throws and get the ball out, they are going to have to protect. And they did a great job of that.
(On Rishard Matthews big catch on the final drive)
He had press coverage. I told myself before the play if he wins quick I'm going to give him the ball. If not, I'm going to work through my progression. He got a great release on the guy and went up, made a great catch and tapped his feet. He's a guy who's played big for us since he's started getting a lot of reps.
(On if he had even met Michael Thomas before he signed this week)
Yes I met him earlier in the week. Did I know he was going to come out here and make the game-saving play? No, but that's the NFL. You are going to have guys go down. New guys are going to have to step up, and he kind of had a trial by fire. I think this was his first NFL game, I heard. To make a game-saving play has to be a memorable moment for him.
(On where this win ranks for him)
This is just another step in the process. Obviously it feels good. It feels good to beat a divisional team, but we have big things ahead of us. We have to focus on this week.
(On how far this team has come since the first game against the Patriots)
We've grown a lot. I think to a man each of us has gotten stronger to some extent throughout the adversity we faced off the field, the adversity on the field we've gone through this entire second half of the season. Guys are tough in there. I love playing with those guys. I love those guys. I love those guys. To be able to be on the field with them is a lot of fun.
(On how much urgency there was to score before the end of the first half)
That was huge. I think everybody kind of felt that being down 10-0 having a chance in a two-minute drive. Like I said, we are very comfortable in that we expected to go get some points. And I missed some throws in that two-minute drive. I had some guys open. (Brian) Hartline really sticks out in my mind. That's a throw I should make every time, but other plays guys stepped up. Rishard (Matthews) had a huge catch I think to get the first first down over the top and kept the drive alive. You really have to give it up for the guys around me.
(On what it says about the team after all they've been through that they are where they want to be right now)
We are fighters. I think we've been through a lot. Guys are tough in there and are able to handle anything that happens on the field. (We) just have to keep the course, prepare like we always do and get ready for next Sunday.
Miami Dolphins RB/KR Marcus Thigpen
(On his touchdown reception)
It was a play that we designed this week in practice. And the way it was supposed to work, I was supposed to actually go against the linebacker one-on-one, which I did. But it didn't play out the way we wanted it to, but I was went in there and made something happen and Tannehill had enough trust in me to throw it up and I caught it and made something.
(On the win)
I ran on the field to celebrate with (Michael Thomas) when he made the interception. We're on a roll right now and we still have a chance for the playoffs, so we're just trying our hardest to take it one game at a time.
Miami Dolphins S Michael Thomas
(On him having a sense of confidence)
Oh, no, you can't be nervous when you play in the NFL. They called me on Tuesday to come up here. I knew it was my opportunity if ever I've gotten it, I have to take advantage and that's all I tried to do. But this team right here, I could tell from the moment I got here. This was a big game, but now that we've won it's on to the next thing, our next goal. So that's all we're about, trying to win this game and trying to make these playoffs.
(On a couple plays prior to his interception when he knocked the ball away in the last second)
Oh, yeah, that's another thing. I knew being the new guy Tom Brady was going to come after me. I saw the ball was in the air, but at that point I didn't think I was in the position to actually go up to make the pick and I just wanted to get the ball out.
(On if he was up to speed on the Dolphins defensive terminology)
Yeah, but Tom Brady is a great quarterback, he's going to exploit any team's weakness. If he sees a new guy or a guy went down, the next guy up, he's going to see where they're at. And I knew that I had a chance if I got in, he was going to do that to me.
(On what was going on after the final play when his teammates smothered him)
Oh man, that's what I'm saying, there's nothing but love. This locker room here, I like these guys, they've embraced me since day one. All we're trying to do is come in here and win this game any way possible, so now it's on to the next thing. I love these guys.
(On what they were yelling at him)
Well, I mean, they were trying to tell me to jump. I think I was the one yelling and screaming my mom, just like 'Oh my God, oh my God.'
(On what he was doing last Sunday at this time)
I was in another must-win situation just sitting on the practice squad, sitting on the bench, watching the 49ers play the Seahawks.
(On whether he was overcome with emotion)
Oh my God, who wouldn't?
(On what was going through his head)
Words can't explain it. Like I said, I just got here Tuesday, everybody trusted me enough to actually go out there, to actually go out there and make that type of play - I mean that's nothing but God to me. I feel blessed. A lot of people are going to try to put their own term to it, 'lucky,' you know, 'beastly,' but I use the term 'blessed.'
(On putting it in perspective when realizing that the Dolphins haven't beaten the Patriots in seven tries and have been coming back in games all season)
Like I said, I can't put this into words right now. Ya'll know how big it is. It is huge to me. I'm going to remember this one for the rest of my life, but honestly I'm just thankful that my teammates were able to trust me out there and just I'm ready to move on to next week.
(On how many actual snaps he had this week)
Actual defensive? Zero.
(So you played scout team all week?)
Yeah.
(On whether he knew the calls)
Yeah, I mean, trust me, the coaches were on me heavy. Everybody was on me heavy trying to get caught up to speed. Blue Adams, the DB coaches, the special team coaches, all of them were trying to get me caught up to speed. So extra meetings, you know, just putting in that extra effort to try to get me up to speed. And I'm thankful for that.
(On his opportunity coming due to injuries to others)
Yeah, exactly. I knew I had a chance to be up so I was just going through the calls in my mind, and, you know, just trying to play it out. But if it wasn't for Clem [Chris Clemons], and Reshad [Jones], and Jimmy [Wilson], it might have looked ugly out there.
(On whether he kept the ball)
I don't know if that's against the rules or not, so I'm just going to go ahead and say, 'No, I didn't.'
(On New England making it a habit to come from behind and win)
I mean, they're a great team. That's what they do. Tom Brady is a great quarterback. That's what they do. The situation presented itself out there today and he was trying to engineer the same type of comeback. But I just thank God for these teammates, they were able to talk to me and get me going out there. It allowed me to play with confidence.
(On the mood throughout the game)
Oh no, we expected to win. We expected to win. We expected to make plays before that play so I'm probably the only one that's proud of the last play, you know, but everybody else, we expected to win. And now we're moving on to Buffalo.
(On whether he was finding himself guessing out there in terms of defensive calls)
Oh no, no, no. I understand the schemes. Like any time you switch from defense to defense, the biggest thing is terminology. Cover 3 is still Cover 3. Cover 2 is still Cover 2. So the main thing was trying to get the signals in and just make the calls that I needed to make.
(On the [Danny] Amendola play that he broke up)
In the back of the end zone? Yeah, I had him man-to-man. He broke to the outside. I see the ball in the air. At that point I didn't really want to take a chance to go up for the interception, because the game is bigger than me. I didn't want to take a chance and misjudge the ball so I just knew I just needed to go through him and get the ball away. You know, thank God I was able to do that.
(On the interception)
Oh, yeah, I mean that was just game-time situation in football. We knew if we tackled them ... even if they caught the ball, if we tackled them inbounds, game was over. So everybody was playing not to give up a touchdown.
(On where this ranks for him to have a game-sealing interception in his first NFL game)
For me to not put something to do with my family at number one - that would be wrong. So it's definitely up there. It's top five. It's top five. I'll remember this one for life.
(On what's it like to be the hero)
Like I said, it probably still hasn't even hit me yet, but I'm not going to say I'm the hero. But definitely it feels good. And then to see the whole team embrace me like this, the rest of the organization, I mean, even the trainers and stuff like that, to embrace me like that, I mean that's what you want. That's why you play the game, for that camaraderie.
(On whether he can even find his way to where he lives right now)
No, actually I really do need to follow somebody. Honestly I do.
(On what his feelings were during the last play)
I don't know whether to say fortunately or unfortunately we've been in this situation 11 tines now. I don't know how many games it's been but I know that we've been in more close games than anybody in the NFL. We know that's the way this league is built. There's a lot of good players, a lot of good teams, it's not generally going to be just 40 point blowouts. It's going to take every guy to go out there and give it all they've got every play and you never know when that play is going to be. It could be the first play of the game. It came down to the last play of the game and we had to have guys step up and make plays. It's fantastic to be on that side of the ball when that happened.
(On what he thought about Michael Thomas' performance)
Great, great play, even from personal experience I know what it's like to kind of be thrown in the fire. You have to make the most of your opportunities, obviously he's a guy that obviously got the opportunity and made the most of and obviously we'll continue to expect big things from him. I'm glad he's on our side and I'm proud of him.
(On if he'd rather blow out Tom Brady or beat him in the final seconds of a game)
A W is a W to me, I don't care if it's the last play of the game or we won by 40 points. Either way, at the end of the day it's a W in the column, we expected to have that happen, from the first man to the last man on this team we came with the expectation that we're going to win this game and you look at it and it was one of those games that was going to be another one of those close games another where every play is going to count. We've had more than anybody in this league so we know what it's like, there's no play off, there's no backside of a play. Everybody on the field, you're at the point of attack, and that's the mentality that we had and it turned out for us.
Miami Dolphins WR Mike Wallace
(On the win)
I've won a lot of games in the NFL, so to me this is another win. You know this was a big win, but I don't care who we play. When we show up on Sunday, as long as we don't beat ourselves, we can beat anybody. It was a great win for the organization and for the fans, but we have bigger things in mind. We want to get to the playoffs, and we had to win this game to do that. It's just one game, but we have a good thing going right now. We just have to keep at that, no matter what anyone else says. They were ready to bury us a couple of weeks ago, so we don't want anyone on our side, it's us against the world.
(On his first half touchdown reception)
Just coming out of the huddle Ryan [Tannehill] told me he was going to look at me first on my route. A new player had just come into the game, so they may have been a little confused. Everyone around here has been breaking tackles, so I had to keep it going.
(On watching the Patriots' final drive)
Honestly, I might die two years earlier after that. I was so nervous it probably took two years off my life. I had total confidence in our defense, but with that guy [Tom Brady] with the ball, you can never be sure. Our defense did a great job.
(On the play of Michael Thomas)
Michael Jordan? (laughs) You know that just goes to show how coach says every week you never know who's going to step up. Coach Sherman, in our meeting yesterday, was telling players 'You're not rookies anymore and we expect you to play the exact same way the guy in front of you plays.' And that's exactly what he did. He showed up to work on Wednesday and played on Sunday.
(On having different players stepping up to make big plays)
Next man up. We expect whoever is out there to make plays. Those guys prepare with us, we give them great looks and they give us great looks, even if they are on practice squad or scout team. It might not be the exact same route, but we're going to give them a great opportunity to prepare and they did a great job of coming out here and showing that today.