Mock drafts before free agency even opens are inherently flawed exercises, given that a team's offseason needs can fluctuate wildly depending on how active it is in the market. But with the NFL's Scouting Combine in the rear-view mirror, we're at least starting to get a sense for how the league's 32 teams view this year's incoming class of prospects.
While the free agency fate of quarterbacks like Kirk Cousins, Case Keenum, A.J. McCarron and any potential trade of Nick Foles will greatly alter the landscape of the draft's first round, here's our opening stab of how it will unfold in Arlington, Tex., on April 26. As always, a reminder, your results may vary.
1. Cleveland — Sam Darnold, QB, Southern Cal — Could the Browns be tempted to turn in their card for the draft's consensus best player in Penn State running back, Saquon Barkley, relying on their No. 4 pick to land one of top two choices at quarterback? Absolutely. But it's still a bit of a risky maneuver for a team that has butchered so many of its calls at quarterback, so for now I've got Cleveland playing it safe and taking the pro-ready Darnold.
2. New York Giants —Saquon Barkley, RB, Penn State — With the Giants trading away a couple draft picks this week for Rams linebacker Alec Olgetree, that tells me they're in win-now mode with veteran Eli Manning at quarterback and won't be taking a first-round passer. Barkley then becomes the no-brainer of a choice to boost New York's offense and bring balance in the form of a greatly enhanced ground game back to Gotham.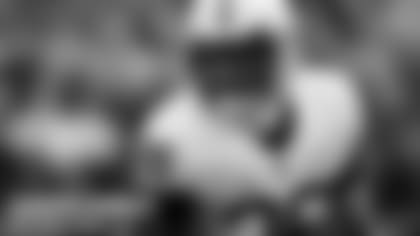 3. Indianapolis — Bradley Chubb, DE, North Carolina State — The pass rush gets the love in Indy, as well it should, with the draft's best overall prospect. Chubb said he's a little bit of Von Miller and Khalil Mack in the same package, and the Colts will settle for even half of that hyperbole coming true.
4. Cleveland (via Houston) —Minkah Fitzpatrick, DB, Alabama — The Browns can't go wrong taking the former Crimson Tide star who projects to either cornerback or safety in the NFL.
5. Denver — Josh Allen, QB, Wyoming — If the Broncos go out and lasso either Cousins or Keenum in free agency, they'll be out of the first-round quarterback market in all likelihood, and turn their attention to other needs (Notre Dame guard Quenton Nelson, perhaps?) But until I see John Elway at a March press conference holding up his new starting quarterback's jersey, I'm going to keep pegging the Broncos for a passer at No. 5.
6. New York Jets — Josh Rosen, QB, UCLA — Broadway Josh, 50 years after Broadway Joe led the Jets to their first and only Super Bowl season? I'll take that for symmetry. If New York swings and misses on its pursuit of Cousins, it could mean another year of Josh McCown as the bridge to the Rosen era.
7. Tampa Bay —Quenton Nelson, G, Notre Dame — The Bucs go for one of the cleanest and most fool-proof picks in the draft, doing both quarterback Jameis Winston and their running game a favor in the process. Nelson is the best offensive lineman available and an All-Pro in waiting.
8. Chicago — Denzel Ward, CB, Ohio State — He's the clear-cut top-rated cornerback, and in a division where the Bears could be going against Aaron Rodgers, Matthew Stafford and Kirk Cousins six times a season, an elite cover man will always hold great value.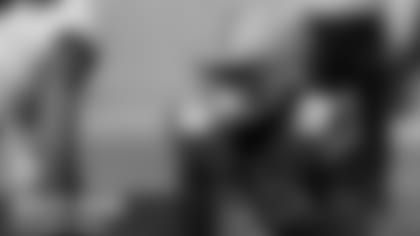 9. San Francisco —Tremaine Edmunds, LB, Virginia Tech — The 19-year-old is athletic and explosive and will fill a need for a 49ers team that suddenly must contend with Reuben Foster's legal issues.
10. Oakland — Roquan Smith, LB, Georgia — The Raiders defense disappointed mightily last season and Smith adds play-making and leadership, taking some of the burden off Khalil Mack's shoulders.
11. Miami — Baker Mayfield, QB, Oklahoma — Let's pair the Dolphins head coach and quarterback whisperer, Adam Gase, with a new passer to mold and see if any magic unfolds in Miami. Mayfield is one of the most intriguing prospects in the draft, and with Gase's creativity, it could make for a nice match.
12. Cincinnati — Derwin James, S, Florida State — James may not even last this long, given his versatility and impact as an X factor on defense. But the Bengals would love to add him to their mix as they attempt to return to relevancy in the rough and tumble AFC North.
13. Washington — Vita Vea, DT, Washington — A big, talented cog in the middle of the defensive line is the perfect marriage of need and value in D.C.
14. Green Bay — Marcus Davenport, Edge rusher, UT-San Antonio — Davenport is considered the draft's second-best pass rusher after Chubb, and the Packers will bequeath him as a gift to new defensive coordinator Mike Pettine. I know. Dom Capers has to be thinking it comes one year too late.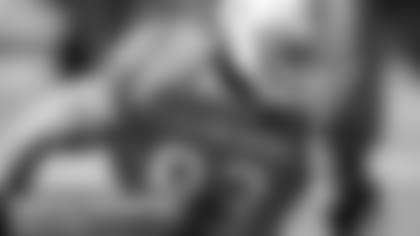 15. Arizona —Connor Williams, OT, Texas — The Cardinals have a quarterback on their radar, but with the top four prospect gone, here's hoping they can land McCarron or Keenum in free agency and use their mid-round pick in the first on buttressing their offensive line with one the draft's highest-rated tackles.
16. Baltimore — Calvin Ridley, WR, Alabama — The Ravens have a desperate need for more production at receiver, and ex-Alabama star Ozzie Newsome might just love the idea of picking one more Crimson Tide product in his final year of running Baltimore's draft.
17. LA Chargers — Da'Ron Payne, DT, Alabama — Payne had a strong combine showing and he projects good versatility in the NFL, making him a solid pick to open the second half of the draft's first round.
18. Seattle — Mike Hughes, CB, UCF — With the Seahawks vaunted defense being reconstructed in a significant way this offseason, Hughes offers Seattle a potential replacement for soon-to-be-departing veteran Richard Sherman.
19. Dallas —Taven Bryan, DT, Florida — Bryan should come off the board in the 17-20 range of the round, and the Cowboys need help with their interior defensive line. He can play almost any position on the front and could star as a three-technique tackle in Rod Marinelli's defense.
20. Detroit — Will Hernandez, G, UT-El Paso — Hernandez is a name that came way from both the Senior Bowl and the combine with some sizzle attached to him, and he's the kind of tough, physical road grader the Lions need in the interior offensive line.
21. Buffalo — Rashaan Evans, LB, Alabama — If you want to chase and over-take the Patriots in the AFC East, you need linebackers who can chase and cover running backs and tight ends. Evans plays that kind of sideline to sideline game.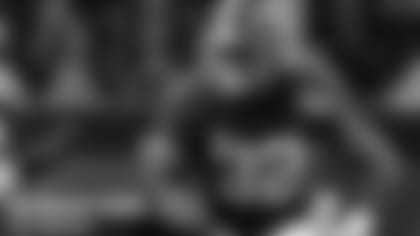 22. Buffalo (via Kansas City) —Courtland Sutton, WR, SMU — Whomever the Bills wind up starting at quarterback in 2018, they need better receiving weapons to work with. Sutton is one of the two two-rated pass catchers in this year's draft and he would pair nicely as another big receiver opposite Kelvin Benjamin. Packaging their two No. 1 picks and trying to move up for a quarterback is always a possibility for Buffalo as well.
23. Los Angeles Rams —Harold Landry, Edge rusher, Boston College — With defensive end Robert Quinn traded to the Giants, the Rams could use an infusion of pass rushing talent. Landry didn't have a great senior season, but he's on the rebound after a strong combine showing, and defensive coordinator Wade Phillips will make good use of him.
24. Carolina — Mike McGlinchey, OT, Notre Dame — Nothing wrong with the Panthers having a plan of getting more protection for quarterback Cam Newton, who takes an absolute pounding every season. McGlinchey is seen as an NFL-ready prospect who can step into the lineup from Week 1 on.
25. Tennessee —Leighton Vander Esch, LB, Boise State — Vander Esch is the kind of quick, athletic and instinctive linebacker the Patriots love to develop, so I don't see why he wouldn't be a natural fit for the team now coached by former New England linebacker, Mike Vrabel. Right down to the first letter of their last names, Vander Esch and Vrabel are a good match.
26. Atlanta — James Daniels, C/G, Iowa — The Falcons could go for Georgia guard Isaiah Wynn, who starred in their backyard. But Daniels is more versatile, with the ability to play three different positions, and he's ready to take on an NFL starting role.
27. New Orleans — Dallas Goedert, TE, South Dakota State — If the Saints do happen to reacquire free-agent tight end Jimmy Graham later this month, New Orleans' first-round focus will shift elsewhere. But there's great value at tight end at the bottom of the first round, and Goedert has the size and skills set to be an instant threat with Drew Brees throwing him the ball.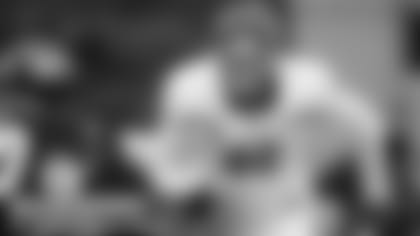 28. Pittsburgh — Lamar Jackson, QB, Louisville — The need is obviously greater at linebacker given Ryan Shazier's spinal cord injury late last season. But why not give the Steelers their eventual replacement for Ben Roethlisberger, who has 14 seasons under his belt and keeps making noise about retirement? Pittsburgh's next starting QB isn't Landry Jones and remember the fun the Steelers had when Kordell Stewart was the NFL's leading dual-threat quarterback? Jackson is an intriguing talent who may need a little time to best develop his NFL game.
29. Jacksonville —Hayden Hurst, TE, South Carolina — The Jaguars need a tight end who can do some damage downfield, despite getting to the AFC title game last season without getting much of anything out of the position. Hurst will turn 25 before his rookie year begins, but having him as a target should make Jaguars quarterback Blake Bortles even better.
30. Minnesota — Josh Jackson, CB, Iowa — The Vikings could target an interior offensive linemen like Ohio State center/guard Billy Price or a defensive tackle prospect, like Michigan Maurice Hurst. But both of them had setbacks at the combine, with Price partially tearing a pectoral muscle while doing the bench press and Hurst being red-flagged for a heart condition that will need further evaluation. Until further notice, we'll give them Jackson, on the theory that you can never have enough depth at cornerback.
31. New England —Sam Hubbard, Edge rusher, Ohio State — There are second or third-round quarterbacks who make sense to groom behind Tom Brady, but how do you not address the lack of pass rush in the first round? A trade down if New England isn't in love with any of its potential choices is always a possibility, but I'm giving the Patriots a player who has 6-5, 270-pound size and enough athleticism to create steady heat coming off the edge. We're pretty sure Hubbard will carry Urban Meyer's seal of approval, too.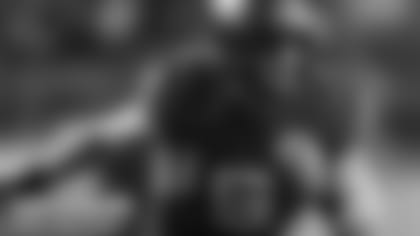 32. Philadelphia — Isaiah Oliver, CB, Colorado — The defending Super Bowl champs can sit and see who falls to them, or put the pick up for sale and try to recoup some of the draft capital they've traded away. But for the purposes of our mock, we're not ready to predict trades. So we're giving them Oliver, one of draft's top five cornerbacks. Former Louisville cornerback Jaire Alexander might also be in play here, after his blistering 4.38 time in the 40 at the combine.