With the first round of what promises to be the most intriguing NFL Draft in years just two weeks or so away, here's our latest attempt to mock out what will transpire in Arlington, Tex., on the night of April 26. The Patriots now own two first-rounders (at No. 23 and 31) after trading receiver Brandin Cooks to the star-laden Rams, and that opens up the possibility for a record-tying sixth quarterback to be selected in the opening round.
We're also projecting a new No. 1 overall pick to the Browns, and walking away from the No. 2 Giants-No. 12 and 22 Bills trade that we forecast in our 2.0 mock. To be sure, it's a quarterbacks world in the 2018 draft, and we're all just watching to see what unfolds. Read on to see if I predict a six-pack of passers going in the first round, but as always, a caveat to remember: Your results may vary.
1. Cleveland Browns
Josh Allen, QB, Wyoming - While I've had USC's Sam Darnold going No. 1 overall to the Browns in my first two mocks, the buzz is the Browns are too intrigued with Allen's arm and tantalizing upside to pass on him. Tyrod Taylor as the 2018 starter buys Cleveland time to develop Allen's pro game, and the Browns gamble that Allen's collegiate accuracy issues are over-blown in the draft-season dissection process.
2. New York Giants
Sam Darnold, QB, USC - With Darnold still on the board, the Giants say no dice to a proposed trade with Buffalo, sitting tight at No. 2 to select Eli Manning's successor. New York could opt to fill several needs, with the Bills willing to ship both of their first round picks, plus a second next year, to move up from No. 12 for a quarterback. And with that, Manning's tenure as the Giants starter is again on borrowed time.
3. New York Jets (via Indianapolis)
Josh Rosen, QB, UCLA -I've had the Jets targeting Rosen all along, and they may just be getting the guy who will set the standard for rookie quarterback play in the Class of '18. The Jets will be positively giddy about becoming a two-Josh team at quarterback, with Rosen eventually replacing McCown as the starter, maybe by September.
4. Cleveland Browns (via Houston)
Bradley Chubb, DE, North Carolina State - No Saquon Barkley for the Browns and back-to-back home runs for the bedraggled Cleveland offense? Alas, no. Browns general manager John Dorsey will balance out his team's first-round haul, scooping up Chubb to potentially give Cleveland a potent pass-rushing tandem with last year's No. 1 pick, Myles Garrett.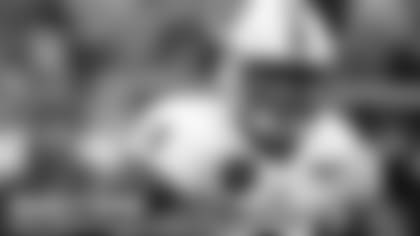 5. Denver Broncos
Baker Mayfield, QB, Oklahoma - I'm sticking with Mayfield to the Broncos, even with Barkley still available, because I don't think John Elway will be able to resist taking a passer in the top five. Prove me wrong, Denver and I'll gladly offer up the mea culpa.
6. Indianapolis Colts (via Jets)
Saquon Barkley, RB, Penn State - With the top four quarterbacks gone and nobody tempted to move up for a passer until we're into the teens, the Colts stand pat and find perhaps the draft's best overall player waiting for them. Andrew Luck's comeback attempt won't be hurt by handing the ball off to Barkley 20 times per game.
7. Tampa Bay Buccaneers
Minkah Fitzpatrick, DB, Alabama - Bucs coach Dirk Koetter admitted his team's top need was secondary help, and Tampa Bay should have its choice between three blue chippers like the well-polished Fitzpatrick, Florida State safety Derwin James and Ohio State cornerback Denzel Ward. Fitzpatrick looks like the surest of the sure-things in that group.
8. Chicago Bears
Quenton Nelson, G, Notre Dame - Not to repeat myself, but the Bears can't go wrong sitting tight and taking the almost fool-proof Nelson, who figures to help second-year franchise quarterback Mitchell Trubisky stay upright in 2018. Chicago is quietly making some nice improvements this offseason, starting with the Matt Nagy coaching hire.
9. San Francisco 49ers
Tremaine Edmunds, LB, Virginia Tech -The 49ers could opt for more pass rush with UT-San Antonio edge rusher Marcus Davenport, or add to their secondary with Ohio State cornerback Denzel Ward. But Edmunds is a pro-ready prospect who makes sense in light of Reuben Foster's off-field issues.
10. Oakland Raiders
Roquan Smith, LB, Georgia - Ohio State cornerback Denzel Ward will likely tempt the Raiders, but Smith was the 2017 Butkus Award winner as the nation's best linebacker, and his side-to-side coverage and tackling skills makes him a candidate to become Jon Gruden's favorite rookie grinder in 2018.
11. Miami Dolphins
Vita Vea, DT, Washington - The Dolphins eschew getting into the first-round quarterback market and select the massive Vea, who will quite literally help fill the void created by the release of defensive tackle Ndamukong Suh. The No. 10 Raiders could be in position to pilfer Vea right before he gets to Miami's draft slot.
12. Buffalo Bills (via Cincinnati)
Lamar Jackson, QB, Louisville - It's not as implausible as you might think for Jackson to land in Buffalo if the Giants refuse to move out of the No 2 slot via a trade with the Bills. If the Bills wait until their No. 22 pick, Jackson will likely be gone, to either No. 15 Arizona or No. 16 Baltimore. With a year of sitting behind A.J. McCarron, Jackson might be the smart play to solve Buffalo's long-standing quarterback question.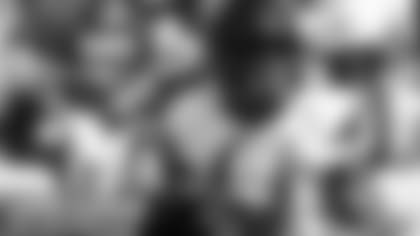 13. Washington Redskins
Denzel Ward, CB, Ohio State - With plenty of needs, Washington could go in a lot of different directions. But landing the best cover corner in the draft at No. 13 is a pretty good trick, especially after shipping young cornerback Kendall Fuller off to Kansas City in the Alex Smith trade.
14. Green Bay Packers
Derwin James, S, Florida State -The Packers secondary is an obvious first-round need, and it lines up nicely with the value of James still being available. He's a versatile talent who can offer slot coverage duty or a more traditional strong safety role. New Packers defensive coordinator Mike Pettine gets himself a valuable piece of the puzzle.
15. Arizona Cardinals
Marcus Davenport, Edge rusher, UT-San Antonio -If Lamar Jackson should last this long, I believe the Cardinals will pounce on the former Heisman winner. But more likely Arizona gets doesn't get into the first-round quarterback game and instead secures the draft's second-best edge rusher for the defense that will be constructed by new head coach Steve Wilks.
16. Baltimore Ravens
Calvin Ridley, WR, Alabama -Not going to over-think the Ravens. They need more play-makers in the receiving game for Joe Flacco's potential make-or-break season, and Ridley is the top-rated pass-catcher in the draft. Ozzie Newsome gets to select one more Crimson Tide product before he turns over the draft to Eric DeCosta next year.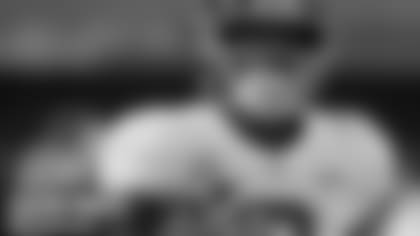 17. Los Angeles Chargers
Da'Ron Payne, DT, Alabama  - It'll be a pain for the Chargers' AFC West opponents if the elite Alabama run-stuffer is still on the board and available to improve Los Angeles's already talented defense. Payne will hold the point of attack for the Bolts.
18. Seattle Seahawks
Harold Landry, Edge rusher, Boston College - Pick a spot on defense and the restructuring Seahawks could probably use help there. But there's always a need for more pass rush, and Landry has a burst off the edge that will secure him a spot in the first round, despite a less-than-dominant senior season.
19. Dallas Cowboys
Leighton Vander Esch, LB, Boise State - It'd be easy to keep giving the Cowboys a receiver - say, Maryland's D.J. Moore? - with Dez Bryant perhaps on his way out in Dallas. But Vander Esch's stock seems to on the rise as we approach April 26, and the Cowboys might see him as a potential difference-making on defense. His athleticism and ability to make plays all over the field would be a great addition in Dallas.
20. Detroit Lions
Will Hernandez, G, UT-El Paso - Hernandez is another prospect who I think will end up going higher than first projected. He's a tough, hard-nosed battler who's durable and would instantly upgrade a Lions weakness in the interior offensive line.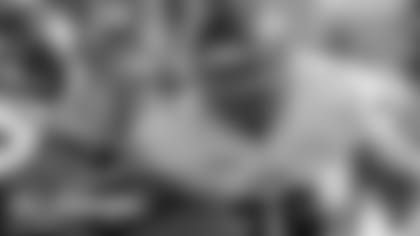 21. Cincinnati Bengals (via Buffalo)
James Daniels, C/G, Iowa -Daniels has been a popular mock pick to the Bengals, given how his versatility, size and athleticism fits so well with the need that exists on Cincinnati's interior offensive line. He's a solid value at No. 21 and sometimes a marriage of team and prospect just makes too much sense not to happen.
22. Buffalo Bills
Connor Williams, OT/G, Texas - The run on offensive linemen continues, with the Bills taking a potential replacement for Richie Incognito, who this week abruptly announced his intention to retire. The Bills could go for Notre Dame tackle Mike McGlinchey as well, but Williams is seen as a guard by many NFL evaluators and would seem to fit Buffalo's need a bit better.
23. New England Patriots (via L.A. Rams)
Mike McGlinchey, OT, Notre Dame - The Patriots might be tempted to pull the trigger on an heir apparent for quarterback Tom Brady with this pick, but my guess is McGlinchey's grade will be high enough to prompt them to go for the draft's highest-rated tackle as a replacement for the departed Nate Solder. The future QB can wait.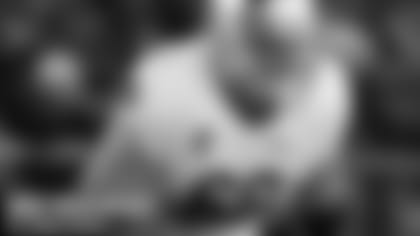 24. Carolina Panthers
Derrius Guice, RB, LSU - Panthers fans, meet the new Jonathan Stewart. Trust us, you're going to like him. And Guice's power running style fits very well as a change of pace from last year's first-round running back, the elusive Christian McCaffery.
25. Tennessee Titans
Rashaan Evans, LB, Alabama - Had to find a home in the first round for Evans, because he's not making it to Friday night's proceedings in this draft. New Titans head coach Mike Vrabel, and old linebacker himself, is going to love Evans' relentless style.
26. Atlanta Falcons
Maurice Hurst, DT, Michigan - Having lost Dontari Poe to Carolina in free agency, Hurst is a need pick who has great value for the bottom of the first round. If the Falcons are scared off by the heart abnormality that was discovered at the NFL combine, Florida defensive tackle Taven Bryan would be a logical alternative option.
27. New Orleans Saints
Hayden Hurst, TE, South Carolina - That's right, we're going back-to-back Hurst picks. Deal with it. The South Carolina tight end is gaining fans as the NFL draft nears, and he'd be the up-the-seam threat the Saints were hoping to feature in trying to re-acquire Jimmy Graham. Oh, good, says the rest of the NFC. Another weapon for Drew Brees.
28. Pittsburgh Steelers
Josh Jackson, CB, Iowa - Don't the Steelers always need a corner? If he falls, Alabama linebacker Rashaan Evans would be an easy choice, given the Ryan Shazier injury, but we'll go with Jackson, one of the draft's top coverage guys. Georgia outside linebacker Lorenzo Carter deserves to be on the Steelers' radar screen as well.
29. Jacksonville Jaguars
Isaiah Wynn, G, Georgia -Seen as a plug-and-play guard in the NFL after starting at left tackle for the Bulldogs, Wynn makes sense for a Jaguars offensive line that has to start to making plans for the future.
30. Minnesota Vikings
Jaire Alexander, CB, Louisville -The Vikings don't have a crying need at cornerback, but there's always room to add talent at that position in a division that features Aaron Rodgers, Matthew Stafford and the young Bears quarterback, Mitchell Trubisky. After all, Terence Newman can't play until he's 53.
31. New England Patriots
Mason Rudolph, QB, Oklahoma State - In this quarterback-driven league, I'm buying the notion that a record-tying six quarterbacks make the first round (matching 1983's total, albeit in a 28-pick first round that year). Rudolph has prototypical size and good accuracy, and while he's a bit raw, a year or two of sitting behind Tom Brady would be an ideal start to his career. Maybe the Patriots could wait until the second round to get him, but quality quarterbacks always get pushed up in the draft, and I'm hearing Rudolph has a building sense of first-round buzz surrounding him.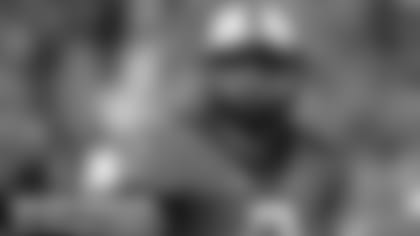 32. Philadelphia Eagles
Mike Hughes, CB, UCF - While the champs aren't strapped for cornerbacks, they did lose slot corner Patrick Robinson and could use another another option in the coverage game. Maryland receiver D.J. Moore or UCLA offensive tackle Kolton Miller would also make for decent bottom-of-the-round options.