Coming off a win on Sunday, the Patriots took some time to relax and unwind while watching Monday Night Football action, and best of all, they did it for a cause.
Dont'a Hightower hosted his second annual Monday Night Football Watch Party to benefit the American Diabetes Association. Jake n Joes in Norwood, Mass., was packed with Patriots fans that came out to support diabetes awareness, hang with their favorite players and watch the sport they love.
Dont'a's mother L'Tanya was diagnosed with diabetes in 2015, and after seeing his teammates like Devin McCourty and Patrick Chung host fundraisers for causes close to their hearts, he was motivated to do the same. Dont'a started promoting diabetes awareness with the inaugural event last year and involvement with the American Diabetes Association, and his goal is to not only raise money for the association but to get people talking about the disease.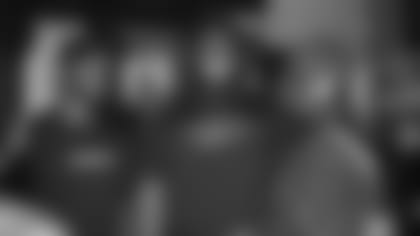 "It really hit home. My mom was diagnosed with diabetes last year, which was the biggest thing … That struck home knowing her day-to-day battles that she has with it," Dont'a said. "[If we can] just get to somebody out and if they get tested or just think about it in a different way, we could help them and keep them from getting diabetes. Getting that awareness out there really means a lot to me."
According to Lindsey Mitchell of the American Diabetes Association, Dont'a's work has already made a difference in terms of raising awareness and reaching more people.
"[Diabetes] affects 30 million people and 86 million people have prediabetes and most of them don't even know it. It's a disease that's becoming a real epidemic in America, and we can't do it alone," she said. "We have all the resources at the American Diabetes Association, but with the help of professional athletes like Dont'a working and reaching new groups of people and reaching their fans, hopefully we're educating people and letting them know that this disease is out there. We need to kind of work together to manage it because it's one of America's most chronic diseases right now."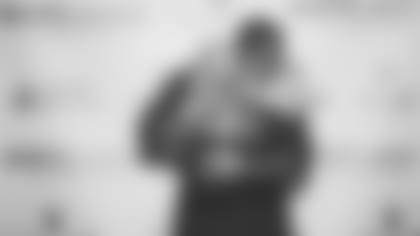 Many people, Lindsey said, are directly impacted by this disease. For Dont'a, seeing his mother's struggle was enough to get him involved. Though L'Tanya wasn't able to get out for last year's event, she was in attendance for the Monday Night Football Watch Party this year, and Dont'a said she was excited to be a part of the night.
L'Tanya was not alone in coming out to support Dont'a and the cause. Several of his Patriots teammates made it out to the event, including Brandon Bolden, Devin McCourty, Jamie Collins, Duron Harmon, Nate Ebner, Ryan Allen, Alan Branch, Brandon King, A.J. Derby, Elandon Roberts and Malcolm Brown.
Brandon Bolden was one of the Patriots to sign autographs for the fans watching the game, and he said being able to support his teammates is a wonderful feeling.
"Dont'a has been like a brother to me since we both got off the plane to come here as rookies. It means a lot to come out and show my support and bring my family along," Brandon said. "We all like what we do. We have a great blessing upon all of us to have the status that we do have. For us to find something in common in so many things that we can do together as a team, it just brings us that much closer. There's a lot of guys that came out tonight. It's a great turnout, and it's a great thing we can do for Dont'a."
Dont'a Hightower hosted his second annual Monday Night Football Watch Party on Oct. 17 at Jake n Joes in Norwood. The money raised at the event benefits the American Diabetes Association.