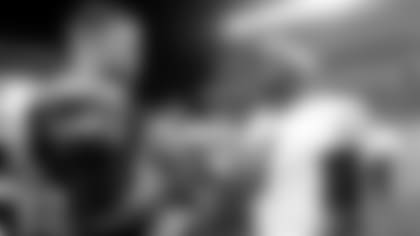 On how the first preseason game went:**
"It was great. Great experience, good to be back out playing ball, we are always excited and had a great time out there. It was good to go out and get a feel of live game action."
On whether he made a statement in terms of the competition: "I am trying to make a statement every day. I promised myself that every snap I take I will try to treat it like my last. I know I have said that before and I want to continue to keep saying that, but that is just how I feel. Every day is competition, and to me competing against myself, trying to get better each and every day, trying to just enjoy the game, the respect and appreciation I have for the game of football now is uncanny and I appreciated that more than anything. That is going to drive me to continue to do my best in every possible situation. I know it is not always going to be right but at least I can work hard to put myself into a position where I can be."
On the touchdown pass to WR Desean Jackson: "They were doing a great job disguising their coverages, they play some different fronts and different defenses from what they did the past three days and I kind of knew what they were going to do. They have some pretty savvy safeties. I did a good job holding the coverage. The route concept we had gave us options and Desean took advantage of the opportunities and the funny part about it is that we talked about it on the bus about getting that same look and it happened in the first series and first possession. It just goes to show that when you are on the same page with your teammates and guys who put their time and effort into the game like you, good things can happen."
On getting into a rhythm: "I just felt my time was going to be limited tonight and I knew it was going to be a possession or two and I just wanted to make the most out of it. I wanted to move the chains and put our team into a position to score some points. I wish we could have scored on the second drive and I saw some things that I could have made happen but it is hindsight now and I think this is a great opportunity to come back next week and try and do it all over again and that is a challenge this football team is up for."
On whether this offense fits his skills: "I am excited about what this offense can do and how we can produce, it is just the matter of us continuing to work together and continue to understand the reasons why we are doing certain things. Study film, put ourselves in a position where we can excel. It is not going to happen overnight, it is not going to happen if you do not put in the hard work and I think that group in the locker room understands that we are on the right track."
On whether it will be tough for the quarterback competition to drag on: "Not at all. I am competing every day, I am competing tomorrow, competing Sunday, I am just trying to bring my A game. I think it is a testament to hard work, you get the results but you have to be willing to sacrifice and you have to give up a lot to gain a lot and I understand that, (QB) Nick (Foles) understands that, (QB) Matt (Barkley) understands that, and that is just our approach right now."
On whether there was an emphasis on getting rid of the ball quickly: "It was just the concepts that were called tonight. We did not even do a third of what we normally would do. We had fun with what we had; we knew it was going to be very vanilla. We did throw some things in there that kept their defense off balance. They did some good things on defense too as well. It is a good football team right there."
On whether there was a benefit of getting preseason reps: "I understand the importance of preseason now. A lot of veteran guys feel like preseason is just a waste of time. Coach (Andy) Reid made me think otherwise. At the end of the last preseason, I know why it is vital to get those snaps, why it is great to put your mind to competition mode, the preparation that goes into a preseason or regular season game has to be the same way. There is no way around it and we all have to understand that as a team we have to prepare ourselves mentally and physically to play each and every game regardless if it is a preseason game or a regular season game."
On putting more of an emphasis on not turning the ball over: "I do not want to turn the ball over, but if it happens do not be surprised."
On how it felt to get back out there: "It was awesome. It was the first time I have gotten out there since last season. There was a lot of emotion before the game and a lot of guys were welcoming me back, so it was a great feeling."
On what the offense felt like once they were able to get in a rhythm: "It feels great, especially when we do the up-tempo stuff. I did a bit of that in college. Once you start clicking in a no-huddle situation, you really put the defense in a bind. It makes our job on offense a lot easier. It was a really great feeling today."
On whether he could sense that the defense was forced to guess more once the team sped up the tempo: "Yeah, and that is what the whole point of an up-tempo offense. You can see the defensive player a little bit gassed, sucking for air, so you know you got them a little bit on their heels. This was really not the true offense or defense that both teams are going to run, but it was good to be out there and get that simulation of a game situation.
On how he would evaluate his play tonight: "I thought it started a little slow and then it finished on a great note. I think it was great to get in that no-huddle rhythm. That is how we have been practicing every day, so that is what I am used to. When (head coach) Chip (Kelly) got into that tempo package, I felt like I did better. I was much more in sync with what was going on. It felt right."
On whether that means he is becoming a Chip Kelly quarterback, now that he is more comfortable in a fast tempo offense: "It may, but I think it just says that I have learned to play the way that he has been coaching. It's the way we have been practicing and it has worked. So, it kind of threw me for a loop when we were huddling up tonight. It's not an excuse for some of the throws I made tonight, but I did feel much more in rhythm when we got going."
On whether he thinks Chip was throwing the team for a little loop on purpose by slowing down the offense tonight: "No, I don't think that is what it was. I think he was just trying to start slow, but he eventually got excited and went up-tempo and we all felt better for it."
On what it was like to be playing in a game again: "It was exciting. It felt comfortable and normal. It felt like it was a thing to be doing on a Friday night. The stadium was great."
On being given less reps in practice this week and how it affected his play tonight: "A little bit. I think that may have contributed to the slow start, but I feel happy the way we finished and that we improved with those guys out there."
On whether tonight felt similar to his first games in high school and college: "It kind of did. This is the next stage and it's a bigger stage. This is the highest level. I got the jitters out and I can move forward from here."
On whether scoring against his old team made it feel any sweeter: "Yeah, it did actually. I have plenty of friends on (the Patriots) who congratulated me afterwards and I talk to. It was great to get out there and play against them. It was great to get out there and play, period."
On his one-handed catch in the 4th quarter: "(QB G.J. Kinne) just put it out there and I made a play on the ball. I went up there and snagged it."
On how it feels to be the first MVP of the preseason: "It doesn't really mean much until it's the regular season. But it feels great to get out there and make some plays."
On what he showed the coaches tonight: "I am happy. I could have done a little better. You always look at the things you can improve on. This is a good first step."
On his touchdown: "My blocker in front of me, he made a great block. It takes an entire offense to make plays. I just tried to get up field; I saw that the inside was open, so I headed in that direction. I made a juke move and luckily it worked out."
On how he felt tonight: "I felt great. It was great to get the first-game jitters out of the way. It felt good."
On whether he had first game jitters: "I'm nervous before every game, but it's good to get out there, run around and get in a game situation."
On whether he believes the offense has the potential to be explosive: "We have potential. We obviously made mistakes out there tonight, but we are going to go out there tomorrow and check the film, correct it and move on from there."
On how he feels the quarterbacks played tonight: "Everyone looked good. Everyone can run this offense. So, I guess they are just splitting time right now and time will tell."
On how he felt the fans reacted to him tonight: "I don't know. I didn't pay any attention. I know I had that one catch and people said it was a good reaction."
On whether he feels people got to see the type of player that he really is: "Yeah, in a way. Like I said, we've been practicing hard all week. I just try to take things in stride and take things as they go. I just try to do the things that I can control. When it's my time to make a play, I try to do it with excellence at all times."
On whether he feels this new defensive system is one he can have success with: "I just want to be on the field with these guys. I just want to prove to myself and to everybody that I'm a worthy player, so I'm going to continue to work."
On how much different tonight felt compared to this time a year ago: "I'm way more confident in myself. This year just feels good. I feel better about myself. I've bought in right from the beginning and I've been working hard, so I'm glad I got to see it start to pay off tonight."
On how he felt tonight went for himself and the starting defensive unit: "As we got into a rhythm through our 15 plays, I think we started to get the feel of everything. This is a team we fought and now we have to go watch film on Sunday to learn how to correct and learn things."
On whether New England's yardage in the first quarter was gained because of the Eagles' defense or because QB Tom Brady and the Patriots were more talented: "It's a game, stuff happens. They had a few big runs that led to a lot of yardage. Those big runs just killed us. We just got to go in and see what happened on those plays and figure out how to correct it."
On how the defense has challenged itself over the offseason and up to this point to improve from last season: "It is a challenge. Last year is behind us and now we need to focus on this year. It's a new coaching staff, new defensive sets and new players—so, we all need to come together as a team."
On how important it was for the offense to get off to a good start with the first team: "That was our main goal. We just wanted to get out here and see where we were at. Things went well for us, we did do some good things and we'll come into next week and keep trying to improve."
On what his first NFL playing experience was like: "It's kind of hard to explain. You've been watching all of your life and then finally you're right out there in the huddle and it's like a surreal experience. It was real fun. It felt good to get my first one done with just to get that feeling out of the way. It was great."
On what the up-tempo style of offense was like: "Honestly, it hurts your lungs, but when you see the defense is coming and you know that they're out of breath, you go for the throat, I guess."