St. Augustine, Fla. - Over the course of the week leading up to Super Bowl XXXIX, a subtle shift has occurred. The major story line of the Super Bowl, which was previously whether or not Terrell Owens will play in Sunday's game, has now shifted to the proposition of just how effective the Philadelphia Eagles star wide receiver will be against the New England Patriots.
Owens held a short press conference Thursday morning at the Eagles' team hotel, following head coach Andy Reid, which produced plenty of material on its own. According to the NFC pool reporter, Owens saw substantial practice time in rainy conditions Wednesday, as the Eagles held the first of two days of more intense practices at the University of North Florida.
"He's done well," Reid said Thursday. "I was a little bit wary of him working on a wet field yesterday. But [trainer] Rick [Burkholder] thought that might have been the best thing for him. He went though the whole workout and did very well. We'll see how he does today. Rick has done a great job and T.O. has sacrificed a whole lot to get himself ready for this game."
The extended work done by Owens in practice adds another bit of momentum towards his chances of playing Sunday. Many of the questions facing Owens Thursday turned to the nature of his recovery and the extent of his ability to run and cut in practices.
Owens, who revealed he won't wear any type of protective brace on the ankle Sunday and would only take pain-killing injections if necessary, is experiencing the anticipated side affects.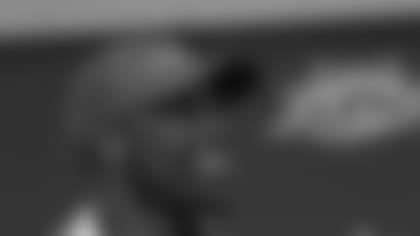 ]()"I'm a little sore but that is to be expected," Owens said. "I am only six and a half weeks out of surgery. It's a blessing just to be walking around here, and obviously to be running routes at this stage. I'm not really concerned about it, I'm cutting on it, so once I get out there I'm just going to let it go."
Yet three days before the Super Bowl, Owens hasn't been given any indication of his expected playing time, and isn't certain he could play an entire game anyway.
"Not at this point," said Owens. "I think right now you're just going through practice and trying to get my conditioning in. I haven't practiced in a long time. Other than that, I think emotions are going to take me throughout the game. I'm just going to let coach dictate where he wants to put me on the field."
While Reid has yet to officially say Owens will play and Eagles team doctors have yet to medically clear him, Owens isn't worried about being allowed to take the field.
"I'm not concerned," said Owens. "Like I said all along, I have the best doctor of all, and that's God. You can't argue with a guy like that."
Has he thought about what would happen if he couldn't play?
"I don't foresee that happening," Owens said. "You guys are waiting for that, but it's not going to happen."
Owens spent a good portion of his press conference Thursday, as he has often during the week, speaking to his spiritual faith and how it has helped him recover from a severely sprained ankle and fractured fibula that caused him to miss the Eagles last four games over a six-week span. Owens believes it's all in the plans.
"I think God has put me in a situation on the biggest stage of my life to show and to tell people how good he is," Owens said. "I think me being five or six-and-a-half weeks out from surgery and running routes, I didn't do this all on my own. God has helped me along the way. I feel like he has heeled me. Just the timing of the way things happen.
"A lot of people don't realize, but I set a goal for 15 touchdowns this year. I got stuck on 14. I got hurt. I didn't get to play in the playoffs. And this is the biggest stage in my career and he's bringing me back to play in this game. Like I said on Tuesday, if you don't believe in God and you don't believe in miracles, just wait until Sunday."
As for the game, it's doubtful based on Owens' comments during the week that he would be able to sustain the same number of snaps and workload that he maintained before the injury on Dec. 19. He has appeared resigned to playing at less than 100 percent of the receiver who led the Eagles with 77 receptions for 1,400 yards and 14 touchdowns despite missing the final two games of the season.
But Owens bristles at the notion of playing as a decoy in the Philadelphia game plan.
"Any time I'm on the field I expect to be an impact," Owens said. "I got some questions [earlier in the week] about being a decoy. I just don't foresee myself being that. That's just like putting Shaq on the court and not giving him the ball. I don't foresee myself being that type of player. I'm going to help, whether it's in the running game or I'm catching passes."
Owens, who said he isn't eyeing any particular match up against the Patriots cornerbacks, didn't believe how the Patriots chose to cover him would have an impact on his injury.
"I welcome man-to-man, but [Bill] Belichick is a smart coach, and that's not a situation he wants to put his guys in," said Owens. "If that's the case, if he wants to test my ankle and see how it is, then I welcome that. We know the type of defense they play; they're very simplistic and they play very hard. They have a good group of guys in that secondary."
Owens, who has remained his confident and entertaining self throughout the week, shed some light on what will happen if he reaches in the end zone in his first Super Bowl appearance.
"Well, you know, I have some things in mind," he said. "I mentioned that Rick Burkholder's little girl, she's a sweet little girl, she gave me an end zone dance that I may bring out."