Wide receiver Julian Edelman was taken of the physically unable to perform list (PUP) Thursday and practiced for the first time this summer. He was in full pads with the rest of his teammates and didn't appear limited in what he could do on the field.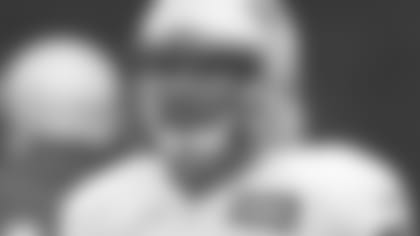 Edelman was active both on offense and in special teams periods, which focused mostly on the punt team today, with Edelman returning kicks. The fifth-year player had been out of action all spring and the first five practices of camp because of a foot injury.
After practice, Edelman told reporters he "felt good" to be back on the field.
"It's always exciting to get back out there with the teammates and start a new year and get on the field. It was exciting. Right now I'm ultimately focused on just trying to get out here and catch up with the train… The train's been moving."
Though he didn't appear rusty, Edelman acknowledged needing time to get back in top shape. That manifested itself at one point during a lull in the action on the field, when Edelman was running sprints from sideline to sideline for several minutes.
"Obviously, it's new right now, so I definitely have to get my legs under me, work my way in and try to get a spot," Edelman remarked.
Although he's missed some time on the field, Edelman four years of prior experience in this system may help him get back on that "moving train" quicker than he otherwise might. He's also been doing his best to help the many rookie receivers on the team get familiar with the playbook during off-field meetings.
"This is going to be my fifth year here, so the terminology and all that is kind of my strength right now," he said. "There is new stuff and I have a long way to improve, but that definitely helped."
"I've been in all the meetings and if [rookies] ever have a question they ask. I try to help them out as much as possible… I'm more worried about my situation and trying to develop my game."
"He's got some ground to make up," head coach Bill Belichick said of Edelman prior to practice. "We'll see how it goes."
Edelman wasn't the only receiver back on the field Thursday. Rookie Aaron Dobson returned after missing the previous practice on Tuesday and appeared no worse for the wear from whatever was ailing him. Second-year running back Brandon Bolden also suited up again after missing a couple of sessions, but looked limited in what he was asked to do.
Rookie o-lineman Elvis Fisher got back on the field as well after being kept out on Tuesday. And rookie defensive lineman Cory Grissom made his first appearance of camp in full pads, though, he, too, looked like he was being worked back in slowly.
Third-year offensive lineman Marcus Cannon was not seen Thursday, however. It's unclear why, but this was his first time missing action since camp started. He had been getting significant reps in place of Dan Connolly at right guard.
New England made several transactions Thursday, releasing four players and adding an equal amount to keep the 90-man roster at its limit.
Veteran free agent wide receiver Lavelle Hawkins, veteran o-lineman Nick McDonald (who'd been rehabbing an injury), rookie receiver Perez Ashford, and rookie corner Stephon Morris were shown the door. Hawkins was mildly surprising considering all the youth and inexperience at the position. McDonald, too, was a minor eyebrow-raiser given his experience and versatility and the fact that he'd been at practice and appeared working toward a comeback.
Belichick's remarks before practice about his interior o-line depth made the McDonald move even more unexpected.
"It's probably not as deep as it's been at other times," the coach conceded. "But I feel like the guys we have there are working hard. Like everything else, we'll just have to see how it all comes together."
To fill their voids on the roster, the Patriots added second-year receiver Johnathan Haggerty, rookie receivers Lavasier Tuinei, and a pair of rookie defensive linemen – Travis Chappelear and Scott Vallone.
With his former boss, Bill Parcells, entering the Pro Football Hall of Fame this weekend, Belichick was asked to share some of his thoughts on "The Tuna."
"He coached four different franchises and was with five different franchises. Pretty much every one he came into was not doing well when he got there. Either they were the bottom or close to it. He made them all pretty competitive in a very short amount of time, on several occasions, the first year. Two Super Bowls in New York, and that franchise really wasn't… hadn't done a lot in awhile.
"Great coach, great evaluator, does a great job with his team, whatever capacity it was," added Belichick, "when he was the coordinator under Coach [Ray] Perkins, head coach or his other administrative duties at Miami most recently. A lot of respect for Bill, learned a lot from him, glad I had the opportunity to work with him and work for him. Certainly well deserved."
Belichick, of course, was Parcells' defensive coordinator during those Giants Super Bowl runs in the mid-1980s and early 1990s. Parcells hired Belichick again when Parcells took over the Patriots in the mid-'90s and Belichick was let go from his first head coaching gig in Cleveland.
"Again, he made the Patriots very competitive in a short amount of time. Putting them into a strong position… '96 we won the AFC, we had a good, young football team that came up just a little bit short against Green Bay [in the Super Bowl]. I think he certainly deserves the lion's share of putting that team together and the whole program together during that period of time. We can go on and on, but I think all the accolades for Bill are well deserved and I personally value his friendship and have a lot of respect for him as a person and as a football coach slash football person. It's not just coaching; it's beyond that with him."
Buy: James Develin – The first-year fullback has been making the most of the reps he's been getting, particularly as a blocker on running plays. He's been singled out several times by coaches for the positive plays he's made.
Sell: Jermaine Cunningham – After suffering what looked like a knee injury, the fourth-year defensive end left the practice field and did not return. He also hasn't been doing much to separate himself from the pack at his position.
Play of the Day: Late in the afternoon during 11-on-11, QB Ryan Mallett dropped back to pass during a red zone play and fired over the middle for tight end Michael Hoomanawanui. The ball was a bit behind Hooman and deflected off his arm into the waiting hands of rookie linebacker Steve Beauharnais, who came down with the INT in the end zone.
*The Patriots are scheduled to practice again on Friday, starting at 2:20 p.m. Eastern.