The Patriots offense started hot in a lengthy two-plus hour session with the Green Bay Packers at the practice facility across from Lambeau Field on Wednesday.
In the first full-team period, the Patriots showed the berth of offensive coordinator Bill O'Brien's playbook by incorporating under-center play-action and run-pass options with significant motion elements. Patriots quarterback Mac Jones completed passes to JuJu Smith-Schuster (crosser), Kayshon Boutte (deep out), slants off an RPO action, and a tight-window touchdown pass to DeVante Parker inside the red zone.
The positive sequence to start practice was a snapshot into what O'Brien's early-down window dressing can do to protect a banged-up offensive line and help a receiver group lacking elite separators move the ball down the field.
However, when the two teams assembled on one field for a game-style ending to practice, the situation became more two-minute and third-down heavy, where it often became less scheme-driven and more about individual wins. At that point, the offensive line began to show its warts, several penalty flags flew, and the offense as a whole struggled to find opportunities to push the ball deeper downfield.
Although it's a core philosophy under O'Brien, the Patriots offense hit for average on Wednesday morning. Unlike their counterparts, they found completions at the first and second levels but couldn't get the deep ball going. With Packers quarterback Jordan Love finding speedy wideout Christian Watson for the biggest play of the day, Jones stuck to the short game.
Then, the Patriots offense ended practice with multiple sacks (at least three of Jones in 11-on-11s), three penalty flags, and an errant pass where the receiver didn't appear to end up where the quarterback expected.
"We just need to be more consistent. I know we had a couple situations, just penalties and stuff like that, that we have to get fixed," Jones told reporters after practice. "We are trying to use the tools that we have with cadence, motions, and things like that. Trying to use it to our advantage, and when you don't, it turns into a disadvantage. Definitely want to clean that up."
On the one hand, the Patriots offense is returning to prioritizing efficiency over explosive plays. It's death by a thousand paper cuts and a strong running game over more volatile big-play hunting that many offenses are adopting around the league. As we've seen in the past, the strategy can be highly successful when the play-to-play execution is consistent. But, as we saw on Wednesday, negative plays can cause a chain reaction. A sack here, a penalty there, and now you're behind schedule with an offense that isn't necessarily equipped to make up for it all in one play.
This group is stringing positive plays together far more often than last summer, and O'Brien's play designs are significantly more advanced, with more at-the-line flexibility, than the prior regime. Now, it's a matter of if this offensive personnel can do it over, over, and over again.
Here are eight takeaways from Wednesday's highly-competitive joint practice between the Patriots and Packers in Green Bay: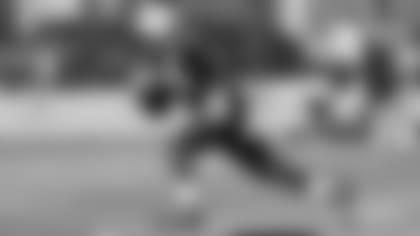 1. RB Ezekiel Elliott Very Limited in First Patriots Practice
After the team made the signing official on Wednesday morning, running back Ezekiel Elliott was in uniform and on the practice field. However, Elliott was a very limited participant and wasn't in full pads. After going through a walkthrough and stretching, where he took handoffs from Mac Jones, Elliott disappeared for a while and then re-appeared to watch the end of practice as a spectator. Elliott was likely somewhere conditioning during the unaccounted period. Hopefully, we see Zeke in action at least a little bit this summer.
2. Trent Brown Addresses Elephant in the Room With the Offensive Line
After participating in his second padded practice of the summer, starting left tackle Trent Brown had a very candid reaction to how practice ended and the state of the top offensive line.
As we've noted throughout camp, the Pats are practicing without starting guards Cole Strange (undisclosed) and Mike Onwenu (PUP, ankle), forcing the group into pretty significant changes. In recent practices, the Patriots have moved veteran Riley Reiff inside to right guard and inserted fourth-rounder Sidy Sow in at right tackle, with fifth-rounder Atonio Mafi at left guard. That's the group with Brown and starting center David Andrews in their customary spots.
"You have five guys up there that work together, work as one. Hopefully, we can get everybody back healthy to get our core group back together," Brown told reporters on Wednesday. "We just have to maintain our focus for 60 minutes, or however long we are asked to be out here. Whatever we are asked to do, we have to maintain focus."
The results for offensive line coach Adrian Klemm's crew have made it difficult to assess the other areas of the offense at times, and with tackle concerns entering camp, we aren't quite at panic button time yet, but the hand is hovering over it at this point. As Brown said, the only saving grace is that they're practicing without key pieces on the interior. The clock is ticking for Onwneu and Strange to return before the start of the season.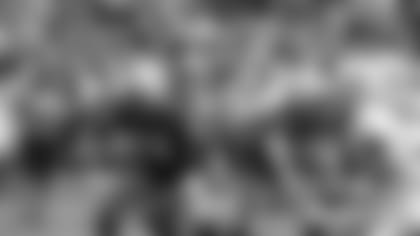 3. Mac Jones's Anticipation, Zip Improving on Sideline Throws
One thing you notice standing at field level is the timing and zip on the football out of the quarterback's hand. From this vantage point, Jones's improved anticipation in O'Brien's system and a slight but noticeable uptick in velocity have allowed him to access throws into the sideline more often (like deep outs, for example). The ball is coming out of his hand sooner, so when the receiver comes out of the break, the ball is on them quicker, making it difficult to defend.
"We've definitely worked on that. We've done a lot of routes on air and a lot of one-on-ones, so I feel comfortable with the guys," Jones told Patriots.com.
Although the macro-level discussions about the offense's ceiling with Jones under center continue, the quarterback is doing his job more often than not this summer.
4. Rookie WR Kayshon Boutte Has Best Team Period of Training Camp
Another bright spot in the Patriots up-and-down practice offensively was rookie receiver Kayshon Boutte having an eye-popping start. Like the rest of the group, Boutte faded late in practice working primarily with backup quarterback Bailey Zappe. However, Boutte caught passes from Jones in the opening team period, making plays against off-man and finding voids in zone coverage.
Boutte's best connection with Jones came against off-man coverage, where the rookie angled his stem inside before breaking on a deep out into the sideline. Mac threw the ball early with excellent anticipation, and the ball was there for Boutte out of his break. Boutte then caught a deep dig where he found an opening against zone, a shallow crosser, and another out. We are still waiting to see Boutte show the explosive movements necessary to uncover against press-man. But he uses good burst on free releases to uncover when he's given cushion, which was also on film in the preseason opener.
As for fellow first-year wideout Demario Douglas, the rookie put up fewer catches in team drills than Boutte. But he ran a filthy goal-line whip route to catch a touchdown from Zappe and caught another crosser later in practice. There were positive moments from both rookie receivers.
5. TE Anthony Firkser Steps Up With Mike Gesicki Absent From Practice
The Patriots suffered their first significant in-practice injury when tight end Mike Gesicki left Monday's session with an apparent shoulder injury. According to NFL Network's Ian Rapaport, the team hopes that Gesicki will be ready for the regular-season opener, but the pass-catching tight end wasn't present for Wednesday's session in Green Bay.
With Gesicki nursing an injury, veteran tight end Anthony Firkser saw more opportunities with other frontline players. Firkser's versatility to play from different alignments earned him a spot on my latest roster projection, even before the Gesicki injury. Firkser can play in-line, detached, or out of the backfield. He's a reliable blocker and caught a few underneath passes as a check-down option. Firkser won't do anything that wows you and doesn't have Gesicki's big-play ability. But he's a serviceable TE3 who brings a fullback option as well.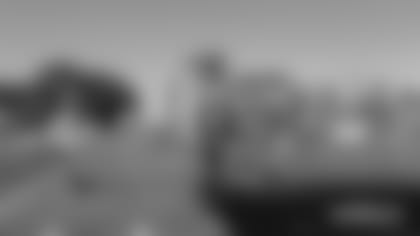 6. Although Targets Didn't Come, Tyquan Thornton Gets Open Deep Twice on Wednesday
Early in practice, Thornton had two notable opportunities where he was open downfield, but the ball didn't come in his direction. First, Thornton was open on the backside of a play where the Packers appeared to bust a coverage, but the read took Jones's eyes elsewhere. Then, Thornton seemed to win on a deep crossing pattern but wasn't targeted again. The Patriots also continue to use Thornton on jet motion and screens. Although the practice production has not been there this summer, the ball should start finding Thornton if he continues to have good habits.
7. WR JuJu Smith-Schuster Finding His Plays in O'Brien's Offense
Whenever a new receiver who projects to have a high volume of targets enters the fray, the key in training camp is to find out where he will get fed. It's an expected feeding ground for Smith-Schuster, but we saw a snapshot of where he will make his hay on Wednesday. Smith-Schuster opened practice with a crossing route off under-center play-action with a deep post clearing out the coverage. Then, he caught an in-breaking route between two zone defenders. Crossers, digs, slants, and occasional schemed touches on screens and motions, appear to be the master plan to unlock JuJu for O'Brien. Smith-Schuster did drop a layup from Jones in the flat during a two-minute drill, but that hasn't been a reoccurring issue with him.
8. QB Malik Cunningham's Specialty Package Continues
By my count, the undrafted rookie quarterback took four snaps under center during Wednesday's session, all run plays. Cunningham continues to get looks as a read-option quarterback, where he kept the ball twice and handed the ball off on two other occasions. For those theorizing that Cunningham's uptick in usage over the last few practices was related to New England prepping its defense for Week 1 against Philadelphia's Jalen Hurts, well, now the Pats drilled some option football against another defense, so there goes that theory. For now, the coaching staff is experimenting with a Cunningham-led run-game package. Will it stick? Only time will tell.
DISCLAIMER: The views and thoughts expressed in this article are those of the writer and don't necessarily reflect those of the organization. Read Full Disclaimer