The chain of events that led running back Ezekiel Elliott to the Patriots was a rare situation where a player with Elliott's pedigree could fill a need for New England in mid-August. 
Typically, three-time Pro Bowlers who are only 28 years old wouldn't be available as free agents for a team to sign midway through training camp, which is when the Patriots officially inked the former Cowboys star to a contract. Elliott was thrown right into the fire with the team participating in joint practices with the Packers out in Green Bay. For Elliott, pairing up with Pats lead-back Rhamondre Stevenson to form a one-two punch is a good fit at this point in his career. 
As for the Patriots, Stevenson logged the largest snap rate for a Pats running back in over a decade last season, playing 66.6% of the offensive snaps with 279 touches. Although he accumulated an impressive 1,461 yards, it was a hefty workload that eventually wore down Stevenson, a situation New England would probably like to avoid in 2023. 
After being selected fourth overall in the 2016 NFL Draft, Elliott has amassed over 350 touches three times in eight seasons with Dallas, averaging nearly 270 rushing attempts per season. At this stage, Elliott is better off platooning with another running back. At the same time, the Patriots needed a reliable ball carrier to take the pressure off Stevenson, making it a perfect fit for both sides.
Speaking for the first time since joining the Patriots out in Green Bay, Elliott sees New England's offense as a great fit for a running back with his style of play.
"The importance of the backs in the offense. This is definitely a team that wants to run the ball, wants to be balanced," Elliott told Patriots.com was his primary motivation for choosing the Patriots in free agency. "It's been great working with Rhamondre. He's a back that has a similar running style as me, so I think we will be able to complement each other really well."
Elliott was in a group of highly notable veteran running backs who remained unsigned into training camp. When Elliott's deal with the Patriots was reported, the Jets signed former Vikings star running back Dalvin Cook. Cook and Elliott were free agents until mid-summer, while rushing king Josh Jacobs, who the Raiders franchise tagged, is still holding out in Vegas, and the Colts are now discussing trades for All-Pro running back Jonathan Taylor amidst his contract holdout. The running back position, as a whole, is being devalued by teams around the league that recognize the position's short shelf-life.
Following his release from the Cowboys in June, Elliott's wait to find his new team is over. However, the Patriots are only 18 days away from hosting the Philadelphia Eagles in the regular-season opener on Sunday, September 10. Elliott was a very limited participant in his first practice with the Patriots. But with less than three weeks before Week 1, Zeke has been steadily ramping up his participation in recent sessions.
"I was at home, but I was definitely working my tail off. I did one day of conditioning after I signed, and they put me right in there," Elliott said when asked if he's currently in football shape. "I feel good. I feel like I'm ready to play. I've been here what, a week to eight days, so I'm still getting in that playbook trying to know it the way I should, but I'm getting there."
Along with carrying the football, another area where the addition has inspired Elliott's new teammates is the energy and leadership that the veteran running back has brought to the team. Since bringing him aboard, coaches and players alike have spoken about the juice that adding a player of Elliott's standing in the league has brought to a team grinding through camp.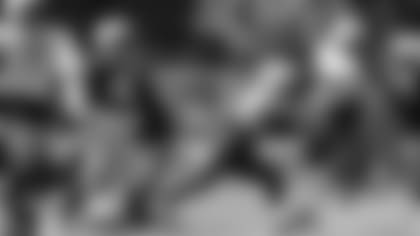 "I was at home for a long time, so I have a lot of energy," Elliott said. "I thought I definitely should come in and be a little energizer boost. The transition has been good. I've been getting along with the team. I love the coaches, love this atmosphere, love this program. Just having fun."
"It's definitely important to take care of your business out here on the field. But a big part of being a part of a winning program is just camaraderie and getting to know your teammates. That's definitely important to me. For me to get to know the guys in the locker room because you create those bonds off the field, and that will carry over to the field."
Last week, Elliott was a full participant in the second day of joint practices with the Packers and has now taken part in two straight days of camp with the Patriots back in Foxborough this week. We've seen Elliott working in several different situations, including open-field work and goal-line carries, while he has also shown up a few times in the passing game running routes from multiple spots. Along with his size and downhill power, Elliott's vision and smooth footwork between the tackles have stood out. Although his breakaway speed might not be there anymore, Elliott takes efficient rush paths through the line of scrimmage and has quick feet to work gap-to-gap, especially for a back listed at six feet and 225 pounds.
With the roster cut down to the league-maximum 53 players by Tuesday of next week, the Patriots have two locks at running back in Elliott and Stevenson. However, the backfield depth behind the projected top two is still murky heading into the final preseason game against the Titans on Friday night. Second-year backs Pierre Strong and Kevin Harris haven't exactly stood out this summer. Strong returned to practice this week after missing four sessions, including the joint practices with the Packers, reportedly because he was in concussion protocol.
New England also has third-year vet J.J. Taylor, who has bounced from the practice squad to the active roster over the years, on their 90-man roster. Taylor garnered praise from head coach Bill Belichick for improving his versatility and technique in blitz pickup after an impressive showing in Green Bay, making the compact change-of-pace back a roster candidate.
Then, do-it-all receiver Ty Montgomery also returned to practice this week. He is officially listed as a wide receiver on the roster but has worked both as a wideout and a pass-catching option out of the backfield in his two seasons with the Patriots. Ultimately, Elliott and Stevenson will shoulder the load in the running game, leaving the door open for a receiving back to find a role in the passing game.
As a second-year player drafted in the fourth round in 2022, the investment in Strong suggests he'll make the team. While we work our way through roster projections, the question becomes, will the Patriots carry four running backs or roll the dice that Harris, Montgomery, or Taylor will make it to the practice squad? Before the final showcase on Friday night, we'd lean toward Belichick sticking with his customary four running backs on the initial 53, with that trio having one more chance to make an impression.
Now that we've sorted out the running backs, New England's rushing and overall offensive success comes down to stabilizing an offensive line that is having an uneven, injury-riddled camp. The Pats have been down multiple offensive linemen lately, with two projected starters (Mike Onwenu and Cole Strange) missing all or most of camp and two tackles competing for a starting role also missing time (Conor McDermott and Calvin Anderson).
The Patriots offensive line finally got some good injury news when starter Michael Onwenu returned to practice on Wednesday. Onwenu has been on the physically unable to perform list with a reported ankle injury, with Wednesday's session marking his first practice of the summer.
As one would expect in his first practice, Onwenu was limited, participating in positional drills before departing for conditioning work when the Patriots shifted to full 11-on-11 drills. Although big Mike wasn't a full go, he was in uniform and pads for the first time, which is a great sign for his availability moving forward with the Eagles approaching.
New England needs to bank on Onwenu, arguably their best offensive lineman and 2022 first-rounder Cole Strange, getting healthy to settle things down in the trenches. As the team's projected starting guards, Onwenu and Strange can form a rock-solid interior with veteran center David Andrews, allowing quarterback Mac Jones to step up in the pocket.
New England's performance along the offensive line hinges on Strange making the year-two leap, a refocused Trent Brown at left tackle, and finding a reliable right tackle between veteran Riley Reiff and fourth-rounder Sidy Sow, who are the frontrunners for the gig.
With Elliott in the fold, the Patriots have a legitimate running back tandem that should make them highly productive on the ground. Now, it's up to the blockers up front to lead the way.
DISCLAIMER: The views and thoughts expressed in this article are those of the writer and don't necessarily reflect those of the organization. Read Full Disclaimer