Veteran safety Adrian Phillips has been a Patriot since the day quarterback Mac Jones was drafted in the first round in the 2021 offseason.
Phillips has seen New England's starting quarterback bring this team to the playoffs as a rookie, have an up-and-down second season, and is now watching the third-year signal caller try to right the ship and silence naysayers who doubt his abilities to be an effective starter in the NFL. 
With under three weeks until the regular season, Phillips is seeing a more attack-minded Jones improve significantly in his third camp and first under offensive coordinator Bill O'Brien. 
"Overall, he's a way better quarterback. He took last year on the chin. He'd be the first one to tell you that that's not the way he wanted to play, and for all of us, that's not how any of us wanted to play," Phillips said. "He's coming out here every single day, and he's trying to light our defense up, like literally light us up. Anything he can do, and you just love to see that. He's always checking the plays. He's always ready to give you something that you have to think about. His confidence is through the roof right now."
Although it's customary for teammates to hype up their quarterbacks, the results, particularly in recent practices, have backed up Phillips's remarks. Last week, Jones had a terrific day two against the Packers in joint practices out in Green Bay, and while his preseason performance wasn't perfect, there were positives to take away from Saturday night's exhibition as well. 
For Jones, there are a few noticeable areas of growth, and the Patriots quarterback addressed those in his press conference following a non-padded session on Tuesday in Foxborough.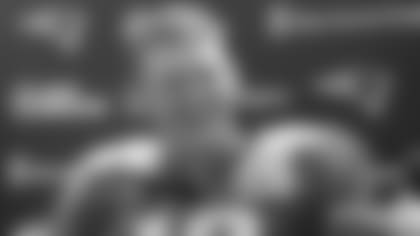 "Obviously, we haven't even played a game yet, so I don't know if that's true or not," Jones said of Phillips calling him an improved quarterback. "With AP [Adrian Phillips], one of the things he's been helping me with is asking questions. Talking to him when we are going against them and asking him questions like, hey, what did I do there? He's like, hey, good job looking me off on that man-to-man coverage, or whatever. Then try to take that from the practice field to the game field and use those tools that I have."
"Just little things like, hey, did that work that time? Sometimes they say it really didn't work, whether it was the play or the head fake or whatever. Those are all things you have to add to your toolbox, and that's what practice is all about. It's about trying new things, trying throws that you maybe wouldn't throw in a game." 
The Patriots quarterback stopped short of agreeing with Phillips's assessment until he backs it up in the regular season. Still, Jones acknowledged that the offense has been more competitive against New England's defense this summer compared to last training camp. 
"I think just keep growing, keep competing, keep it fun. Go back and forth with the defense. I think we've done that more this year, and really just try to carry it over to the game and keep that intensity up," Jones told reporters following Tuesday's practice. 
Along the same lines as manipulating the coverage with eyes or subtle fakes in the pocket, the Patriots defenders, including Phillips, recognize Jones's savvy before the snap to get the offense into the best possible play call. In many offensive systems, the play-caller will call multiple plays in the huddle and then allow the quarterback to survey the defense pre-snap to decide which play has the best chance to be successful.
"It's great. That's been part of football for a long time," center David Andrews, who often communicates with Jones to adjust the blocking scheme, told Patriots.com. "There are so many different ways you can do it, whether it's run to pass, pass to run, run to run. You have so many plays in an offense, you don't want to run a bad one. So trying to get into the best play is the biggest thing. You don't ever want to waste a play."
In last Saturday night's preseason contest, Jones appeared to adjust a play at the line of scrimmage, checking the offense into a run play that resulted in a 23-yard gain for running back Rhamondre Stevenson. Although seeing it on film is great, this has been happening all summer.
"The big thing is using your tools, right? The defense can do whatever they want, so just trying to use your toolbox to make sure we get in the right play," Jones said. "It's critical in this system for the quarterback, whether you are right or wrong, to be on the same page with the offensive line because you set up the blocks and stuff."
Besides mind games with the defense, another area where Jones's film against the Packers looked improved was executing while under pressure. Last season, the Pats QB ranked 38th among 40 qualified quarterbacks with a passer rating of 35.1 while under pressure, a noticeable drop-off from a 74.2 rating in his rookie season (13th among qualified QBs).
Watching the offense incrementally improve in camp is a positive sign, but quarterbacks wear red non-contact jerseys in all practices, so you don't get to see how they'll handle a live pass rush. Sure, pockets get muddy, and you can estimate would-be pressures, but there's nothing like facing oncoming rushers that can actually hit the quarterback. On Saturday, Mac looked poised under pressure, completing 3-of-5 passes for 43 yards, earning a 118.1 passer rating.
"The game film you can watch from that is awesome. You can apply drills to what you need to get better at, like stepping up in the pocket or avoiding certain defenders and things like that. It's fundamental football stuff. You do it every day in practice, and the game isn't much different. You don't have the red jersey, but that's football, and that's the best part of football," Jones told Patriots.com.
Although the quarterback's poise, accuracy, and decision-making while under pressure are critical factors, so are having schemed solutions to pressure and receivers who can get open quickly to give the quarterback a chance to beat pressure from the pocket.
Last season, the built-in solutions to pressure weren't always there, while the Patriots continuously try to improve their skill position group to give the quarterback more options. This summer, the Pats have shown real improvement at receiver as well, with head coach Bill Belichick praising Kendrick Bourne's efforts and rookie receivers Kayshon Boutte and Demario Douglas adding youth and explosiveness as potential diamonds in the rough. The first-year guys are making strong initial impressions, but it's the vets that Jones says are leading the way.
"They look good out there. In practice, it's just getting the trust in everybody and when to throw what type of pass to certain guys and things like that. I trust all those guys. I feel like the older guys like DP [DeVante Parker], JuJu, KB [Kendrick Bourne], everybody has done a great job of setting the standard," said the Patriots quarterback.
With one more padded practice before heading to Tennessee for the preseason finale against the Titans, the focus for the Patriots is to remain in the moment. Although the regular-season opener against the defending NFC Champs from Philadelphia is in the back of their heads, Jones is trying to keep his mind more in the short term.
"Around here, you have to live day-by-day and focus on the now. Obviously, you have that in mind. A good team has the end goal in mind, but you can't focus on the end goal without going through the rough stuff."
The Patriots offense is trying to put the finishing touches on an encouraging summer before the games start to count 19 days from now.
DISCLAIMER: The views and thoughts expressed in this article are those of the writer and don't necessarily reflect those of the organization. Read Full Disclaimer