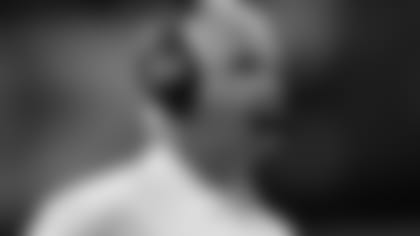 Opening Statement
"I felt like our guys fought as a football team tonight, but in the end we didn't make enough plays to get the outcome that we wanted. You get what you earn in the NFL, and we've earned a 1-3 record the first quarter of the season. That is what we are; we are a 1-3 football team. We've had opportunities, and we haven't made the most of those opportunities. We, as a coaching staff, and as a team, have to learn from those mistakes we have made in the first four games and move on and get them corrected. It's a long season, it's just the end of the first quarter, and we will learn from the mistakes we have made and move on."
On the mistakes being new, or mistakes from all of the previous games:
"Well, our red zone efficiency was not what we needed it to be, again, in this ballgame. We're just not executing like we need to in the red zone. We are moving the ball well between the 20s, but we're not ending with touchdowns. We've got to score touchdowns in this League. It's an offensive League and you've got to score touchdowns."
On going for the touchdown on fourth and two:
"The concept was, we felt like we had a good play. We had an idea of what they were going to be in, and we didn't execute. We had an opportunity, we just didn't execute."
On Matt Ryan's game today being off:
"When you're a football team there are a lot of factors in a play. There are 11 guys that have to do their job. There are a number of plays where we did not execute it, and our players did not do the things they needed to do on those specific plays. Until I watch the tape, I'm not going to point to any one player, or any one side of the ball in terms of the outcome of the game. We've got to be better in the red zone that is obvious."
On the execution of the plays being a mental issue:
"No, I don't believe it is a mental thing. I wish I could give you a concrete answer. I can't at this point in time. It's poor execution. We've got to look at everything we do down there, not only from the execution point but schematically as well. As I said last week, I'm responsible for the way the team plays. We are 1-3, we've earned it."
On kicking it deep at 2:55 with two timeouts:
"There was, but we felt the way they lined up the first time, the way we have our onside kick setup, that we have the numbers as an advantage, in any situation if they line up a certain way, and we felt very confident, we just didn't complete it. It ended up working out for us, we got the ball back. Those are all considerations, but the way they lined up on the first onside kick, gave us a little insight on what we were going to do on the second."
On the instant replay being broken:
"They came over and said that the system was down and they would let me know when it was back up. Obviously, it came back up because later in the game there was a challenge on the spot."
On the Falcons defense:
"We've got to make sure when we are playing zone defense that we play with good eyes and good vision. We had a really tough drive there on the third and 21, the conversion on third and 21, added to that with the penalty, and then we had an explosive run which was a misfit, and I think that really was the worst sequence with our defense."
On being disappointed with how some of the last plays turned out:
"Well, I thought Tony Gonzalez had a career day, 12 catches for almost 150 yards. Tony was battling his tail off. They were trying to stop him, putting a lot of resources, sometimes two players on him, and he was still able to get open."
On the last play, 4th down pass to Roddy White:
"Until I watch the tape guys, I'm not going to comment on one specific play. We didn't execute it there on fourth down. We had our opportunities on first, second and third down to make plays as well. "
On the tough loss:
"Yeah. We had our shot. I'm really happy and proud of the guys, the way we all stepped up and made the plays. But we just came up a little short right at the end, and that's something that we can't have. I'm proud of the way we played at the end. You look up and see everybody leaving the dome, and you think to yourself, it's over, but it's not over. It's never over, and I love the way we fought. It's just unfortunate we didn't come out on top."
On what kept them from getting into a rhythm:
"I don't know. It's such a roller coaster, us on offense now. It's something that we have to figure out though cause we can't have that. Against good teams like that, a Hall of Fame quarterback like Tom (Brady), we have to be able to put up points. And we should. We have the players, and we have the system to get it done. We've done it before in the past. It's just right now we're not clicking for some reason throughout the whole game. We start out good, but for whatever reason in the second half we're not. And it's all of us, collectively. It's no one person that we're going to point the finger at. I'll tell you what, it's got to get figured out. Like I said before, we've been here before as far as knowing we can move the ball on offense. The season's long, and it's only four games into it. We're going to get it done. We're going to turn this thing around. That's what I believe. I know that's what the team believes, and it's everybody looking in the mirror right now, and we're going to get this turned around. I guarantee it."
WIDE RECEIVER HARRY DOUGLAS
On his role for the team and the future of the season:
"We got to work hard, and keep working harder. It's not going to change anything I do; I'm going to keep grinding regardless. I work hard at everything that I do, and this team will work hard at everything we do. So we are going to get it together, we just have to believe we are going to get it together. And I think each member of this team thinks we are going to be alright. I don't think there is one person on this roster that thinks we are out of anything."
On losing back to back games:
"We have to score in the red zone. We can't make every game a 'get down to our last series and try to win'. We had a chance to win the game early on and in the middle of the game and different areas of the football game. We can't try to win towards the end of the game. It's great if you come out with a victory, but this is the third loss."
On margin of error in the red zone:
"You always want to score touchdowns. Points in general are good, but touchdowns are great. And it puts you in a situation at the end of the game where you're going to be smiling and you're going to be happy. We have a great field goal kicker, Matt Bryant, who does an exceptional job, but we got to score touchdowns; and that's all 11 guys focusing on what they have to do to get it done."
FALCONS RUNNING BACK JACQUIZZ RODGERS
On if run game being slowed down was the reason more passing plays were called:
"That was part of the reason, but you have to run what play is called. They did a great job of keeping everything in the box and stopping the run."
On it being hard to get in a flow offensively:
"Oh yes, in the beginning. We have to find a way to convert on third downs, and in the red zone; that'll help us out."
On getting in the red zone and settling for field goals:
"It's something we have to work on, and go in next week and fix, so we can turn things around."
Opening Statement:
"It was a tough game, they're a great football team and they made more plays than us. We just have to go back to the drawing board and make sure, even though it's cliché, that we don't make the same mistakes that we've made the last couple of weeks and go out and get a W."
The deep completion to Kenbrell Thompkins:
"It was one of those plays that was kind of iffy. But we have to make those kinds of plays."
Won many games last year by a touchdown, this year seems reversed. Why:
"I don't have an answer to that question off the top of my head. I wish I had an answer to that question but we have to go back to the film room and make sure that we go through it with a fine toothed comb and find the mistakes and make sure they're corrected.
On if any panic in the locker room:
"No, not at all. Like I said before we're a veteran team. We've had some injuries and some young guys stepping in and playing very well for us. We have a veteran team that has the leadership and the skill to get the ship righted"
Did it feel like if it was more than one thing:
"We need to get in the film room and see where the real breakdowns were and what was going on, but you know, hey, they're a great football team that made more plays than us today."
LINEBACKER STEPHEN NICHOLAS
Opening statement
"It's a tough loss and we just didn't make enough plays to win the game. We have to give the New England Patriots credit because they're a good ball club and they showed it tonight. We can definitely learn a lot from this game and figure out how to get better as a ball club as we prepare for the New York Jets next week."
On Patriots QB Tom Brady
"He is a good quarterback and we knew that going into the game. He made big plays for his team throughout the game. Again, we just didn't make enough plays on the defensive side of the ball. We had opportunities but the fact of the matter is we weren't as good as we needed to be."
WIDE RECEIVER JULIO JONES
Opening statement
"I feel like we got better from this game against the Patriots. It stings right now but I feel we had a chance to win the game but just came up a little short. We will make it a point to keep practicing and find ways to improve because it's a long season."