Friends and rivals for so many years, Kevin Faulkand Fred Taylorare finally teammates.
The pair first met during Faulk's senior year in high school. Faulk was on a recruiting trip to the University of Florida, where Taylor was already a member of the Gators squad. They hit if off instantly, and on subsequent visits to the Gainesville campus, Faulk strengthened his bond with Taylor.
Ultimately, Faulk chose to attend his hometown LSU, a Southeast Conference rival of Florida. But Taylor and Faulk remained friends. Early in their careers, they even shared the same agent. At long last, Taylor, the former Jacksonville Jaguars running back entering his 12th NFL season, and 11-year veteran Faulk are now playing for the same team.
Given Faulk's close relationship with Taylor, it's no surprise that he was able to give Patriots running backs coach Ivan Fearsa detailed scouting report on Taylor, a free agent before New England signed him.
"This team is great about the moves they make," Faulk commented. "They always talk to the veteran guys and ask them what they think about a [potential free agent], how they feel about a player, how we think they would fit into our system."
Certainly, Taylor provides veteran leadership in the Pats locker room. But Faulk is clearly excited about the possibilities that Taylor brings to New England's offense.
"Oh, of course. With this offense, there are just so many weapons … why not have another one? You can do so much. We'll see what happens. It's like Tom [Brady]was telling me the other day. You just sit at home and think about some of the combinations that can be put on the field together, and it's like, 'Wow! If we can get this clicking, that clicking, it can be something special.'"
From the sidelines, the Patriots offense will be led by someone new this season: quarterbacks coach Bill O'Brienappears to be assuming the transitional role that Josh McDanielsheld when he took over the offense from Charlie Weis. That is, de facto offensive coordinator, if not by title. But the elevation of O'Brien will be a seamless transition, according to Faulk.
"Because the offense isn't changing. Just the coordinator," he explained. "This offense is best suited for the players we have. That's why guys are here, because of this offense. So, that's not going to change. The play calling may change a little bit, but not the offense."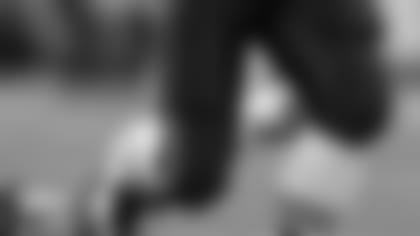 ]()Brady's return from a devastating knee injury is another reason Faulk is looking forward to the 2009 season. Some may have wondered whether Brady would be back, considering the severity of his injury. But not Faulk.
"There was no doubt in my mind that he was going to be able to play," he insisted, "because that's just the way he is, the way he works. I talked to him before our last game against Buffalo and he was like, "Man, I sure wish I could be out there with you guys right now. All I'd have to do is drop back and throw passes.' That just goes to show you the competitiveness in him, regardless of the situation."
Faulk still feels his own competitive fires burning as he begins his second decade in the NFL.
"Age is a number," he observed. "Unless you let it get a hold of you. If you continue to work and know what your body can take, you still can do your job."
However, Faulk, in the final year of his current contract, admitted that he's unsure what the future holds for him as a pro football player.
"Of course. Once you get older, of course you think about how much longer you're going to play or if the team you're with is going to keep you there. But at the same time, you've got to look at what's in front of you at that point. Don't look at next year. I've got this year coming up, so I can't really think about it. It's in the back of my mind. I just have to prove what I can do on the field this year in order to get an opportunity to play more years."
Further fueling Faulk's eagerness to get back on the field is his longer-than-usual offseason after the Patriots missed the 2008 playoffs. He said he's taken the opportunity to spend more time with his family, but that he's dealt with it, moved on, and is back at work, ready to go.
And this year, he'll have a couple of his old friends with him for the ride.