A great picture can do a lot to evoke emotion. It can provide visual proof of something incredible, you-have-to-see-it-to-believe-it moments. It can freeze time. And in some cases, it can reunite strangers who once crossed paths in a moment of hope. 
That is certainly the case with Coach Ivan Fears and Jess Simmons, a 25-year-old woman from New Hampshire. 
Jess was just 9-weeks old when she underwent her first open heart surgery. She would have three more in the years that followed, but just weeks into her life, she was staying at Boston Children's Hospital getting treatment for the 13 heart problems she was born with. 
One night around Christmas in 1992, Coach Fears and several Patriots players visited Boston Children's Hospital to bring toys to the patients there. That night, Coach Fears stood next to Jess's mother as she cradled her daughter in her arms and posed for a photo. 
And 25 years later, Coach Fears held that photo in his hand. The baby in the picture is now a young woman, and on Monday night, the two reunited in Foxborough.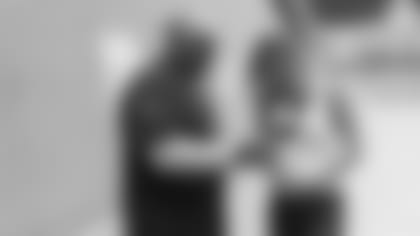 "It was a very touching moment. I saw the picture she had where I was standing there with her mother and her mother was holding her, and now here she is, a young lady who's gone through all of that. She's just full of life. I was taken aback. It was exciting for me to see," Coach Fears said. "It was exciting, it really was. It hit me. I was very thankful that I could do it a long time ago, to see the reward she's here and doing well. In one night, to be able to make somebody happy was kind of exciting. You don't usually see those kinds of results when you do something like that." 
Jess knew Patriots players and coaches had visited her while she was in the hospital as an infant, and as she got older and as a huge Patriots fan, she did some searching to see who they were. When she realized Coach Fears was still with the team, she thought it would be cool to meet him again now. 
When she finally did meet him, it "went beyond my wildest dreams."
"I was shaking from head to toe. He's one of the nicest people I've ever met. I could tell just from how he greeted me and gave me a big hug that he was just so genuinely happy to meet me 25 years down the road," Jess said. I can't get into his head, but [I hope he] sees how he had a positive effect in what he did. He really did make a big difference in someone's life. It's cool to see the children, but probably years down the road, he never thought he'd see one of them or even see one of them alive ... It was so sweet and cool to actually see this guy who visited me in the hospital pretty much exactly 25 years ago."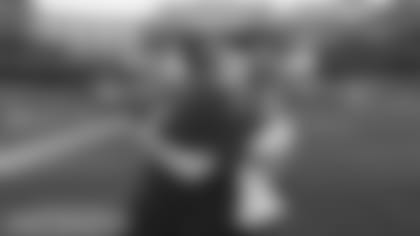 Coach Fears remembers the night he visited Jess at Boston Children's Hospital well. One player had planned the trip after his own child dealt with heart problems. They wanted to pay it forward, Coach Fears said. Looking back at Jess's picture was "like going back in time."
"I remember that night so distinctly because it hits you so hard emotionally. I remember coming out of that ward, I was drained," he said. "You try to stay really positive, and they've got so many serious issues. That picture brought back a lot of those emotions, but it felt great because she was there. She is still here."
Patriots players and coaches make visits to local hospitals throughout the year, and while they are with patients, they can see how their time can makes faces light up. But they can't imagine how much and how deeply something like a visit from a Patriot can impact a person who is facing a battle for their health and, often times, their lives. 
"They're obviously busy. They're tired. They don't have to do what they're doing, but it's someone that puts a smile on your face each week on TV. You're cheering them on and supporting them, so for them to come show the support back to you," Jess said, trailing off. "They're out here winning games and Super Bowls, and we're just sick kids and they're coming in and supporting us. They don't come in and tiptoe around us. They have fun and really try and make us happy."
"We take a lot of things for granted that we do and I just think that here's evidence that we can help and have a positive impact," Coach Fears said. "I'm just thankful that she's there that she's well and that all went well for her." 
RELATED LINKS