The results are in. On Monday, Channel 7 aired its latest edition of its "Who Did It Better" segment featuring meteorologist Bri Eggers and running back James White. This time around, the two headed over to the Ocean Spray Cranberry Bog behind Patriot Place's Bass Pro Shop to test their cranberry harvesting abilities.
Both James and Bri had two minutes to put on their waders, run through the deceptively deep bog and scoop up as many berries as they could. The two used a variety of techniques for harvesting, and it showed when their crates were placed side by side. Bri put her peppermint farming skills to great use and scooped up more berries than James.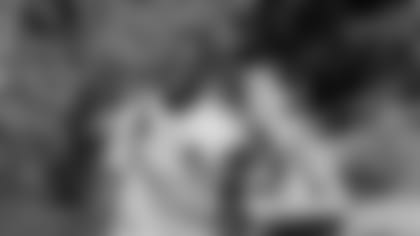 Though Bri collected the most cranberries, James still had some time to pull off a win with the help from some fans.  In the end, the public went with the numbers and voted Bri as the winner of the Cranberry Bog Challenge.
Patriots RB James White competed against meteorologist Bri Eggers to see who could gather the most cranberries on Monday, Oct. 18 as part of WHDH Channel 7's "Who did it better?" feature competition. The event took place at the Cranberry Bog behind Patriot Place.