Playing in just his second NFL contest, a preseason game against the New Orleans Saints at Gillette Stadium, rookie cornerback Ellis Hobbs got a little ahead of himself.
The Patriots' third-round draft pick out of Iowa State was having a strong game, returning a kickoff 53 yards and recording a sack, and he was feeling confident – a little too confident.
"One minute something good is happening," said Hobbs of the game. "The next minute something bad."
In the fourth quarter, Hobbs tried to jump a route by Saints wide receiver Devery Henderson, attempting a spectacular and acrobatic interception. And he almost made it. Almost. Instead, Henderson snatched the ball as Hobbs dove by him, taking it in for a 34-yard touchdown as the rookie watched from the turf. Patriots head coach Bill Belichick was displeased.
"You just can't make plays like that in the secondary," said Belichick, after the game. "There's nobody behind you. If the safety or corner goes up and misjudges the ball and the other guy comes down with it and goes in for a touchdown, you think the nose tackle's going to catch him? That's it. It's all over. You can't make that play."
Sometimes young cornerbacks have to learn the lesson the hard way. "It was humbling," said Hobbs, looking back. "The bottom line is I took a chance and the guy caught it and scored. This isn't like college where if I make a mistake it might not work out for the other team. If I make a mistake here, I'm going to pay for it. That was a thing where I had to learn from it."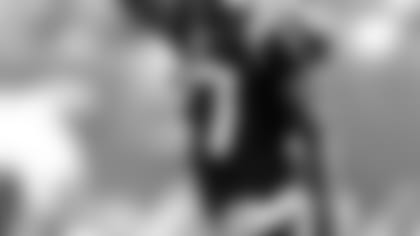 Hobbs has indeed learned from that play. Working his way into the Patriots' starting lineup in Week 10, the rookie has brought energy and physicality to the defensive backfield. Recording three interceptions and 28 tackles, Hobbs has made key plays as the team has compiled a 4-1 record in the five games he has started.
The rookie is coming into his own, having learned an important lesson: when you gamble in the NFL, you'd better be sure you don't lose.
Hobbs' coming out party came in his first start, against the Miami Dolphins on the road.With less than a minute remaining in the game, the Dolphins had a first down on the 5-yard line with a chance to send the game into overtime. When quarterback Gus Frerotte saw that the 5-foot-9-inch rookie cornerback was matched up against 6-foot veteran receiver Marty Booker, there was no question which direction he would go. Frerotte lofted a pass into the corner of the end zone for Booker, but it was a bit short. Hobbs, with a chance for an interception but with the afternoon Miami sun in his eyes, made the right decision. He batted the ball down, preserving a crucial win for the Patriots.
Hobbs knew that as a rookie in his first start, the Dolphins offense would target him."Any time you get matched up with good receivers you're going to get picked on. I welcome the challenge," he said. "You never know what you can do until you're put into those types of pressure situations."
Since then, Hobbs has proven that he can handle the pressure. For rookie cornerbacks, achieving consistency is usually the biggest hurdle, and Hobbs is showing steady improvement.
"I think he's making good progress," said Belichick. "If he can continue to work hard and get reps and stay on the field and get the experience of the calls and the execution then I'm sure he'll continue to improve.
"The thing about Ellis is he is a really conscientious kid. When you tell him something, he really goes out there and tries to do it right and get it straight the next time."
"I feel like I have to go out there and prove myself every day, whether it's in practice or in the game, because I just don't feel like I have that type of respect," said Hobbs. "But I don't really want that respect right now. I like being hungry all the time. I love being in second place, running for first."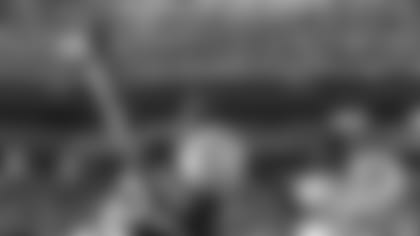 Smaller than many of the receivers he matches up against, Hobbs uses athleticism and a physical style to gain an advantage. A star running back in high school before converting to cornerback in college, Hobbs is a chiseled 190 pounds, as strong as he is fast. He doesn't shy away from contact.
"I approach every receiver the same way," said Hobbs. "He's trying to get the ball and I'm trying to take it from him. Until he catches that ball, it is up in the air for anybody. Whether it's a taller receiver or a smaller receiver, the way I approach them is the same."
And what Hobbs lacks in height, he makes up in smarts. A three-time Iowa State scholar-athlete and the recipient of Iowa State's academic athlete of the year award, Hobbs has quickly assimilated a complex Patriots defensive scheme.
"Day-in and day-out I just work on reading the right things, reading my keys, the progression from the quarterback, the whole passing game from the tight ends to the receivers," he said. "I have to take it day-by-day."
As he has learned the system and achieved some success, Hobbs has become increasingly demonstrative on the field. Hobbs says he celebrates because he knows that careers in the NFL are short, and he wants to make sure he is having as much fun as possible.
"It's emotion," he said. "I usually just go about my business, but when good plays happen I celebrate them. You don't have to go out there and put on a five-minute dance show or anything like that, but sometimes it's good to give some inspiration to your teammates. As long as it's celebrating with your teammates, I think it's alright."
Despite his overflowing excitement, Hobbs has tried to reel in his post-play extra-curriculars. "Sometimes I have to be careful," he said. "Expect to make those plays. That's what I have to do. I should expect to make those plays and not get too excited."
His celebrations haven't gone unnoticed by injured defensive leader Rodney Harrison."He's like a big brother," says Hobbs of Harrison."He stays on me. 'Get your mind right. Get back to the huddle. What's all this jumping around?'"
With the support of Harrison and the other Patriots veterans, Hobbs hopes to continue his progress and remain a contributor to an improving Patriots defense as they close out the season.
"The thing I look forward to is going out there and seeing what I can do next week.What can I do to make myself better for next week?" said Hobbs. "I look forward to being consistent and making plays. I want to go out there and establish myself where my teammates can count on me through thick and thin. And when the times get tough, they know that I will be in position and give great effort."