Chandler Jones was drafted by the Patriots in the first round (21st overall) of the 2012 NFL Draft. Jones is the first Patriots player to start his career with five-plus sacks in each of his first two NFL seasons since Chris Slade in 1993. He had 11 1/2 sacks on the year, the 15th 10-plus sack season in Patriots history. We sat down with Jones to talk about some of his earliest and most unforgettable football memories.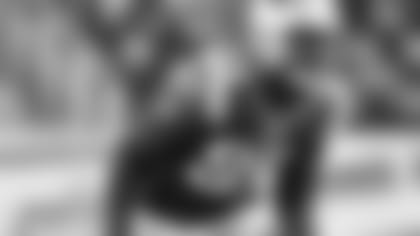 Q: What do you love about football?
CJ:What I love about football is the physicality of the sport. Every play, every down, you have the opportunity to unleash every bit of force that you have into the opposing man on the other side of the ball.
Q: Where did that love for the physicality come from?
CJ:As a kid, every day after school, I had a neighbor named Adam who used to come over my house. We had about 40 yards of grass on my front lawn and we would sit there and tackle each other. I'd give him the ball and he would give me the ball and we would try to run by each other and just tackle each other.
Q: What made you want to play football?
CJ:Believe it or not, what made me want to play football was my brothers. Both my brothers played football in high school and my brother Arthur played at Syracuse University. He played at Syracuse; I played at Syracuse as well. I just followed his footsteps.
Q: Why do you play football?
CJ:It's because of passion. I like that it's a team sport. I'm big on teamwork and helping each other. It's 11 guys out there and you just do your job and you depend on the guy next to you and he depends on you and you just get the job done.
Q: Was there another sport you were good at?
CJ:I would say as a kid and growing up, I was a solid basketball player. I wouldn't say I'm a better basketball ball player than I am at football, but I had a few offers in basketball as well.
Q: Why did you choose football?
CJ:Because of my passion in the sport. I love football. I've been wanting to play in the NFL since I started playing football when I was in the third grade. Football has been my go-to sport, it's been the sport that I love and have the most passion in.
Q: What players did you look up to as a kid and what position did you want to play?
CJ:When I was a kid, it's funny because I loved offense. I played tight end when I was in high school and in Pop Warner I played wide receiver. My favorite player was Reggie Bush, I kind of wanted to play running back and I also liked Barry Sanders, how he jumped and made cuts and all the things of that nature. Obviously my body doesn't work like that so I couldn't play that position but I loved to watch those guys play.
Q: What's your proudest moment in football?
CJ:Winning the Pinstripe Bowl back when I was at Syracuse. We went out to the Bronx to Yankee Stadium and played against Kansas State and won.
Q: What did your parents think about you playing football?
CJ:Their biggest thing was wrestling – my dad loves wrestling. He wrestled in high school and he wrestled in college. When it got to football, it was one of those things they had to go with. It's what I wanted to do and what I was most passionate about and that's the sport I chose.
Q: Who was most influential in you playing football?
CJ:My brother, Arthur, was the most influential person with me playing football. He's my oldest brother. It was kind of a monkey see, monkey do type of situation. Whatever he did, I did. He came home one day with a helmet and shoulder pads and I said, 'Hey, what's that?' I went in the next day and signed up for Pop Warner and I've been playing ever since.
Q: Did you like playing in front of the crowd?
CJ:I used to get really nervous before every game. My father used to give me Tums all the time. I used to always complain about my stomach hurting. That's the part I don't miss.
CJ:My biggest thing is trying to eliminate what the crowd is doing. I love playing here, in Gillette Stadium. I love hearing the noise on third down and I love the crowd roaring whenever our team makes a big play. But home and away, the biggest thing is doing your job and you'll worry about what the crowd has to say afterward.
Q: Did you always celebrate the way you do now with the dance?
CJ:I did. It wasn't allowed at the collegiate level or the high school level. You weren't allowed to do sack dances or touchdown dances but I would chest bump with a few guys or in practice, I would do a little dancing. It's kind of fun now that I can do it legally. I'm enjoying it and hopefully we can keep it going.
Q: How has football changed your life?
CJ:It's brought my family closer. They're always traveling. I have two brothers that are professional athletes as well. I have a brother [Jon 'Bones' Jones] that's in the UFC and a brother [Arthur Jones] that plays for the Baltimore Ravens. My family, they're always traveling and getting together and tailgating and having fun from just the sports we play. It's great, I enjoy it.