We sat down with offensive lineman Sebastian Vollmer to talk about some of his earliest and most unforgettable football memories. Vollmer joined the Patriots in 2009, as a second round draft pick from Houston. Originally from Kaarst, Germany, Vollmer is in his fifth season with New England, after working his way into the starting lineup at the end of his rookie year.
Q: Growing up in Germany, how did you learn about football?
SV:I learned more about football when a friend took me to a local club team and I just really loved the camaraderie and the team play and everything about it. I really just got hooked once I was exposed to it.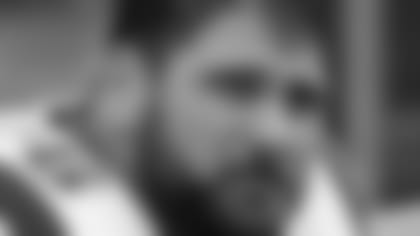 Q: Is that what made you want to play football?
SV:Yeah, I mean I came from a history of swimming and soccer and all that. Once I really saw what football entails and what it means and the guys that came with it, I loved it.
Q: What is your first memory of playing football?
SV:My first memory of playing football is really that first day. I was there, I saw them practice. It was all new to me at that point, I really didn't know what was going on but something was fascinating about that. I remember being there and watching and talking to the coaches afterward and stuff. I liked it.
Q: What was it about the game that you liked?
SV:Coming from swimming, I was really looking for some kind of team sport and the camaraderie of working together toward a common goal to do something great. I really liked that concept of it. I was looking for a physical challenge as well. Being on the tall end and bigger side of things, football kind of came natural to me. Again, the combination of the camaraderie and the physicality of it I really enjoyed.
Q: What position did you play as a kid?
SV:I was a tackle, I always was. Going into college, I was kind of like the tight end, third tackle guy for my freshman year but always around the tackle position.
Q: Did it take you a long time to learn the game since it wasn't part of the culture?
SV:I remember learning about the game just by talking to certain people but also going to the library and just really renting a book and reading up on it. I didn't know what a tackle was doing and what the rules were or what first-and-10 meant, stuff like that. There was some adjusting, no doubt.
Q: What is the thing you love most about football?
SV:The thing I love most about football is really spending time with your teammates and working toward something great all year and you only have a few opportunities to prove yourself and working together toward that goal. That's always fascinated me.
Q: When did you first realize that you could be a professional football player?
SV:I'm not sure I really realized that I could be a professional football player early on in my career. It was more, when I had the opportunity to come to the United States and go to college, I really appreciated the opportunity to get a couple degrees out of it and play college ball. I think I just set myself small goals to get better every day and every year and just by doing that, I guess eventually I became good and got drafted here.
Q: Did you ever think when you were at the University of Houston that you could do this for a living?
SV:Obviously going into your senior year you set your next goal and my goal at that point was preparing for the Combine and Pro Day and whatnot. I definitely wanted to give it a shot. I had the background and the degree education-wise, but I definitely gave it my all and wanted to make it. Almost five years later, I'm here.
Q: What did your family think about you playing this game for a job?
SV:They loved it. It took them awhile to understand it but during my college career they came quite a lot to watch me play. Now as a pro, they're still coming, they're still watching games. They're just very proud and they're living the life with me. They're just very happy and proud of me.
Q: What is your favorite memory playing football?
SV:I don't think there's just one thing that stands out. Reaching a Super Bowl obviously is a good memory. Really, there are so many memories each and every day that I appreciate. It might just be the small things but the people you get to know, the people you talk to, the people who have influences on your football career but also they're going to have an impact on my life later on. Really, the competitiveness and just being able to play this sport, I'm definitely grateful for.
Q: Who had the biggest influence on you playing football?
SV:I think the biggest influence would be the Patriots organization obviously just by coming here and playing for Coach [Bill] Belichick and my offensive line coach, Coach [Dante] Scarnecchia. It's really making me a better football player each and every day I step out there on the field and even in the meeting rooms, I feel like I'm learning something every day and perfecting my craft. The influence hasn't stopped, it really continues every day.
Q: Is there anyone back home that was influential in you playing football?
SV:Yeah, my parents and my sister. They were always very supportive. I remember coming over here, it wasn't very easy to do that, leaving everything behind. They were very supportive of me and had my back and were really pulling for me.