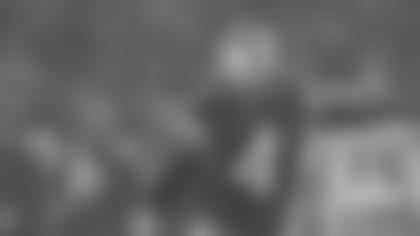 The following story about Adam Vinatieri appeared in the Sept. 28 edition of Patriots Football Weekly, one week after his game-winning field goal helped the Patriots defeat the eventual Super Bowl champion Pittsburgh Steelers 23-20. *
Very few things in life are guaranteed. The old saying goes the only things people can count on for certain in their lifetime are death and taxes. In New England, that phrase has been modified a bit over the last few years. For Patriots fans, the only things in life that are guaranteed are death, taxes and Adam Vinatieri making clutch kicks.
His legend started like most legends do: unexpected. It began before the Super Bowl trophies were won and during a time when the word "Dynasty" only referred to a television show that once featured Joan Collins.
It was a cold, snowy night in the middle of January. The Patriots and Oakland Raiders met in the last game ever played at Foxboro Stadium. At stake was a birth in the AFC Championship Game. With 32 seconds remaining and the blinding snow making the field look like a winter wonderland, Vinatieri trotted on to attempt a 45-yard field goal with the Patriots trailing 13-10.
With no snowplow in sight, Vinatieri calmly stepped up and nailed what is arguably the greatest kick in NFL history to send the game into overtime. Fittingly, he also ended the contest in the extra stanza by hitting the game winner from 23 yards away. In the early morning hours as the snow continued to fall from the sky, a legend and a dynasty, were born.
Vinatieri admits of all the pressure kicks he's made throughout his career, the 45-yarder in the snow against the Raiders was unique because of the situations.
"That was an interesting game with all the field conditions and implications and stuff like that," Vinatieri said. "Who knows if you have 100 chances to hit that kick how many times you hit it? I don't know but I was fortunate to make the one we had to make."
When asked if he sought out the infamous snowplow guy before the kick, Vinatieri laughed and said, "Yeah, but unfortunately he wasn't around so we had to do what we could. Games like that with snow and crazy weather makes it difficult at times but you just have to go out and do your job."
The only pure kicker currently in the Hall of Fame is Jan Stenerud. Lou Groza and George Blanda are in the Hall as well but they played other positions in addition to being kickers. With 19 game-winning kicks under his belt - including two field goals at the gun to win Super Bowls over the Rams and Panthers - Vinatieri should be joining Stenerud in Canton once his career is over. After his 43-yard field goal to beat the Steelers, ESPN Radio even referred to the Patriots kicker as "Hall of Famer Adam Vinatieri."
Vinatieri is honored that people mention him in the same breath with some of the all-time greats but right now he's only concerned about his next kick, not what he's done in the past.
"It's cool but I try to keep everything in perspective," Vinatieri said about the high praise he has received. "What we have done in past weeks or past years doesn't mean a lot. I guess it's good when nice things are said about me. It means I have been around a long time but I still have to go out there and re-establish myself on every kick."
Vinatieri credits a lot of his success to being fortunate enough to play on a successful team like the Patriots.
"Being on a great team like this, I have had a lot of opportunities to win a lot of games," he said. "It's just nice to help the team win in any way I can."
It's true playing on a team that's won three Super Bowls has helped Vinatieri's legend grow. He's been able to attempt meaningful kicks on the biggest stage. Still, it was Vinatieri who had the hopes and dreams of all Patriots fans riding on his right foot when he lined up for those pressure kicks against the Rams and Panthers with the world watching.
"You try and go out there and just block all that stuff out," Vinatieri said. "It's still just a field goal no matter what the implications of the game are. That's how you have to look at it. You go out there and try to take the same approach every time you step on the field. It's easier said than done at times but that's what you have to do."
On some teams, kickers may not be on the same level as other players but you won't hear any of that talk around the Patriots locker room. Vinatieri trains and runs with the rest of his teammates. He's often seen in the weight room pumping iron with the offensive linemen. Of course, we're talking about the same guy who once ran down Herschel Walker on a kickoff return.
Recently, ESPN analyst and former Dallas Cowboys receiver Michael Irvin said he doesn't consider Vinatieri tough because he's only a kicker and there's no way a kicker can be tough.
Tight end Christian Fauria disagrees with Irvin's assessment of his teammate.
"I'm the biggest anti-kicker guy around but I will go into battle with Adam anytime," Fauria said. "He has earned that respect and anyone who says he is just a kicker doesn't know Adam and doesn't know anything about this football team."
Vinatieri couldn't comment on what goes on with other teams because he's been fortunate enough to play his entire career in New England. He did say, however, that on this team he's treated like every other player.
"Around here guys are good to all the other guys on the team," Vinatieri said. "We know what it takes to be successful as a team. It's everybody doing their job, picking each other up and supporting everyone."
There's no guarantee that a specialist like Vinatieri will make the Hall of Fame. Just ask Ray Guy. But when voters look at how accurate he's been over the years and what he's done in big games, it's going to be difficult to keep Vinatieri out of Canton.
As Patriots coach Bill Belichick said after the Patriots defeated the Steelers in the understatement of the year, "Adam, that's the guy you want kicking. He's pretty good at it."
That he is coach. That he is.