FOXBOROUGH, Mass. - Four members of the New England Patriots have been selected to the 2018 NFL Pro Bowl. Quarterback Tom Brady, FB James Develin, TE Rob Gronkowski and WR Matthew Slater have been selected to represent the New England Patriots in the 2018 NFL Pro Bowl on Sun., Jan. 28, 2018, at Camping World Stadium in Orlando, Fla. The Patriots have now had at least four players selected to the Pro Bowl in each of the last nine seasons - (2009-5, 2010-8, 2011-8, 2012-7, 2013-5, 2014-7, 2015-7, 2016-6 and 2017-4).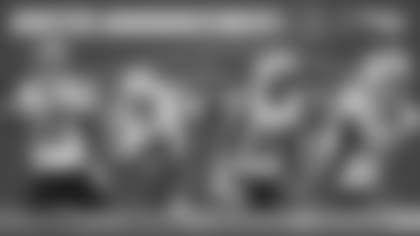 Brady has been named to the Pro Bowl for a franchise record 13th time in his 18-year career and this is his ninth consecutive selection to the all-star game. Brady has been voted to the Pro Bowl after each of the following seasons: 2001, 04-05, 07, 09-16, and now 2017. He has passed G John Hannah (1978-85) for most consecutive Pro Bowl selections in franchise history. Brady heads into this week leading the NFL in completions (346) and passing yards (4,163), and he is third in touchdown passes (28). Earlier this season, he passed Peyton Manning and Brett Favre with his 187th career regular season win and joined Peyton Manning, Brett Favre and Drew Brees to became the fourth quarterback in NFL history to reach 65,000 career passing yards. He also guided the Patriots to their 15th division title of his career, the most by a quarterback in NFL history, including nine straight, also an NFL record. With his 13th Pro Bowl selection, Brady joins Tony Gonzalez (14), Peyton Manning (14), Bruce Matthews (14), Merlin Olsen (14), Ray Lewis (13), Jerry Rice (13) and Reggie White (13) as the only NFL players with at least 13 Pro Bowl berths.
Develin has earned his first career Pro Bowl invitation and is the first Patriots fullback to earn a Pro Bowl nod since Sam Cunningham in 1978. An Ivy League defensive lineman standout at Brown, Develin changed positions to fullback and had stints in the Arena Football League and the United Football League before breaking into the NFL with Cincinnati's practice squad in 2010. He was released by Cincinnati at the end of training camp in 2012 and joined the New England practice squad shortly after and was added to the 53-man roster late in the 2012 season. Since then, Develin has appeared in 63 games with 19 starts at fullback. Though he is utilized mainly on offense as a lead blocker, Develin also plays a role as a core member of the Patriots special teams units.
Gronkowski is headed to his fifth career Pro Bowl. The eight-year veteran tight end also earned a Pro Bowl invitation following the 2011, 12, 14 and 15 seasons. Gronkowski has started all 12 games he appeared in this season and leads all tight ends in receiving yards (1,017) and yards per reception (15.9). He is coming off a career-high 168-yard receiving performance in the win over Pittsburgh on Sunday. This season, Gronkowski joined Tony Gonzalez and Jason Witten as the only tight ends in NFL history with four 1,000-yard seasons. He also moved into the top 10 all-time for receiving yards by a tight end and currently sits ninth with 7,112 career receiving yards.
Slater earned his seventh consecutive Pro Bowl selection as a special teams player. Slater's seventh Pro Bowl nod as a special teams player matches Steve Tasker (1987, 90-95) for most special teams Pro Bowl honors in NFL history. The former fifth-round draft pick out of UCLA earned a roster position with the Patriots as a rookie in 2008 with his contributions on special teams. Entering the 2011 season, teammates elected him as their special teams captain. That year, he was also selected to his first Pro Bowl. Since then, he has earned special teams captain honors to start each season and been voted to the Pro Bowl at season's end. He has led the Patriots in special teams tackles for five of his nine seasons.