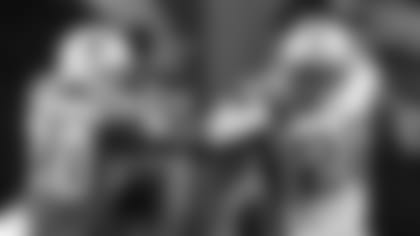 ]()Last December, Arturo Freeman helped give all Dolphins fans what they wanted for Christmas: a victory over the defending World Champion New England Patriots. Freeman's interception late in the fourth quarter helped cement a Dolphins one-point win over the Patriots. Ten months later, Freeman is on the other side of the fence, now playing for the team he battled twice a year during his five seasons in Miami.
"It was nice capping that game off with an interception," Freeman said. "But I'm here now. I say if you can't beat them over the years, you might as well join them."
Freeman started 29 games for the Dolphins in his five seasons He tied for the team lead in interceptions last year with four. After the Dolphins released Freeman in February, he landed in Green Bay. He planned to play for the Packers for one season and re-examine things after the year but that's not the way it worked out. The Packers released Freeman during training camp but the veteran said that was his choice.
"I wasn't happy in Green Bay so it was more my choice to leave," Freeman said. "I'm just blessed and fortunate to have done well enough to have this opportunity in front of me."
It's Freeman's versatility and experience that helped bring him to New England. Freeman has played both strong and free safety, as well as coming up in the box as an extra linebacker in some defensive packages the Dolphins used. According to head coach Bill Belichick, "He has done some different things. He's played safety; he's played some linebacker roles. He has some experience playing in the league. Joel Collier, our secondary coach, worked with him down in Miami so we will see how quickly it comes together."
Freeman said on Thursday he has been studying the Patriots playbook and he is familiar with a lot of things he has seen so far. "It's similar to what I have done before," said Freeman. "All I have to do is take the terminology that I've learned before and adapt to the coverages and things like that."
When asked if he thought he would be ready to play this Sunday against the Broncos, Freeman said without hesitation, "Yes, I'll be ready."
With all the injuries to their secondary, including losing Chad Scott for the season to a shoulder injury, the Patriots were fortunate that a productive veteran like Freeman was still available. In his career, Freeman has registered 199 tackles, 3.5 sacks and five interceptions. According to Freeman, it was business, not lack of talent that had him sitting at home in Miami waiting for his phone to ring.
"Being out, you realize it's not about talent at all, it's about the business side of things," Freeman said. "Sometimes people are just committed to players on their roster. You think you have four interceptions and that means something but then the market dries up, there's nothing you can do about it."
Freeman has already been impressed with how the Patriots go about their business. He also has a lot of respect for many of the players on the team because of their showdowns in the past.
"What I've learned here so far is these guys work hard. Hard work always pays off and that's why they are where they are."
Freeman went on to say, "I have been battling these guys for the past five seasons and I know what it's like to go against them. It's a war."
Freeman was asked if he had any personal battles with any of the Patriots over the years. He laughed and joked, "Yeah, all those guys on that side of the wall (Pointing to the receivers lockers). No, that's why we were helmets. Guys don't remember your face."
Unlike some of the other players the Patriots have brought in lately, Freeman has a chance to see some significant playing time. He has the versatility to play different positions in the secondary, something Belichick likes, and he has proven in the past that he can be productive as a starter at the NFL level.
"I'm a complete player," said Freeman. "I can play both safety positions and do some other things and I think that's a plus."
With all the injuries the Patriots currently have in their secondary, getting a player who is versatile and experienced at this point in the year certainly is a plus. With the addition of Freeman, and Randall Gay and Tyrone Poole getting closer to returning, the Patriots secondary should get much stronger as the season moves forward.
Al Wilson thinks Brady is tops in the league
Back before he was considered a living legend, Tom Brady walked into Denver to face the Broncos in only his fifth game as an NFL starting quarterback. In his first four games, Brady had not thrown an interception. Not only would Brady throw an interception against the Broncos that day, he threw four of them.
Another memorable moment of that 31-20 Broncos victory was Al Wilson shoving Brady after he threw a touchdown pass. Brady didn't back down, getting right in Wilson's face until the two had to be separated. The Patriots may have lost the battle that day but it was a win for Brady. Despite his poor game, Brady showed a sign of things to come by being a leader and standing up to one of the toughest linebackers in the NFL.
"Yeah, I remember that," Brady said Wednesday. "I talked to Al later. I think he got fined for that."
Wilson told the media during his conference call on Wednesday he too remembered the altercation. "It wasn't good what we said to one another, I can tell you that much," Wilson said. "It wasn't anything pertaining to the football game, that's for sure."
As far as the four interceptions goes, Wilson isn't planning on seeing the same quarterback he faced four years ago this Sunday. The All-Pro middle linebacker said of Brady, "He's done great since then. He's been on a tear. He's always calm, always laid-back and you never see Tom Brady panicking. If you watch film, you see he doesn't make a lot of mistakes. He's definitely the best in the league right now."
NotesSince 1996, the Patriots have compiled a 7-2 record in the week preceding their bye…Belichick said on Thursday that Richard Seymour is getting better and has a chance to play on Sunday…The Patriots have won two of their last three games in Denver. Before that, the team had lost 10 straight games in the Mile High City, a streak that spanned from 1984-98…Last Sunday against the Falcons, Corey Dillon become only the 18th running back in NFL history to rush for over 10,000 yards