Tim Tebow addresses the media at the NFL Scouting Combine. AP Photo.


INDIANAPOLIS -- Quarterback is the marquee position in the NFL. As such it stands to reason that the position would be the glamour position at the league's Scouting Combine.
That was certainly the case Friday inside Lucas Oil Stadium as the likes of Oklahoma's Sam Bradford, Notre Dame's Jimmy Clausen and Florida's Tim Tebow began the poking and prodding process in Indy.
After getting measured and dealing with medical tests, the draft lightening rod Tebow was the only one of the top players who met with the media inside the Baker Daniels Club at Lucas Oil, and all the football world was watching. Since injuries are preventing Bradford and Clausen from taking part in the throwing workouts at the Combine, and Tebow is re-working his unorthodox motion in advance of a March Pro Day, the star quarterbacks will be looking to impress NFL decision makers more with their brains and their mouths than their arms this week.
That's an area in which Tebow is expected to excel. One of the first topics Tebow tackled was the fact that he's changing his throwing motion.
"It's more like a tweak, it's not necessarily changing my whole motion, just the way I'm holding the ball and kind of how I'm getting to where I'm throwing it," Tebow said in front of the biggest media gathering of the Combine to date. "That's kind of the biggest problem we've seen so that's what we're working on the most."
The former Heisman Trophy winner was then asked about the challenges he faces in trying to continue to play quarterback at the next level.
"In high school they said I couldn't be a quarterback," Tebow said. "I've come a long way since then. I'm just excited about all the opportunities and the blessings in my life. I'm just trying to handle it as best I can.
"I want to be a quarterback in the NFL. That's been my dream since I was six years old. I'm going to do whatever it takes to do that. If I'm on a team that asks me to help the team in another way, of course I'm going to do that. It's always team first. That's how it's always been."
And while he understands that he's going to bring extraordinary attention and hype with him to whichever NFL team drafts him, he's sure he'll be able to win over his new teammates.
"Sometimes you can't help the attention but what you can help is your attitude, you can help your work ethic and when you go in there and show that, 'hey I am putting the team first, I'm going to do whatever it takes to help you guys succeed, to help this organization and, together, we can achieve more.' If they know that and believe that, then they are going to respect me. And that respect grows into like and that like grows into love and then you get a team that's bought it, and then you get a team that wins championships."
If that fairy tale process happens to take place in New England, Tebow would land with a head coach he says he's already built a strong relationship with.
"I feel like I have a good relationship with Coach [Bill] Belichick," Tebow said. "He was a very close friend of Coach [Urban] Meyer's so I feel like I knew him in college. He came and spoke to us quite a few times. I got to know him through that and I respect him as a coach and as a person. He just does a great job."
Now part of Belichick's job, like so many other NFL decision makers, is to decide where and at what value Tebow can contribute at the next level.
And Tebow's job is to prove his critics, those who say he has no fit in the NFL, wrong.
"I'm going to work pretty hard in doing so, and I don't know, we'll see," Tebow concluded.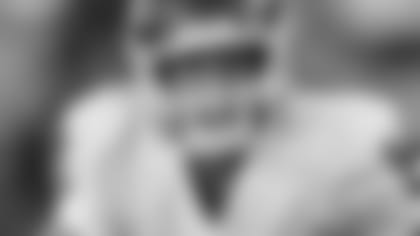 Just compete Though he understood that some players – like Bradford and Clausen – are unable to take part in the workouts at the Combine due to injury, Chiefs GMScott Pioli** made it quite clear that he looks down upon players who simply choose not to do the drills in Indy.
"I'm a firm believer that when you have an event like this, all the teams are going to be here, if you're a competitor come out and compete," Pioli said. "Just come out and compete. If you are good, you're good."
Does that decision factor into his evaluation of a player?
"For me personally, yes. For other teams it doesn't," Pioli added. "I understand the reasons the agents and some of the players feel they shouldn't compete here, but to me, if you're a competitor, if you're a player, if you're good you're going to be good. We all understand that it's not your receiver or he's going to run a different route. We get it. We understand it. Just come here and compete."
Rams GM Bill Devaney, holder of the No. 1 overall pick in the draft, would prefer that the players would work out in Indy but seems more understanding of the realities of the situation.
"I will say this: You'd love to see them work out," Devaney said, " but for a quarterback here, it's not the greatest environment for them to show what they've got. So there's no sense freaking out about it. It is what it is. We'll get to see 'em throw eventually."
Nick's picks
One of the more interesting things that Patriots director of player personnel Nick Caserio addressed during his 30-plus minute meeting with the New England media at the Combine was in regards to the positions that he thought were especially strong in this year's draft class.
"I would say this year, the safety group is a pretty deep group. I think those conversion players, the defensive end/outside linebackers, I'd say that's a pretty deep group this year," Caserio said. "There is a pretty good crop of tackles."
The part about the 3-4 edge rushers has to be music to the ears of Patriots fans as the team looks to improve its borderline non-existent pass rush heading toward 2010.
To read the full transcript of Caserio's wide-ranging interview, or even listen to the audio yourself, click here.
Spreading the wealthThe spread of the spread offense throughout college football, and even down through the high school ranks is making the scouting process much more difficult for NFL talent evaluators. Virtually everything done at every position in the spread offense is different from what players will be asked to do in an NFL offense.
"What you're seeing nowadays is a trend that's not going away. Even high schools are going to spread offenses," San Francisco GM Scot McCloughan said, focusing on the quarterback spot. "If you're going to take a spread quarterback, know that that's what he's used to and the reason you're drafting him is that he's been a good football player. Don't completely change what he's done in the past that's made him successful. It doesn't mean he has to be in the shotgun every snap and run the routes he ran in college, but you've got to find a balance between the two – being in the shotgun, being in three and four-receiver sets. Most of the teams – I know it's a little bit different with New Orleans – need to be able to run the football in the fourth quarter, especially late in the year and especially on the east coast in open-air stadiums. You've got to be able to play power football still."
Steelers director of football operations Kevin Colbert discussed the projection in terms of receivers and tight ends.
"There are less and less tight end and fullback types because of the emphasis in college and even high school on the spread offense," Colbert said. "We don't really see that. What you are seeing are bigger receivers that may have in the past grown into tight ends, now you're seeing 6-3, 220-pound receivers who would have gone inside are staying outside in the spread."
No-menJust as Belichick alluded to in his season-ending press conference, Pioli said he and Chiefs head coach Todd Haley are looking for more than yes-men when putting together a coaching staff. Disagreement within a building, within a staff can lead to positives over the long run.
"Absolutely. That was something Todd and I talked about wanting to make sure we had more of," Pioli said. "Because Charlie [Weis] and Gary Gibbs is great about it. Charlie disagrees with everyone on everything. I say that kiddingly. Romeo [Crennel] does too. We want to hear different ideas. We want to hear no. There needs to be no. It helps for growth. A lot of people say they want that. Not everyone does want it. Todd and I really want it. And we need it. None of us has all the answers."
Pioli even joked that Crennel brings coaching experience that matches the GM's life of work.
"Romeo has been coaching almost as long as I've been alive," Pioli said with a laugh.
Mike checkNew Redskins head coach Mike Shanahan, the two-time Super Bowl winner in Denver, was conspicuously out of football a year ago. But he was spotted on the sidelines at Patriots training camp for a few days last August as a guest of Belichick. Shanahan also visited the Pittsburgh Steelers camp around that time. At the Combine Friday, Shanahan was asked why he chose to be a spectator at those Patriots practice sessions.
"What I like to do, and haven't been able to do, is actually go to a pro camp and see how other people run their camp," he explained.
"In a place like New England, with the three Super Bowls that they've won since I've been in the league, and Pittsburgh, obviously, the two they've won, I thought it would be a great experience. Because when you read things in the paper, you can't always believe what you read. I know that's hard for you guys to believe," he added with a smile.
"But on the serious side, I wanted to see what type of practices they did have. You know, did they hit in the morning? How hard did they hit? You hear things sometimes, but until you actually see someone practice, you don't know. So, it was a good experience for me … picked up a few things here and there from two great organizations. Obviously, you don't share those things [with the media]. I get the benefit to experience them. But, yeah, there's a number of things I've picked up."
Notes and quotesPioli was clear to put the Combine in its place in the overall pre-draft process. "The Combine is an important event, but it doesn't replace what you've seen on tape and what you've seen players perform." Pittsburgh's Colbert agreed with that assessment. "The most valuable part of a player's evaluation is what happens from August to December. The Combine, Senior Bowl, this is all icing on cake. Ninety percent of the evaluation has already occurred before we get to this point." … A punter who might be catching the eye of Patriots scouts is Fresno State's Robert Malone (6-2, 233), a cousin of former Patriots punter Tom Malone. He said he's worked out with his older cousin a few times and sought his advice on how to approach the Combine. Given that direct connection, plus Belichick's well-known alliance with Bulldogs head coach Pat Hill (a former Belichick assistant), Malone believes he has a legitimate chance to wind up in New England. "Yeah, I've had a couple of interviews with them. I know they like directional punters, which I am." Malone explained that he's an Aussie-style punter, meaning he kicks the ball end-over-end in order to get better bounces inside the 20.
ESPN information maven Adam Schefter has gone on the record saying the Rams will take the quarterback Bradford with the No. 1 overall selection in April. St. Louis' GM Devaney joked about the comment. "That took a lot of pressure off us right away because when Dr. Schefter cleared him medically, we feel really good about the health status of Sam Bradford now with Dr. Schefter giving him a clean bill of health and guaranteeing our pick. So we're on to the second round right now." … ... Texas WR Jordan Shipley (a fan favorite among Patriots followers based on Ask PFW emails) was asked about comparisons to Wes Welker, and he responded with a glowing comment about how great a player Welker is, what an honor it is to be compared to him and how he could see himself playing in the same offense with Welker. ... Florida TE Aaron Hernandez, a Connecticut native, was asked if he was a Patriots fan as a youth, he said, yes, he was. But back when Drew Bledsoe was the quarterback. When the team chose Tom Brady over Bledsoe, Hernandez diplomatically explained that he suddenly became a fan of every team. On the topic of Belichick, Hernandez replied that he saw a lot of similarities between the Patriots head coach and Florida's Urban Meyer(the strictness, the demand for respect, the distaste for celebrations, etc.) and that he and many of his teammates were often too scared to approach Belichick to talk to him.