On Saturday, the NFL's strangely-named, three-day period of legal tampering between teams and agents will begin. That's a precursor to this coming Tuesday afternoon's official opening of free agency for 2014.
Rest assured, over the next four days there will be plenty of reports, rumors and chatter connecting various teams with some of the top names on the open market. Some of those will be legit. Others will be without merit, not unlike the seemingly baseless Darrelle Revis trade rumors that caught fire this week.
One name I'd like – make that love – to see the Patriots associated with between now and Tuesday afternoon is Vikings Pro Bowl defensive end and premier pass-rush presenceJared Allen.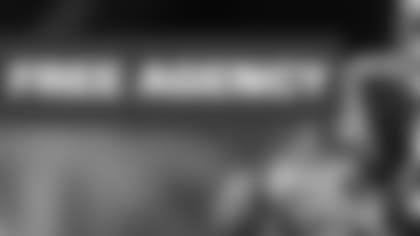 PREPPING FOR FREE AGENCY
The start of free agency is less than a week away. Get caught up on who the Patriots free agents are and the top free agents the team could target.

Allen is a super talented and super hard working guy with a ton of production and experience. He's going into his 11th season, but shows no real signs of slowing down. He had 11.5 sacks last fall, his seventh straight with double digit sacks. He finished last season with at least a half sack in each of the finale five games, with a total of 6.5 in that span. He hasn't missed a game since 2007 and just three total in his decade in the league. He also plays the run as a pretty well-rounded defensive end type.
Maybe even more importantly, I think Allen brings a unique energy, playing style and edge to the game that I think would benefit the New England defense and the guys around him. He also is one of those guys who has had limited chances to win in his career, so going to a team that's played in three straight AFC title games would probably be alluring to the man who popularized No. 69.
Chandler Jones and Rob Ninkovich were fortunate to be able to start 16 games a year ago and play the bulk of the snaps. But both could certainly benefit from a few reps on the sideline that might keep them fresher within games and throughout the long season. Allen would be the perfect guy to make that happen. It's going to cost a little bit of money, but Allen is the right man for the job in New England and an addition that would greatly strengthen the defense and the Patriots chances in 2014.
What do you think of the possibility of the Patriots going after Jared Allen? Should he be a top target? Is there another pass-rush option you prefer in free agency? Let us know with a comment below!