SURREY, London – What happens when you put together a bunch of mostly past-their-prime fans, a handful of cheerleaders, two mascots and ask them to play a game of flag football? As expected, plenty of fun, more than a few pulled muscles and a great time had by all.
NFL fans in the UK are seemingly everywhere, and roughly 50 of them, most representing the Patriots and a smaller but talented group of Bucs fans, put on quite the show at Richmond Park in Southwest London.
Bucspower ultimately walked away with the victory – something in the neighborhood of 28-6 – over the UK Patriots, but final scores and statistics took a back seat for these passionate football fans.
First and most importantly, many of the players participate in the British-American Football League, a flag football league which runs from April through early September. Back in August, Alan Newcombe, a Bucs fan who would have been on the field today and in the stands at Wembley Stadium tomorrow, passed away on the sideline at one of his games.
Damien Jarrett, a member of the UK Patriots and a close friend and teammate of Newcombe's in league play, decided to purchase a trophy in his name and presented it to the winners in a touching ceremony after the game.
"He was such a good bloke and I wanted to remember him by doing this," said Jarrett, who also presented the four Patriots cheerleaders with medals. "He would have been here and he would have been so excited to see all of this attention."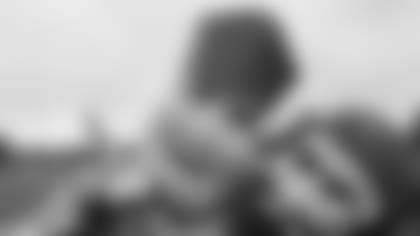 ]()Former Patriots kicker John Smith, a native of Southampton, was on hand and took part in some pregame work with both sides, demonstrating a few stretching techniques and plays. The Bucs brought cheerleaders and their mascot, Captain Fear, as well. He and Pat Patriot went at it briefly before the game.
The UK Patriots may have had the edge in numbers but it became quickly apparent that talent was on the side of Bucspower. However, it was later learned that there was some foul play involved. Turns out that two key members of the winning team weren't Bucs fans at all, and those two accounted for three of the four touchdowns Bucspower produced.
Still, members of the UK Patriots fought hard till the end. James Cuff, a 29-year-old native of Wales, summed it up best after the game when he wandered over to the PFW crew and reported, "Even their fats guys were better than our skinny guys."
Overall the day couldn't have been more enjoyable. Cormac Foxof Ireland, Paul Darvilleof London and several other fans of "PFW in Progress" made it to the game and most participated. While the result of the game wasn't what they would have hoped, Cuff and the rest of his teammates remained optimistic about the real thing tomorrow.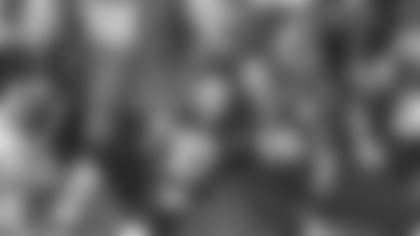 ]()"The results will be different at Wembley," he said with a laugh. "This is great for us over here. American football is a niche sport here but it is definitely growing. This club has been great for me because none of my friends are really into the NFL."
As excited as Cuff is to have the NFL venture onto his home turf, he doesn't think having it here on a permanent basis is necessarily a good thing.
"I'm against it, to tell you the truth," Cuff said when asked about a possible London franchise. "It's an America thing and that's part of the romanticism for me. The Super Bowl should take play outside of the U.S. as far as I'm concerned. It's good to get the sport out and around the world, but there's not enough interest in it to keep it successful over time."
Luckily, that was not the case for these two spirited clubs.