It's been a somewhat slow start to the season for veteran wide receiver Joey Galloway.
After going without a catch against the Bills in the Monday Night opener, Galloway came back with five receptions for 53 yards against the New York Jets last weekend. This, after a relatively quiet preseason in which Galloway's game action was limited.
The 15-year vet stopped to chat with reporters Thursday and insisted he wasn't frustrated by his slow start. Only his team's.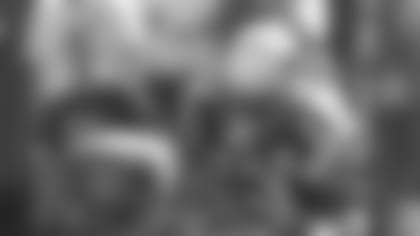 ]()"I wish we were 2 and 0," he said.
Galloway was asked if he's struggling to get used to New England's offensive system, and whether it's easier or more difficult for an old dog like him to learn some new tricks.
"I think it just depends on the guy and the system," he answered. "I don't know that age has much to do with it. Anytime you learn a new system, there's always a lot of work to do.
"I think we put too much emphasis on 'this system,'" Galloway added, speaking in general terms. "All NFL systems are different and unique and they all take a lot of work to learn. It just takes time and a lot of studying."
"Well, it's our second game playing together," QB Tom Bradyobserved when asked about Galloway this week. "It depends on what the expectations are. If the expectations are that it would be like we've been playing together for 10 years, that's not the reality.
"You have to go out and go through the process, and make the reads, and make the throws, and you've got to understand what I'm thinking. We've made a lot of improvement over the course of training camp and we're still making improvements."
Their timing on the field may be a bit out of synch at the moment, but Galloway and Brady couldn't be more on the same page when it comes to their working relationship.
"I've been with a lot of quarterbacks," Galloway said, smiling. "It's been fun, it's been interesting. He is a great coach. He's very decisive in what he wants, and he'll explain that to you. You just have to try to get on the same page with him. You know you can always ask him what he's thinking, what he sees, and know he'll explain it to you."
"Every relationship with a receiver is different. With some people, it's very seamless. With others, you've got to put extra work in," Brady explained. "Joey and I, we have a great relationship. He works extremely hard. He's been in the league for a long time and he's been in the league a long time for a reason: that's because he's professional and he's added a lot to this offense."
Galloway noted that of all the quarterbacks with whom he has played over his lengthy NFL career, Brady, he believes, is tops. Which is why the receiver isn't worried about getting on the same page with him. He said it's only a matter of time before the two click on the field. Still, Brady's words add a layer of reassurance for Galloway as he continues to develop a rapport with his quarterback.
"It's always comforting. It's been a learning curve. It's taken time. We have a lot of work to do. We work hard every single day, and we communicate a lot. You guys are spoiled up here because Tom is different than probably 99 percent of the guys I've played with. That communication's not always the same.
"You know," Galloway concluded, "as time goes on, we'll get better."
Thursday locker room/practice notes
WR Wes Welkerreturned to practice after missing Wednesday's session (and last week's Jets game) with a knee injury. Once again, LB Jerod Mayowas the only player absent from practice. The rest of the team was out on the field, in full pads, for the second straight day.
OL Ryan Wendellwas back with the team after being released to make room for LB Prescott Burgess. Wendell was re-signed to the eight-man practice squad. In order to do that, the team had to release OL Patrick Brownfrom the practice squad.