WELKER IS STREAKING
Wes Welker extended his streak to 80 straight regular-season games with at least one reception as a member of the Patriots to extend his franchise record. Welker has an overall streak of 97 straight regular-season games with at least one reception, including his time with the Miami Dolphins. Welker has caught at least one pass in each of his 87 games with the Patriots, including seven postseason games. The last time that Welker did not catch a pass in a game was December 24, 2005 when he was with Miami.
BRADY PASSES CHILDHOOD IDOL JOE MONTANA FOR 12TH PLACE ALL-TIME
Tom Brady (40,866 passing yards) moved past childhood idol and Hall of Famer Joe Montana (40,551) into 12th place all-time on the NFL's all-time passing list on a 59 yard pass to Wes Welker in the first quarter. Kerry Collins is in 11th place with 40,922 passing yards.
WES WELKER GOES OVER 100 YARDS RECEIVING
Wes Welker registered his 24th 100-yard game and his first of the 2012 season after finishing with 142hyards. In 2011, Welker had a career-high with 8 100-yard reception games. The Patriots record for most 100-yard games in a single season is 9 by Randy Moss (2007) and Stanley Morgan (1986). Last season, the Patriots had a player finish with 100 yards or more 18 times, setting a franchise record that topped the 16 100-yard performances in 2007.
BRANDON LLOYD HAS 13TH CAREER 100-YARD GAME AND FIRST AS A MEMBER OF THE PATRIOTS
Brandon Lloyd has his 13th NFL 100-yard game and his first with the Patriots after finishing with 108 yards receiving.
PATRIOTS WITH TWO RECEIVERS OVER 100 YARDS
Wes Welker (142) and Brandon Lloyd (108) both finished with over 100 yards receiving. Last season the Patriots had two players reach 100 or more yards receiving in a game five times.
STEVE GREGORY RECORDS HIS FIRST INTERCEPTION WITH THE PATRIOTS
Steve Gregory registered his first interception with the Patriots in the first quarter when he picked off Joe Flacco and returned the ball 36 yards to the Baltimore 6-yard line. The play helped set up a2-yard touchdown run by rookie RB Brandon Bolden. Gregory's 36-yard interception return is second to the 41-yard return he had vs. San Francisco on Dec. 16, 2010 when he played with San Diego.
BRANDON BOLDEN SCORES FIRST NFL TOUCHDOWN
Brandon Bolden, who joined the Patriots as a rookie free agent out Mississippi, scored his first NFL touchdown on a 2-yard run in the first quarter to give the Patriots a 10-0 lead.
THE PATRIOTS UNDER 500 FOR FIRST TIME SINCE 2003
The loss to Baltimore ended the Patriots run of 145 consecutive games at .500 or better, the longest such streak in NFL history. Dallas had the second longest streak ever with 115 games at .500 or better (1965-1974). At 1-2, the Patriots are under .500 for the first time since starting the 2003 season with an 0-1 record. Baltimore now has the longest streak at .500 or better with 62 games. The Patriots are 1-2 for the first time since the 2001 season.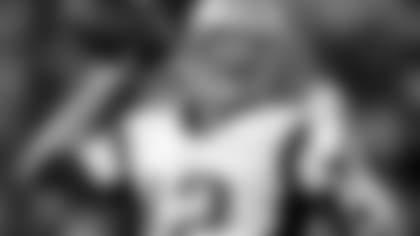 BRADY HAS HIS 47TH 300-YARD GAME
Brady had his 47th career 300-yard game after finishing with 335 yards against Baltimore. He is 8th all-time for most 300 yards game in a career. Hall of Famer Warren Moon is in seventh place with 49 300-yard games. In 2011, Brady had a personal best 11 300 yard games. The NFL record for most 300-yard games in a season is 13 by Drew Brees (2011).
MOST 300-YARD PASSING GAMES IN NFL HISTORY'
Peyton Manning 64
Dan Marino 63
Brett Favre 62
Drew Brees 59
Kurt Warner 52
Dan Fouts 51
Warren Moon 49
Tom Brady 47
Joe Montana 39
MOST 300-YARD PASSING GAMES IN A SEASON
13 Drew Brees, New Orleans, 2011
11 Tom Brady, Patriots, 2011
10 Rich Gannon, Oakland, 2002
10 Drew Brees, New Orleans, 2008
9 Dan Marino, Miami, 1984
9 Warren Moon, Houston, 1990
9 Kurt Warner, St. Louis, 1999
9 Kurt Warner, St. Louis, 2001
9 Peyton Manning, Indianapolis, 2009
9 Matt Schaub, Houston, 2009
BRADY HAS BACK-TO-BACK 300 YARD GAMES FOR THE NINTH TIME
Tom Brady passed for 335 yards against Baltimore, which followed a 316-yard game the previous week vs. Arizona. It is the ninth time in his career that he has had back-to-back 300-yard games. Brady had a career best with five consecutive 300-yard games in 2009. The NFL record for most consecutive 300-yard games is nine by Drew Brees (2011-12).
CONSECUTIVE GAMES WITH AT LEAST ONE TOUCHDOWN PASS CONTINUES FOR BRADY
Tom Brady has now thrown at least one touchdown pass in 35 straight regular season games, extending his team mark on a 7-yard touchdown pass to WR Julian Edelman in the second quarter. Brady's current streak started when he threw a touchdown pass in all 16 games in 2010 and 2011 and now the first three games of 2012. The old team record was 19 games, also set by Brady. Brady's 35 straight games is fourth all-time in NFL history. The NFL record is 47 set by Johnny Unitas (1956-60), followed by Drew Brees with 46 (2002-current and Brett Favre with 36 (2002-04).
JULIAN EDELMAN SCORES FIRST RECEIVING TOUCHDOWN SINCE HIS ROOKIE YEAR
Julian Edelman scored on a 7-yard touchdown pass from Tom Brady. It was his second NFL touchdown reception in the regular season. He caught his first NFL touchdown on a 9-yard touchdown pass from Tom Brady at Indianapolis on Nov. 15, 2009. That game was also played on Sunday Night Football. Edelman had two touchdown receptions in the 2009 postseason game vs. Baltimore on Jan. 10, 2011.
DEION BRANCH MAKES HIS RETURN - AND IT'S AGAINST BALTIMORE….AGAIN
Deion Branch was re-signed by the Patriots during the week leading up to the Baltimore game. Branch, who spent four seasons with New England before playing for Seattle, was re-acquired by the Patriots for the first time in 2010 and in his first game back with the team caught 9 passes for 98 yards and a touchdown in a 23-20 overtime win vs. Baltimore on Oct. 17, 2010 at Gillette Stadium.
WR BRANDON LLOYD TO 5,000 YARDS
Brandon Lloyd reached 5,000 career receiving yards on a 10-yard reception from Tom Brady in the third quarter. Lloyd, who now has 5,021 receiving yards, entered the game needing 87 yards to reach 5,000.
PATRIOTS GO OVER 30 POINTS AGAINST BALTIMORE
PATRIOTS TIED NFL RECORD FOR MOST 30-POINT GAMES IN A SINGLE SEASON IN 2011
The New England Patriots scored 30 points against Baltimore. It is the second time in 2012 that the Patriots scored 30 or more points after scoring 34 points in the season-opener at Tennessee. The Patriots scored 30 points 12 times in 2011 to tie the NFL record for most 30-point games in a single season. The 2007 Patriots and the 1999 St. Louis Rams also had 12 30 point games..The NFL record for most consecutive 30-point games in a single season is eight by the 2007 and 2010 Patriots and the 2000 St. Louis Rams.
TE DANIEL FELLS AND ROOKIE DL MARCUS FORSTON MAKE THEIR PATRIOTS DEBUT
TE Daniel Fells played in his first game with the Patriots after missing the first two games due to injury. Rookie DL Marcus Forston made his NFL debut. Fells was in the starting lineup in a three-tight end set. Forston played on defense and on special teams.
MAYO IS A TACKLING MACHINE
LB Jerod Mayo had a team-leading 11 tackles against Baltimore. It is his third straight 10-plus tackle game. He had a team-leading 13 tackles in the season-opener at Tennessee (9/9) a team-leading 11 tackles vs. Arizona. Mayo finished the 2011 season with 103 tackles, registering 100 tackles for the fourth straight year. He is the first player in New England history to register 100 tackles in his first four NFL seasons. He is the fifth Patriots player to register at least four consecutive 100 tackle seasons.
100 Tackles in at least four consecutive seasons/Patriots
6 Fred Marion (1985-1990)
5 Lawyer Milloy (1997-2001)
5 Vincent Brown (1991-1995)
4 Jerod Mayo (2008-2011)
4 Steve Nelson (1979-82)