PATRIOTS WIN GAME NUMBER 10
Today's victory was the Patriots' 10th win in 2011. New England has now won 10 or more games ten times in the last 11 seasons and for the ninth straight season. New England has reached 10 regular-season wins for the ninth consecutive season, joining San Francisco (16) and Indianapolis (9) as the only teams to accomplish the feat.
BELICHCIK FIRST COACH WITH NINE STRAIGHT SEASONS OF 10 WINS
Bill Belichick is the first coach in NFL history with nine straight seasons with 10 or more victories after guiding the Patriots to nine 10-plus seasons from 2003 through 2011.
WELKER JOINS RICE AND HARRISON WITH HIS FOURTH 100-RECEPTION SEASON
WR Welker Welker became the third player in NFL history with four 100-catch seasons. Welker joins Marvin Harrison and Jerry Rice has the only players with four 100-reception seasons. He entered the game with 93 receptions and added seven catches against Washington to bring his season total to 100.
PATRIOTS EARN FIRST EVER WIN AT WASHINGTON
The Patriots victory over Washington was their first ever win in Washington, the only NFL city that the Patriots had never won on the road.
ANDRE CARTER FORCES A FUMBLE ON A SACK IN THE END ZONE THAT RESULTS IN TD
Andre Carter registered his 10th sack of the season when he sacked and forced Washington QB Rex Ryan to fumble in the end zone. Vince Wilfork recovered the loose ball for his first career touchdown. It is the fourth time in Carter's career that he has registered double-digit sacks in a season. He had a career-high 12.5 in 2002 with San Francisco. He had 10.5 in 2007 and 11.0 in 2009 with Washington. The Patriots have had a player finish with double digit sack totals now 13 times.It is the first time that the Patriots have recovered a fumble in the end zone since Jarvis Green did so vs. Baltimore on Nov. 28, 2004.
SECOND TIME IN 2011 DEFENSE SCORES A TOUCHDOWN
It is the second defensive touchdown of the season for the Patriots. LB Rob Ninkovich returned an interception 21 yards for a touchdown at the NY. Jets on Nov. 13.
BRADY HAS 12 GAMES IN 2011 WITH 2 OR MORE TOUCHDOWNS
Tom Brady threw three touchdowns against the Redskins. It is Brady's 12th game in 2011 with two or more touchdowns. Brady had 14 such games in 2007. The NFL record for most games with two or more touchdown passes in a season is 15 by Dan Marino in 1984.
WELKER NEEDS 10 YARDS TO SET A CAREER-HIGH
Wes Welker (increased his 2011 total to 1,339 with 86 yards against Washington and needs ten yards to surpass his personal season-best of 1,348 receiving yards in 2009, fourth in team history. He needs 155 yards in the remaining three games to break the New England record set by Randy Moss in 2007 with 1,493 receiving yards.
WELKER SET PERSONAL BEST WITH HIS NINTH TD OF THE SEASON
Welker caught a 24-yard touchdown in the third quarter for his personal-best ninth touchdown of the season. His previous best was eight touchdowns in 2007.
WELKER TIES TROY BROWN FOR 7TH PLACE ON THE PATRIOTS ALL-TIME LIST
He now has 31 career touchdowns with the Patriots and is ties with Troy Brown for 7th place on the Patriots all-time list. Irving Fryar is sixth with 38 receiving touchdowns.
WELKER TWO RECEPTIONS AWAY FROM TYING STANLEY MORGAN FOR SECOND PLACE
Welker (532) needs three receptions to move past Stanley Morgan (534) into second place on the Patriots all-time list. First place belongs to Troy Brown (557).
WELKER ON PACE FOR SECOND MOST RECEPTIONS IN A SEASON
Welker has 100 receptions in 2011 and is on pace to finish with 123. He had a career-high 123 in 2009 which is tied with Herman Moore (Detroit in 1995) for the second most receptions in a single season in NFL history, behind Marvin Harrison's 143 with Indianapolis in 2002.
BRADY REACHES 4,000 YARDS PASSING
Tom Brady reached 4,000 yards passing for the fourth time in his career on the 11-yard touchdown pass to Rob Gronkowski in the first quarter. His four 4,000-yard seasons are tied with Warren Moon for the fifth most in NFL history. Brady had 4,110 yards in 2005, a career-high 4,806 in 3007 and 4,398 in 2009. He now has 4,273 yards.
All-time 4,000-yard passing seasons
11 Peyton Manning
6 Dan Marino
6 Drew Brees
6 Brett Favre
4 Tom Brady
4 Warren Moon
3 Kurt Warner
3 Dan Fouts
3 Drew Bledsoe
3 Philip Rivers
3 Trent Green
BRADY MOVES PAST WARREN MOON INTO SOLE POSSESSION OF SIXTH PLACE
Brady moved past Warren Moon (291) into sole possession of sixth place on the NFL's all-time touchdown list and now has 294 touchdown passes. John Elway is in fifth place with 300 career touchdowns.
BRADY ON PACE FOR 5,000 YARDS
After throwing for 357 yards against the Redskins and 4,273 yards through 13 games this year, Tom Brady is on pace to finish the season with 5,259 passing yards. Only two NFL players have thrown for 5,000 or more yards in a season with Dan Marino's NFL record 5,084 in 1984 and Drew Brees' 5,069 in 2008. The most yards Brady has ever thrown in a season is 4,806 in 2007. After 13 games, Marino had 3,870 yards in 1984 and Brees had 4,100 after 13 games in 2008.
BRADY HAS HIS 42nd 300-YARD GAME
Brady became the first to throw for 300 yards against Washington in 2011. Brady threw for 357 yards for his 42nd career 300-yard game and his eighth 300-yard game of the 2011 season. The eight 300-yard games in 2011 match Brady's personal best. He also had eight 300 yard games in 2007. The NFL record for most 300-yard games in a season is 10 by Drew Brees (2008) and Rich Gannon (2002).
MOST 300-YARD PASSING GAMES IN NFL HISTORY
Peyton Manning    63
Dan Marino        63
Brett Favre        62
Drew Brees        53 (before today)
Kurt Warner        52
Dan Fouts        51
Warren Moon    49
Tom Brady        42
Joe Montana        39
MOST 300-YARD GAMES PASSING IN A SEASON
10    Rich Gannon, Oakland, 2002
10    Drew Brees, New Orleans, 2008
9    Drew Brees, New Orleans, 2011
9    Dan Marino, Miami, 1984
9    Warren Moon, Houston, 1990
9    Kurt Warner, St. Louis, 1999
9    Kurt Warner, St. Louis, 2001
9    Peyton Manning, Indianapolis, 2009
9    Matt Schaub, Houston, 2009
8    Aaron Rodgers, Green Bay, 2011
8    Tom Brady, Patriots, 2011
8    Tom Brady, Patriots, 2007
8    Dan Fouts, San Diego, 1980
8    Kurt Warner, St. Louis, 2000
8     Trent Green, Kansas City, 2004
8    Marc Bulger, St. Louis, 2006
8    Drew Brees, New Orleans, 2006
8    Jay Cutler, Denver, 2008
8    Tony Romo, 2009
GRONKOWSKI SETS MARK FOR MOST RECEIVING TOUCHDOWNS BY A TIGHT END
TE Rob Gronkowski extended his NFL record for overall touchdowns in a single season by a tight end and established the NFL record for most receiving touchdowns by a tight end with his 14th receiving touchdown on an 11-yard touchdown pass from Tom Brady in the first quarter. Vernon Davis (SF in 2009) and Antonio Gates (SD in 2004) had 13 touchdown catches in a season. Gronkowski added a 37-yard touchdown reception in the third quarter and now has 16 total touchdowns this season – the highest number of combined touchdowns by a tight end in NFL history, including Gronkowski's 2-yard touchdown on a lateral in the third quarter vs. Indianapolis (12/4).
GRONKOWSKI'S HAS THREE PLAYS OF 20 OR MORE YARDS AGAINST WASHINGTON
Gronkowski set up the Patriots first offensive touchdowns with a 49-yard reception. He had a 50-yard reception in the second quarter. The 50-yarder is second in his career to his 52-yard touchdown vs. Kansas City on Nov. 21, 2011. He also added a 37-yard touchdown in the third quarter.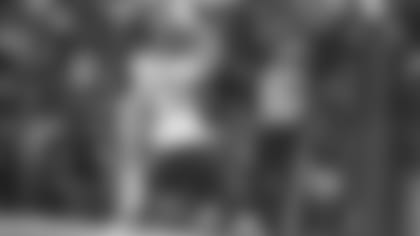 GRONKOWSKI SETS TEAM MARK WITH A TD RECEPTION IN SIXTH STRAIGHT GAME
Gronkowsk set a franchise record with a touchdown reception in his sixth straight game. Gronkowski, Randy Moss, Daniel Graham, Michael Timpson and Jimmy Colclough caught touchdown passes in five straight games. The Patriots record for most consecutive games with at least one touchdowns seven by Curtis Martin.
GRONKOWSKI THIRD ON PATRIOTS LIST FOR TOUCHDOWNS BY A TIGHT END
Gronkowski is third on the Patriots all-time touchdown reception list by a tight end with 25, behind Ben Coates (50) and Russ Francis (28).
GRONKOWSKI GOES OVER 100 YARDS
Gronkowski registered his fifth career 100-yard game and his and his fourth of the 2011 season after finishing with a career-high 160 yards on six receptions. His previous best was a 113 yards at the NY Jets on Nov. 13, 2011. The highest output for a New England tight end were 161 yards by Ben Coates on Sept. 4, 1994 at Miami.
GRONKOWSKI GOES OVER 1000 YARDS
Gronkowski became just the second New England tight end to go over 1,000 yards for the season after gaining 160 to push his 2011 totals to 1,088. TE Ben Coates set the franchise mark for a tight end with 1,174 yards in 1994. It is the 29th time in NFL history that a tight end has registered a 1,000-yard season.
GRONKOWSKI SCORES TWO TIMES
Gronkowski had his eighth game overall with two or more touchdowns and his sixth game in 2011 with two or more touchdowns. He has had two or more touchdown in four of the last five games.
GRONKOWSKI ON PACE TO SET PATRIOTS TIGHT END RECEIVING YARD RECORD
Rob Gronkowski has 1,088 receiving yards on 71 receptions and is on pace to finish with 87 receptions for 1,339 yards. The Patriots record for most receiving yards by a tight end is Ben Coates with 1,174 in 1994. The Patriots record for most receptions by a tight end is 96 by Coates in 1994. The NFL record for most yards by a tight end is 1,290 by Kellen Winslow in 1980 with San Diego.
CONSECUTIVE GAMES WITH AT LEAST ONE TOUCHDOWN PASS CONTINUES FOR BRADY
Tom Brady has now thrown at least one touchdown pass in 29 straight regular season games, extending his team mark with an 11-yard touchdown pass to Rob Gronkowski in the first quarter. Brady's current streak started when he threw a touchdown pass in all 16 games in 2010 and he has now achieved the feat in all 13 games in 2011. The old team record was 19 games, also set by Brady. The NFL record is 47 set by Johnny Unitas (1956-7), followed by Drew Brees with 40 and Brett Favre with 36.
BRADY ON PACE FOR SECOND CAREER 40 TOUCHDOWN SEASON
Brady has 33 touchdown passes through 12 games and is on pace for 41 touchdown passes. If Brady reaches 40 touchdowns he will be just the second player in NFL history to have two seasons with 40 or more touchdown throws. Dan Marino had 48 touchdowns in 1984 and 44 in 1986.
WELKER IS STREAKING
Wes Welker extended his streak to 74 straight regular-season games with at least one reception as a member of the Patriots to extend his franchise record. Welker has an overall streak of 91 straight regular-season games with at least one reception, including his time with the Miami Dolphins. Welker has caught at least one pass in each of his 78 games with the Patriots, including four postseason games. The last time that Welker did not catch a pass in a game was December 24, 2005 when he was with Miami.
PATRIOTS SCORING STREAK
The Patriots are averaging 34.8 points over their last five games, totaling 174 points over that span. During their current five-game winning streak, New England has scored 37 points against the N.Y. Jets (11/13), 34 points against Kansas City (11/21), 38 points against Philadelphia (11/27), 31 points against Indianapolis (12/4) and 34 points at Washington (12/11).
OCHOCINCO BECOMES 26TH NFL PLAYER WITH AT LEAST 11,000 YARDS
Chad Ochocinco caught a 15-yard pass in the second quarter to become the 26th NFL player to reach 11,000 career receiving yards.
MAYO HAS SECOND STRAIGHT GAME WITH AN INTERCEPTION
LB Jerod Mayo has registered his first two career interceptions in the last two games. He clinched today's win when he intercepted a Washington pass at the New England 9-yard line to seal the 34-27 win.