NEW ENGLAND PATRIOTS (2-4) at BUFFALO BILLS (5-2)
Sunday, November 1, 2020 at 1 PM ET. Bills Stadium (71,870)
The New England Patriots will attempt to end a three-game losing streak this week, their first since the 2002 season, when they travel to Buffalo to face the AFC East-leading Bills. The matchup will be the first of two straight AFC East games on the road. Following the Buffalo game, the Patriots will travel to MetLife Stadium for a Monday Night Football game against the New York Jets.
Since 2001, the Patriots have the top divisional record with a 92-25 (.786) mark vs. AFC East opponents. The Patriots have won their last seven games against Buffalo.
New England and Buffalo will meet for the first of two games in 2020. The Patriots will host Buffalo in a Monday Night Football Game on Dec. 28, 2020. Last season, the Patriots earned their 27th series sweep of Buffalo with a 16-10 win at Buffalo and a 24-17 home win over the Bills. It marked the Patriots' third straight season with a series sweep. The Patriots have 15 series sweeps under Bill Belichick. The 2020 season is the fourth straight season that the Patriots will play the first of the two meetings in Buffalo.
This will be the 121st meeting between the two teams. New England holds a 76-43-1 edge in the series and have won 35 of the last 40 games between the clubs, dating back to 2000.
The series between the AFC East rivals began in 1960. The Patriots 76 wins over the Bills are their highest victory total over any opponent, nine higher than their next highest win total against the New York Jets (67).
After seven straight series sweeps and 15 consecutive Patriots wins from 2003-10, Buffalo ended the streak with a 34-31 victory at Ralph Wilson Stadium in the first meeting between the teams in 2011. The 15-game win streak is tied for the fourth-longest winning streak over a single opponent in NFL history. The Patriots avenged that loss in the 2011 regular-season finale by overcoming a 21-0 first-quarter deficit and scoring 49 unanswered points en route to a 49-21 victory.
The teams have had many memorable matchups over the years, including a span from 1999 to 2001 where four-of-five contests were decided in overtime.
The Patriots first-ever playoff game was a 26-8 win over the Bills at Buffalo on Dec. 28, 1963.
Record in Foxborough: 33-16
Foxboro Stadium: 17-14
Gillette Stadium: 16-2
Record in Boston: 6-5
War Memorial Stadium: 7-6-1
Ralph Wilson/Rich Stadium/New Era: 30-16
Largest Margin of Victory: 46 points (2007)
Largest Margin of Defeat: 35 points (1970)
Longest Win Streak: 15 games (2003-2010)
Bill Belichick vs Buffalo: 35-7 (35-5 with NE)
Sean McDermott vs New England: 0-6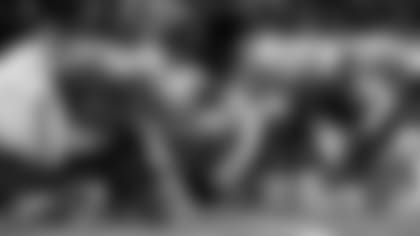 When the Patriots run - Edge: Patriots
It's getting to the point where just penciling in the Patriots edge when running the ball is tough. New England's offensive line remains the strength of the offense, but with little else to fall back on the group has had a tough time getting the backs going lately. Damien Harris had another lackluster performance against San Francisco despite some late production after the game had been decided. Rex Burkhead has been a non-factor as well, as early deficits have eliminated the run from the equation. But Buffalo's front seven has struggled virtually every week. Kansas City of all teams ran all over the Bills two weeks ago, and even the Jets had some early success on the ground last week. The Patriots will need to establish Harris on the ground next week, and perhaps Sony Michel can return off injured reserve and provide support as well. Joe Thuney's ankle injury will be worth monitoring this week, as the front has dealt with its share of health issues. Assuming there are enough healthy bodies to pave the way, Harris & Co. should find some holes in a Bills defense that allows 126.7 yards per game on the ground and ranks 21st in the league in that department.
When the Patriots pass - Edge: Bills
The Patriots running game may still get the benefit of the doubt but the passing game receives no such leeway. Aside from the fourth quarter in Seattle, Cam Newton hasn't been able to consistently make any plays through the air. New England averages just 197.2 yards per game through the air, which ranks 28th in the league. And lately the turnovers have really been on the rise. Newton has thrown five picks in his last two games while the Patriots have nine as a team in their last three games. The receivers have struggled to create separation and make any plays. That's even been true for Julian Edelman, who has only eight catches in his last four games after grabbing eight in the loss at Seattle. He looks like a shell of his former self as he continues to deal with a knee injury. The Bills secondary has been banged up this season with corners Levi Wallace, Josh Norman and Tre'Davious White missing time due to injuries. White is back but Wallace is on IR and Norman missed the Jets game, leaving Dane Jackson to fill in. Jackson is a seventh-round pick who made his NFL debut against the Jets and came up with an interception. The safety tandem of Jordan Poyer and Micah Hyde is one of the league's best, however, and the group should have more than enough to contain this limited passing attack that hasn't really been effective for any length of time all season.
When the Bills run - Edge: Bills
The Bills haven't generated much consistency on the ground this season other than when quarterback Josh Allen tucks it and runs. Otherwise, Devin Singletary and rookie Zack Moss have been quiet. Buffalo averages just 97 yards a game and ranks 29th in the NFL in rushing. However, Moss showed signs of life in the second half last week, averaging over 6 yards per carry in the win over the Jets. The Bills ground game was better with Moss back in action after he missed some time earlier in the season, and more importantly they'll be going against one of the worst run defenses in football. The Patriots cough up 132.2 yards per game on the ground, good for 27th in the league. That includes the 197 the Niners racked up in their blowout win last week. Allen also provides a running element for the Patriots to deal with, as he averages 4.3 yards per carry and has a team-high three rushing touchdowns. The Patriots have tried various combinations up front and none has worked consistently thus far. Lately it's been more linebackers on the field with Ja'Whaun Bentley, Anfernee Jennings and Brandon Copeland (torn pec) while Chase Winovich, John Simon and Shilique Calhoun have seen a reduction in snaps. Those alignments have struggled, and Buffalo should be able to take advantage of the leaky run defense.
When the Bill pass - Edge: Patriots
The Patriots secondary is experienced and they've made life awfully tough on Allen in the past. There's no question the young Bills quarterback has improved, but he still shows signs of lacking awareness in the pocket and occasionally putting the ball up for grabs. The Patriots victimized him often during last year's meeting in Orchard Park, and turnovers could once again be a big part of the story on Sunday. Allen has Stephon Diggs as he main target, and the former Vikings standout has been terrific. John Brown is back from injury and remains dangerous, while Cole Beasley is tough in the slot. Stephon Gilmore could get Diggs while the speedy Brown, who beat Gilmore for a deep touchdown last year, could see double coverage. Rookie Gabriel Davis has been quietly effective as a fourth option, while tight ends Dawson Knox and Tyler Kroft chip in as well. The Bills passing game has come a long way and with plenty of options to choose from this will be an interesting matchup to watch. If Allen stays clean in the pocket and avoids mistakes the Patriots secondary could be in trouble. But history says that won't be the case.
Special Teams - Edge: Patriots
This is another area where the Patriots dominated Buffalo a year ago. A blocked punt for a touchdown was the difference in the first meeting, and New England is starting to get more aggressive in that area this season. Justin Bethel got a hand on a Niners PAT attempt on Sunday, and they've been close on a few punts earlier in the year as well. Nick Folk has settled in nicely as the kicker, connecting on both of his field goals on Sunday. He's now been perfect in his last three games. Buffalo rookie kicker Tyler Bass has been solid but did miss twice on Sunday at the Jets, although he also made six to provide all the scoring. Former Patriots training camp invitee Corey Bojorquez handles the punting for Buffalo and has a big leg. Jake Bailey continued his excellent season against San Francisco and now has 11 punts downed inside the 20 with no touchbacks. Gunner Olszewski continues to live dangerously returning kicks. He took several out of the end zone Sunday and fumbled once, although he was able to recover. Andre Roberts is dangerous returning both punts and kicks for Buffalo with returns of 38 and 58 yards, respectively. Both teams have displayed solid coverage this season.
Table inside Article

| 2020 REGULAR SEASON | NEW ENGLAND | BUFFALO |
| --- | --- | --- |
| Record | 2-4 | 5-2 |
| Divisional Standings | 3rd | 1st |
| Total Yards Gained | 2,113 | 2,637 |
| Total Offense (Rank) | 352.2 (24) | 376.7 (13) |
| Rush Offense | 155.0 (4) | 97.0 (29) |
| Pass Offense | 197.2 (28) | 279.7 (6) |
| Points Per Game | 19.1 (29) | 24.9 (20) |
| Total Yards Allowed | 2,162 | 2,515 |
| Total Defense (Rank) | 360.3 (17) | 359.3 (15) |
| Rush Defense | 132.2 (27) | 126.7 (21) |
| Pass Defense | 228.2 (11) | 232.6 (15) |
| Points Allowed/Game | 23.8 (12) | 25.4 (15) |
| Possession Avg. | 29:48 | 30:47 |
| Sacks Allowed/Yards Lost | 13/78 | 12/82 |
| Sacks Made/Yards | 9/73 | 17/87 |
| Total Touchdowns Scored | 13 | 20 |
| Penalties Against/Yards | 15/169 | 48/471 |
| Punts/Avg. | 15/47.9 | 16/44.0 |
| Turnover Differential | -2 (22T) | -1 (20T) |
The Patriots have recorded 76 wins over the Bills, the most by the Patriots against any one opponent. The Jets are second with 67 wins.
The Buffalo Bills snapped a streak of 13 straight home wins by the Patriots over Buffalo, including 12 straight wins by the Patriots at Gillette Stadium, with their 17-9 win in the 2014 regular-season finale on Dec. 28, 2014.
Bill Belichick has a 94-31 (.752) all-time regular-season record against the AFC East as head coach of the Patriots.
STREAKING SUCCESS
The Patriots won 15 straight games against the Buffalo Bills from 2003 through 2010, tied for the fourth-longest winning streak over a single opponent in NFL history.
OC Brian Daboll - Defensive Coaching Assistant (2000-01), Wide Receivers Coach (2002-06), Offensive Assistant (2013), Tight End Coach (2014-16).
Assistant OL Coach Ryan Wendell - OL (2009-15)
P Corey Bojorquez - Signed (UDFA) 2017 preseason.
CB Stephon Gilmore - Drafted by the Bills (first round, 10th overall) 2012 NFL Draft.
New England will win their 131st road win since 1994, most in the NFL over that span.
The Patriots will improve their intra-division record to 93-25, the best intra-division record in the NFL since 2001.
And a player eclipses 100 yards rushing, the team will improve to 53-2 since the 2000 regular season when a player rushes for at least 100 yards.
And the team does not commit a turnover, New England will win its 70th game since 2008 without committing a turnover. The Patriots enter Week 8 with a 69-9 record in zero turnover games since 2008.
The Patriots have been called for an NFL-low 15 total penalties. The fewest penalties the Patriots have ever had in a 16-game season was 57 in 2008. Since 2000, the fewest penalties in a season is 55 by the 2012 Atlanta Falcons. The 2020 Patriots are on pace for 40 total penalties.
New England enters the Week 8 matchup against Buffalo with seven consecutive wins over the Bills and eight straight on the road. The Patriots last loss to the Bills came in a 16-0 loss at Gillette Stadium on Oct. 2, 2016. New England's last loss in Buffalo was a 34-31 defeat on Sept. 25, 2011.
Bill Belichick enters this week third all-time with 275 career regular-season wins, behind George Halas (318) and Don Shula (328).
Belichick's 306 career victories as a heads coach (including postseason) are third-most all-time behind George Halas (324) and Don Shula (347).
Julian Edelman enters this game with 620 career regular-season receptions, second-most in team history behind Wes Welker's 672.
With one touchdown catch, Edelman will tie Welker with his 37th career touchdown reception, good for sixth-most in team history.
Edelman has 41 career touchdowns overall, good for 11th in franchise history. Gino Cappelletti, Irving Fryar and Larry Garron are tied for eighth with 42 career touchdowns.
Entering this week's game, Edelman has accrued 9,869 career all-purpose yards in the regular season (6,822 receiving, 1,986 punt return, 626 kickoff return, 413 rushing and 22 kickoff fumble return), leaving him 131 yards shy of becoming the fourth player in team history to amass 10,000 career all-purpose yards. Edelman would join Kevin Faulk (12,339), Stanley Morgan (11,468) and Troy Brown (11,106) as the only Patriots to reach the plateau.
The Patriots are 22-3 (postseason included) when Julian Edelman catches a touchdown pass.
Cam Newton has scored five rushing touchdowns in 2020, on pace for 13 for the season. That mark would break the Patriots record for a QB, which was 12 by Steve Grogan in 1976.
Newton has two multi-rush TD games so far this season and is one multi-rush TD performance short of matching his own (and others listed below) for most in a single season.
Newton has 50 rushing attempts so far in 2020, on pace for 133 for the season. The NFL record for most rushing attempts by an NFL quarterback in a single season is 176 in 2019 by Lamar Jackson. Cam Newton's single-season career-high was 139 rushing attempts in 2017. Steve Grogan had the most attempts by a Patriots QB in 1978 with 81.
Newton has the most rushing first downs by quarterback in NFL history with 381 and has 22 through Week 7 in 2020. He is second in 2020 among QBs behind the 28 by Arizona's Kyle Murray.
James White has 24 touchdown receptions in 82 career regular-season games. Brian Westbrook currently holds the record for the fastest running back to reach the 25-TD reception mark, achieving the feat in 87 regular-season games.
White needs two receiving touchdowns to tie Larry Garron (26) for the most in franchise history by a running back.
White currently sits ninth on the Patriots all-time receptions list with 339. Irving Fryar holds the eighth spot with 363 regular-season receptions as a Patriot.
White enters this week with 2,945 career regular-season receiving yards and needs 55 more yards to join Kevin Faulk (3,701) as the only other Patriots RB with 3,000 career receiving yards in the regular season.
Since White became a regular contributor on offense in 2015, he has more receptions (334), receiving yards (2,922) and receiving touchdowns (24) than any other running back in the NFL.
With his next interception, Devin McCourty (28) will tie Ron Hall, Roland James and Fred Marion for third all-time in Patriots history with 29 career interceptions.
If McCourty returns another interception for a touchdown this season, he will tie the team record with two pick-sixes in a single year. The feat has been accomplished nine times.
TELEVISION: This week's game will be broadcast by CBS and can be seen locally on WBZ-TV Channel 4. Ian Eagle will handle play-by-play duties with Dan Fouts as the color analyst. Evan Washburn will work from the sidelines. The game will be produced by Mark Wolff and directed by Bob Fishman.
NATIONAL RADIO: Sunday's game will be broadcast to a national audience on ESPN Radio. Sean Kelley will call the game with Barrett Jones providing analysis.
SATELLITE RADIO: SIRIUS: 134 (NE), 81 (Buf) - XM: 384 (NE), 226 (Buf)
LOCAL RADIO: 98.5 The Sports Hub is the flagship station for the Patriots Radio Network. A complete listing of the network's 38 stations can be found here. Play-by-play broadcaster Bob Socci will call the action along with former Patriots quarterback Scott Zolak, who will provide color analysis. The games are produced by Marc Cappello.
WEEK 8 · Sun 11/01 · 1:00 PM EST
Patriots
New England Patriots
AT