PATRIOTS (7-2) at PANTHERS (6-3)
Mon., Nov. 18, 2013 at 8:40 p.m. ET
* Bank of America Stadium (73,504)*
The New England Patriots return to action after a bye week when they travel to face the Carolina Panthers on Monday Night Football.
The Patriots opened the second half of the 2013 regular season with a victory over Pittsburgh on Nov. 3. Since the 2010 season, the Patriots are now a combined 24-1 in the second half of the regular season. The Patriots were 8-0 in the second half of the regular season in both 2010 and 2011 and were 7-1 last year. Since Bill Belichick became Patriots head coach in 2000, New England is 84-21 in the second half of the season, and has gone 8-0 in the second half four times in Belichick's tenure and 7-1 three times under Belichick.
A victory over Carolina this week would guarantee the Patriots a record of .500 or better for the 13 consecutive year. The Patriots are the only team in the NFL to finish with a record of .500 or better in each of the last 12 years (2001-12). Each of the other 31 NFL teams had at least one losing season between 2001 and 2012.
TELEVISION: This week's game will be nationally televised by ESPN and can also be seen in Boston on ABC affiliate WCVB-TV Channel 5. Mike Tirico and Jon Gruden will call the game. Lisa Salters will be the sideline reporter. Jay Rothman will produce the game and Chip Dean will be the director.
NATIONAL RADIO: This week's game will be broadcast to a national audience by Westwood One Sports. Kevin Harlan and Boomer Esiason will call the game. Mark Malone will report from the sidelines.
RADIO: 98.5 FM, The Sports Hub, is the flagship station for the Patriots Radio Network. A complete listing of the network's 37 stations can be found here. Play-by-play broadcaster Bob Socci will call the action along with former Patriots quarterback Scott Zolak, who will provide color analysis.
PATRIOTS GOOD IN NOVEMBER
The New England Patriots own an NFL-best 36-13 (.735) record in the month of November since 2001. During that time, the Patriots have had four undefeated Novembers, including winning all three November games in 2012.
BELICHICK IS ONE OF THREE NFL COACHES WITH 100 MORE WINS THAN LOSSES
Bill Belichick has an overall record of 212-111. He joins Don Shula and George Halas as the only coaches with 100 more wins than losses.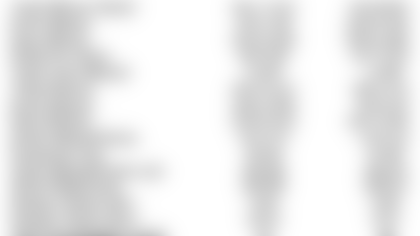 The Patriots and Panthers will meet for just the fifth time in the regular season and the sixth time overall, including New England's 32-29 victory over Carolina in Super Bowl XXXVIII.
The two teams last met in 2009 when the Patriots beat the Panthers, 20-10 on Dec. 13 at Gillette Stadium. That game was Carolina's first ever regular season game played at Gillette Stadium.
While the Patriots lead the all-time series 3-2, the teams are 2-2 in the four regular season meetings.
The Patriots will be playing at Carolina for just the third time and for the first time since a 27-17 loss on Sept. 18, 2005. The Patriots first trip to Carolina resulted in a 38-6 win on Jan. 6, 2002 in the final game of the 2001 regular season.
The Patriots-Panthers Super Bowl is widely believed to be among the most entertaining Super Bowls ever played, as the Panthers took a fourth-quarter lead only to see the Patriots came up with a game-winning field goal to clinch the see-saw battle in the final seconds.
The series dates back to 1995, when the Panthers claimed a 20-17 win at Foxboro Stadium in their inaugural season. The two teams have also played six times in the preseason, with the Patriots holding a 4-2 lead in those games.
Overall Record (including playoffs) ........................... 3-2
Record in Foxborough ...................................................... 1-1
Record in Charlotte .......................................................... 1-1
Record in Houston ............................................................ 1-0
Total Points in the Series ................... Patriots 124, Panthers 92
Patriots' Largest Margin of Victory ............ 32 points (01/06/02)
Patriots' Largest Margin of Defeat…........... 10 points (09/18/05)
Highest Combined Point Total ................... 61 points (02/01/04)
Lowest Combined Point Total ................... 37 points (10/29/95)
Games Decided by Seven or Fewer Points ............................. 2
Games Decided by 21 or More Points .................................... 1
Current Win Streak .....................................Patriots, one game
PATRIOTS VS. NFC
The Patriots have been successful against NFC teams in recent seasons, compiling a 42-9 (.824) regular-season record against the conference since 2001.
The Patriots are 3-0 so far in 2013 against the NFC following a 23-3 win vs. Tampa Bay (9/22), a 30-23 win at Atlanta (9/29) and a 30-27 win vs. New Orleans (10/13).
The Patriots hold a 25-14 all-time record against the four teams that make up the NFC South.
PATRIOTS ON MONDAY NIGHT FOOTBALL**
The New England Patriots are 22-22 all-time on Monday Night Football, including 15-5 under head coach Bill Belichick and 7-1 at home. The Patriots were 1-0 in 2012 on Monday Night Football, following a 42-14 win vs. Houston on Dec.10. The Patriots are 11-8 in home Monday Night Football games and 6-1 on Monday Night at Gillette Stadium. Their only loss during that time frame was 40-21 defeat vs. Indianapolis on Nov. 7, 2005.
BILL BELICHICK ON MONDAY NIGHT FOOTBALL
Bill Belichick is 16-8 all-time on Monday Night Football, including 15-5 as head coach of the Patriots.
BRADY ON MONDAY NIGHT FOOTBALL
QB Tom Brady owns a 13-4 record when playing on Monday Night Football. His best statistical performance on Monday Night Football was in the 2011 season-opener when he completed 32-of-48 pass attempts for 517 yards and four touchdowns, including a 99-yard touchdown pass to Wes Welker in the win at Miami (9/12).
Brady has thrown three or more touchdowns in a Monday Night game nine times, including four four-touchdown performances. He has thrown four touchdowns in three of his last four Monday Night games. He had four in a 42-14 win on Dec. 10, 2012 in the Patriot sonly Monday Night Football game last season.
Panthers General Manager Dave Gettleman is a native of Boston, Mass. and graduated in 1972 from Springfield College (Mass.), where he played on the freshman football team. Gettleman also holds a master's degree from Southern Connecticut State in New Haven, Conn.
Panthers Assistant Strength and Conditioning Coach Jason Benguche attended Springfield College (Mass.) and played on the offensive line for four seasons from 2002-2005. He began his post-grad career as a student assistant at the University of Massachusetts Amherst in 2005.
Panthers Linebackers Coach Al Holcomb served as the linebackers coach and assistant track coach at Colby College in Waterville, Maine in 1997.
Defensive Line Coach Eric Washington was commissioned as a Naval Reserve Officer in 1998 and was assigned to the Naval Academy Preparatory School in Newport, R.I., where he served as the football team's defensive coordinator for three years.
Panthers LB Luke Kuechly was a standout linebacker at Boston College in Chestnut Hill, Mass. from 2009-2011. Kuechly set Boston College and ACC records with 532 tackles in just three seasons and was a three-time firstteam All-American.
Carolina Ties
Patriots Special Teams Coach Scott O'Brien served as Assistant Head Coach/Special Teams for six seasons on the Panthers from 1999-2004.
Patriots LB Brandon Spikes is a native of Shelby, N.C., located about 45 miles west of Bank of America Stadium in Charlotte.
Former NFL Teammates
Patriots S Steve Gregory was teammates with Panthers RB Mike Tolbert for four seasons (2008-2011) on the San Diego Chargers. Gregory also teamed up in the defensive backfield with CB Drayton Florence for two seasons (2006-2007) while in San Diego.
Patriots DE Andre Carter was teammates with Panthers K Graham Gano for two seasons (2009-2010) on the Washington Redskins.
Panthers S Quintin Mikell was teammates with Patriots WR Danny Amendola for two seasons (2011-2012) and TE Michael Hoomanawanui for one season (2011) on the St. Louis Rams.
Panthers WR Ted Ginn teamed up with Patriots DT Isaac Sopoaga for three seasons (2010-2012) on the San Francisco 49ers and DE Rob Ninkovich for two seasons (2007-2008) on the Miami Dolphins.
Panthers TE Ben Hartsock was teammates with Patriots CB Marquice Cole and TE Matthew Mulligan for two seasons (2009-2010) and RB Leon Washington for one season (2009) on the New York Jets.
Patriots RB Leon Washington was also teammates with Panthers DT Colin Cole during the 2010 season on the Seattle Seahawks.
Patriots LB Chris White was teammates with Panthers G Chris Scott during the 2012 season and CB Drayton Florence and DT Dwan Edwards during the 2011 season on the Buffalo Bills. Patriots LS Danny Aiken joined White, Florence and Edwards in 2011 during his stint on the Bills practice squad.
Former College Teammates
Patriots RB Stevan Ridley teamed up on offense with Panthers WR Brandon LaFell for two seasons (2008- 2009) at LSU.
Patriots LB Dont'a Hightower and Panthers S Robert Lester won two BCS National Championships during their three years together at the University of Alabama from 2009-2011.
Patriots RB LeGarrette Blount and Panthers RB Kenjon Barner shared time in the offensive backfield at the University of Oregon in 2009.
Patriots RB Brandon Bolden was teammates with Panthers DE Greg Hardy for two seasons (2008-2009) at the University of Mississippi.
Panthers S Colin Jones teamed up with Patriots OL Marcus Cannon for two seasons (2007-2008) and WR Josh Boyce for one season (2010) at Texas Christian University.
DID YOU KNOW?
The New England Patriots and the Carolina Panthers are two of only three NFL teams that are not named after a specific city or state. The other team is the Tampa Bay Buccaneers.
WHAT TO LOOK FOR AGAINST THE PANTHERS
Tom Brady (3,992) needs eight completions to become the sixth NFL player to ever reach 4,000 completions. JULIAN EDELMAN
Julian Edelman needs one more punt return for a touchdown to set the team mark with his fourth punt returned for a touchdown. He is tied with Irving Fryar and Troy Brown with three returns for a touchdown. STEPHEN GOSTKOWSKI
Stephen Gostkowski has nine field goals of 40 or more yards in 2013. He needs three more field goals of 40 or more yards to set the Patriots record for most 40-yard field goals in a single season. Adam Vinatieri had 11 field goals of 40 or more yards in 2004 and 1998 and Gostkowski had 11 such field goals in 2012.
Gostkowski needs to convert one field goal to extend his streak to 18 consecutive field goals. The team record is 23 by Adam Vinatieri in 2004
Gostkowski has scored in 100 consecutive games and needs to score in the next game to tie Adam Vinatieri and John Smith for the team all-time record with 101 consecutive games scored.
ROB GRONKOWSKI
Rob Gronkowski has 39 touchdown receptions from Tom Brady and needs one touchdown reception from Brady to break a tie with Randy Moss for the most touchdown receptions from Brady.
Gronkowski has 39 touchdown receptions in 46 career games. He has an opportunity to become the fastest tight end to 40 touchdown receptions. Antonio Gates from San Diego has the current record, reaching 40 touchdown receptions in 71 games.
CHANDLER JONES
Chandler Jones has a team-leading 8 ½ sacks and needs 1.5 sacks to register the team's 15th 10-sack season.
CHRIS JONES
Chris Jones can add to his 2013 sack total of 5.0, which leads all rookies.
STEVAN RIDLEY
Stevan Ridley to score a rushing touchdown in his fifth straight game. In 2012, Ridley had a streak of six straight games with at least one rushing touchdown, which is tied for the second longest streak in team history.
Ridley has 13 20-yard runs and needs one more to have the most for the Patriots since 2000. He is currently tied at 13 with Antowain Smith and Corey Dillon.
BRANDON SPIKES
Brandon Spikes leads the team with 84 total tackles and needs 16 tackles to secure his second straight 100- tackle season. He had a career-high of 128 total tackles in 2012.
TEAM
The Patriots can earn their eighth win of the 2013 season and guarantee to finish the season with a record of .500 or better for the 13th consecutive season.
The Patriots have forced a turnover in 36 straight games dating back to 2011, the longest active streak in the NFL. The last time the Patriots did not register at least one takeaway was on Oct. 9, 2011 vs. the NY Jets.
The Patriots had six sacks vs. Miami (10/27) and five sacks vs. Pittsburgh (11/3) and if they have five or more sacks against Carolina this week it will be their first three-game stretch with five or more sacks since the 1997 season.
A Patriots win and an Oakland loss will give the Patriots the most wins in the regular season among the original AFL teams. The Patriots are tied with Oakland with 433 wins.
PATRIOTS STRONG IN SEASON'S SECOND HALF
The Patriots opened the second half of the 2013 regular season with a victory over Pittsburgh. Since the 2010 season, the Patriots are now a combined 24-1 in the second half of the regular season. In both 2010 and 2011, the Patriots were 8-0 in the second half of the regular season and last year New England was 7-1. Since Bill Belichick became Patriots head coach in 2000, New England is 83-21 in the second half of the season, and has gone 8-0 in the second half four times in Belichick's tenure and has had a 7- 1 second half three times under Belichick.