The renewed rivalry of AFC East foes.
The first meeting since New England's January 28-21 playoff loss to New York in Foxborough.
It was no surprise, then, who the most popular interview subjects were in today's Patriots locker room. Defensive lineman Shaun Ellis and safety James Ihedigbo were both on the field in Jets green and white for that last contest.
Obviously, their familiarity with the Jets system and head coach Rex Ryan's game planning will be a benefit to their new teammates and coaches ... right?
Ellis was more than willing to do his part.
"[The Jets] want to make it a physical game. You know, I've been on that side. I know how they think. I'm pretty sure Rex is going to run the ball. That's what they do best.
"Whatever questions [the Patriots] have for me, I'll answer," he announced, before adding, "So far, no one's said anything to me."
Ihedigbo feigned ignorance, claiming he couldn't recall that far back to be of any help.
"I don't play offense, so, I don't know how much I could help," he remarked with a coy grin. "I just have to help defensively."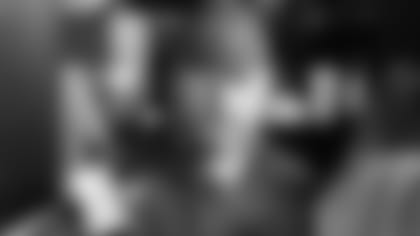 Left guard Logan Mankins was equally circumspect when the topic of how the former Jets could help came up.
"I don't know. It's a new year, they have new personnel. They could always throw new wrinkles in there," said Mankins. "We'll see."
But right guard Brian Waters left no doubt – and probably came closest to stating the truth.
"Oh, definitely," he exclaimed unequivocally. "You want to take in as much from those guys who've had the opportunity to be there before. Shaun is a veteran and has been in that system for a long time. So, yeah, I'll be trying to pick his brain as much as possible."
There's no denying how seriously the players in New England's locker room – former Jets included – are taking this game. Even if they're reluctant to admit it publicly.
Ellis, in particular, wants to avoid a Richard Seymour-like performance, getting too hyped up against his former team the way Seymour did last Sunday in Oakland. Seymour wound up being penalized several times, including a number of 15-yard penalties.
"It's here. Obviously, it's in the back of my mind," Ellis acknowledged. "I'm just looking to play what the defense calls for, not get outside of my element. Just go out and play my game. I just want to play my technique, just read my keys, and play my assignments. Be relentless, fight through guys, get tackles, get sacks."
And there'll be no friendly chit-chat with old pals prior to Sunday.
"Nah, no conversations. I'll talk to them after the game," Ellis confirmed.
The Patriots like to stress the future, not the past. That losses like the ignominious one suffered in January mean nothing from a motivational standpoint.
Perhaps, but it would be impossible to discount the value of that game film in New England's preparations this week.
"We'll look at all our games [against them] from the past couple of years, and all their games from this year. So, we'll look at everything," Mankins explained.
"I don't think we need to fuel anything. We know it's a big week. We don't need to look at that [playoff game] for motivation. Oh, yeah, it's a big game, a division game. Anytime you play a division game, that counts for a lot when it comes down to the end. It's a big one for us, one of our rival teams. It's always a big week."
"This game is a highly emotional game anyway," Ellis added. "There's going to be a lot of adversity. We just have to stay grounded."
"Rex and the Jets always have something prepared, especially for the Patriots," pointed out Ihedigbo. "We just have to prepare for what they've done in the past, what they've shown us on tape. This year, they're a great team, a great defensive team. That's their strong point.
"It's an AFC East game. What more could you ask for?"
"You can tell it's a rivalry game. Yeah, it's a little different energy," admitted cornerback and co-captain Devin McCourty. "It's a division game ... it's the Patriots versus Jets. I think that's the best way to explain it."
Keller, Burress are big targets
McCourty and his teammates in the secondary have been victimized for immense yardage totals in the first four weeks of the season, and it won't get any easier this weekend against New York. Tight end Dustin Keller has carved up the middle of New England's defense on several occasions, while new Jets receiver Plaxico Burress famously caught the touchdown pass that ended the Patriots' undefeated 2007 season.
"He's good, man," safety Patrick Chung said of Keller. "He can catch the ball, he can run routes, he can block, he can do all that stuff. He's definitely a threat out there. We have to take care of him. But they have a lot of threats out there."
"Now you have Plaxico over there who's a bigger, physical receiver," McCourty observed. "You see him a lot of times using that to his advantage, whether it's going up to get the ball, going inside catching the ball. We know he's going to try to be physical with us. He's bigger than all of us at the cornerback position."
So how do you attack a player with that significant a size advantage over you?
"You've got to be physical, you have to make a play on the ball when you can," Chung declared. "It's all just instincts. Knowing what to do and not thinking twice, just making a decision and doing it."
The newest Patriot is rookie Sterling Moore, a 5-10, 190-pound cornerback from SMU who was with the Oakland Raiders this summer and on their practice squad as recently as last week. Today, he's a member of the Patriots practice squad.
"I got a call [last] Friday. I was out in Oakland last week, got released, and since [the Patriots] were flying out [for this past week's game], they actually worked me out out there," Moore told reporters. "Then got the call Saturday that they wanted to sign me to the practice squad and flew out here that night. Been here ever since."
"I wouldn't say surprised ... surprised it happened that fast. But I wasn't surprised I got a call."
It must've been odd, though, to be let go by one team and then claimed by that team's opponent the week they played.
"Yeah, it was," he admitted. "Even my mom went from rooting for the Raiders in one day to rooting for the Patriots the next. I was sitting watching with her and she was screaming for the Patriots. So, yeah, it was a little weird."