Michael Hoomanawanui (or "Hooman," as he's affectionately known) entered the NFL in 2010 as a fifth-round draft choice of the St. Louis Rams. When he was released by the Rams on September 2, 2012, the Patriots scooped him up. He'll be a free agent this offseason.
Q: What's your earliest football memory?
MH: Being a water boy for my dad – he was an assistant coach with the local high school – and a ball boy. I was kind of born into it, I guess.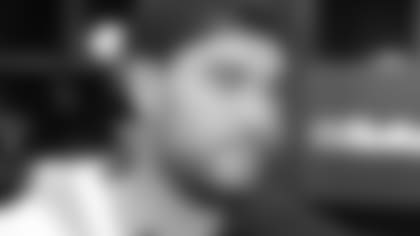 Q: When did you put pads on for the first time?
MH: Probably fifth grade. Fourth or fifth grade. I played everything: running back, line, linebacker… actually never played tight end until high school because I was always bigger as a kid.
Q: What was your first job?
MH: Cleaning a hair salon. Family friends of ours owned one, so, every Sunday we would clean it. My second job was delivering paint to construction sites.
Q: What was your first car?
MH: First car I drove… My dad had a black Ford Ranger truck that was pretty nice. I didn't get to drive it all the time. It was lifted a little bit, extended cab and then a Monte Carlo, 1998, maybe. Then my mother's car was my grandparents' car. It was a 1998 Oldsmobile 88. It was really comfortable; had a bench seat in the front. But that went to hell… trying to fit eight guys in there, the shocks were shot. It was a low-rider, but it was comfortable.
Q: Who was your first crush?
MH: Oh, man! I don't know, I might get in trouble if my girlfriend sees this. I'll just say my one and only crush is my current girlfriend.
Q: Oh, come on…
MH: All right… Cindy Crawford, I guess. No, how about this one – my girlfriend is going to hit me if she sees this: Jennifer Aniston.
Q: Do you remember your first date?
MH: I don't. There wasn't much to do in our town [Bloomington, Ill.]. Probably movies or dinner or a homecoming dance.
Q: A lot of players are afraid to fly…
MH: Love to fly. Love it. If I wasn't a football player, I'd either be a fireman or a pilot. A fighter pilot. I love jets. I'm big, so, I don't know if I'd fit in jets.
Q: Chad Hennings did. The former Cowboys defensive lineman. He was in the Air Force.
MH: Oh, yeah… Well, I love flying. And I lived down the street from a fire department. Every year, my dad would take me to air shows.
Q: Ever thought about getting a pilot's license?
MH: Maybe down the road.
Q: So, you like to fly. You must like to travel.**
MH: Yeah. You know, people always say they love going to Mexico or here or there… I'm very fortunate that I have family in Hawaii. My girlfriend's family is in Hawaii. That's really the only place I need to go. I'm living in Arizona [in the offseason]. As long as I can get back to my immediate family in Illinois, I'm good. I'm not a big overseas guy. I'm more of a homebody. As long as I can get to my three places of residence, that's good enough for me.
Q: Are you a pet person?
MH: I am. I have a… what we thought was a pit bull. We got him off Craig's List for free in St. Louis. We really lucked out. He's a great dog. But we wanted to fly him to Hawaii in the next offseason, so, in doing that, a lot of medical tests have to be done, and for future reference, when he's gone, we want a dog just like him. So, anyway, he looks like a pit bull but is tall and lean, with a pit bull face. He's a Staffordshire Terrier slash Lab. Going on three years old, and I wouldn't trade him for the world.
Q: Okay, if I could give you any skill or talent you don't have, what would you want?
MH: To fly… or teleport? Yeah, I guess that's like flying, only faster.
Q: Aside from your playbook, what's the last book you read?
MH: The Simeon Rice book. I know that sounds weird. He's a fellow Illinois guy [and former NFL football player], and the struggles he went through. I'm not a big reader. More of a movie guy. I feel like it gets to the point quicker.
Q: If we made your life story into a movie, who would play you?
MH: The Rock [Dwayne Johnson]. Bet you haven't gotten that one before.
Q: Now, if you could play a character in a movie, who would it be?
MH: That's a good question… I love funny movies, but I definitely would want to be in an action movie. I'm sure I can come up with something better, but, how about Terminator? That'd be cool.