Q: What's your earliest football memory?**
RA: Family get-togethers for the Super Bowl and college bowls when I was 8 or 10 years old. I didn't really like football back then. I played basketball and soccer growing up.
Q: Do you remember putting pads on for the first time?
RA: Yeah, it was extremely uncomfortable. I was like, 'You gotta be kidding me.' I felt weighted down and restricted with vision. The mental excuses were just going through the roof.
Q: What was your first job?
RA: I kept scoreboard for a men's basketball league when I was 13, for the whole summer and fall. I was supposed to be 15 [to be hired], but they let me do it because I knew what I was doing.
Q: What was your first car?
RA: A 1990 green Honda Accord, sunroof, leather, four doors. Used. It was great. It was a hand-me-down from my sister. I had it three or four years and loved it. I had about 140,000 miles on it when I got it, and 190,000 when I got rid of it. It had a bunch of little things wrong with it.
Q: Did you find it hard letting go?
RA: By that time, I was ready for a new one.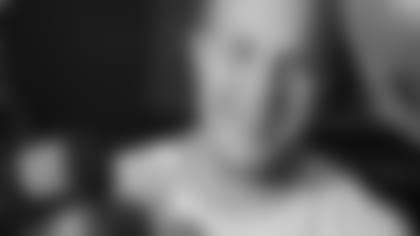 Q: What are you driving these days?
RA: I have a GMC Terrain.
Q: Where's your favorite place you've ever been?
RA: I love Balboa Island, in southern California, right by Orange County. I've been to Hawaii a few times. And Palm Springs.
Q: Do you have a list of places you'd like to visit?
RA: Yeah, I'd like to see the Colorado area more. I've visited Telluride. I'm a big mountain guy. I love the snow, being in the mountains. Whistler is another place I'd like to go back to [in Vancouver]. Honestly, come to think of it, that's probably my favorite place.
RA: Love them. I have a miniature Italian greyhound. I got her in college. She's two now. I love pets. Even cats.
Q: Okay, if I could give you any skill or talent you don't have, what would you want?
RA: It would be… probably invisibility. If you could just turn it on, that would be great. Flying or being invisible would be the sweetest things ever.
Q: If you could trade places with anyone for a day, would you, and if so, who would it be?
RA: Definitely would do it, because I'm all about seeing and experiencing things from a different perspective. It would be interesting to see the workload and pressure that goes into being a starting quarterback. Also, it would be interesting to see what life is like for a big-time actor on a set.
Q: Well, that leads to my next question, which is… If we made your life story into a movie, who would you cast as Ryan Allen?
RA: Ooooh, that's tough. I consider myself pretty humorous and sarcastic. I love Vince Vaughn's humor. As far as personality, he'd be right up there. He's got that dry, serious humor. Him and Jim Jefferies – a comedian who's just hilarious.
Q: Now, if you could play a character in a movie, who would it be?
RA: Probably Iron Man. Robert Downey Junior.
Q: If you could be in a band or musical act, whose place would you take?
RA: Probably Mumford & Sons. I love their whole style. I love anybody who can naturally sing. It's a God-given talent. It's amazing the sounds that can come out of a person's voice naturally. I love Frank Sinatra, too. I grew up on that from my parents.
RA: No. I was in a concert choir for a couple of years in middle school.
RA: No, but that's one thing I'm going to do. I'm going to get a piano and learn how to play.
Q: If you weren't playing football for a living, what would you want to do?
RA: That's a tough one… I was bummed I didn't go to school for engineering. I've always been hands-on and big into building things, architecture. I would probably be working to save up to go back to school for that.
Q: Aside from your playbook, which I know isn't very thick for a punter, what's the last book you read?
RA: I'm not a big book guy, and I need to be. Every book I read I end up loving. The last one I read was "Fourth and Long," by Josh Bidwell, the punter who had cancer and overcame it and how he was never really religious until that. Great book.
Q: Do you have any nicknames?
RA: I don't… I have three first names.
Q: What's your middle name?
Q: Does anyone ever mix that up and call you Allen Ryan?
RA: In college, for some reason, it was Ray Allen.
Q: Like the guy who used to play for the Celtics…
RA: It was messed up. And even Ray Guy. At the awards ceremony, they called me Ray Allen, and everyone was like, 'WHAT?!' It's happened multiple times.