FOXBOROUGH – One of the most surprising moves Bill Belichickmade this preseason happened earlier this week when he released incumbent backup quarterback Kevin O'Connell.
A less surprising, but still noteworthy, action the Pats head coach took came at the end of the week, when he decided to allow rookie QB Brian Hoyerto take all the snaps in the preseason finale against the New York Giants. Even more unexpected was how Hoyer handled his extensive audition.
Most observers presumed that veteran free agent Andrew Walter, signed in early August, would get the bulk of the reps as the default backup to Brady now that O'Connell is out of the picture. Walter is still learning the Pats offense and it seemed to make sense that he would get a chance to get some playing time under his belt.
But Belichick, for whatever reason, chose to go with Hoyer instead. In his post-game press conference, Belichick wouldn't elaborate on why.
"We just wanted to see him play," he said. "See how he reacted to situations as things got going. We thought he could learn from the ones that came up all through the game."
Hoyer faced plenty of challenging situations, especially in the early going. While the Pats surrounded Hoyer with an army of backup players, the Giants came out swinging with their starting defense. Hoyer was forced to stare down the likes of Justin Tuck, Osi Umenyioraand Antonio Pierceon the first couple of series – and New York teed off on the rookie.
The Pats went three-and-out on their first three drives as Hoyer faced immediate pressure from the Giants, who blitzed and stunted to confound him. It worked to some degree. Hoyer was sacked on the first two drives, but even under pressure, the rookie appeared to keep his composure. He was 3-for-4 in the first quarter and made smart decisions with the football under duress.
And things only got better for Hoyer as the game went on. With the Pats trailing 21-0 after 15 minutes of play, a defensive score got New England back in the game. That seemed to give Hoyer an added dose of confidence.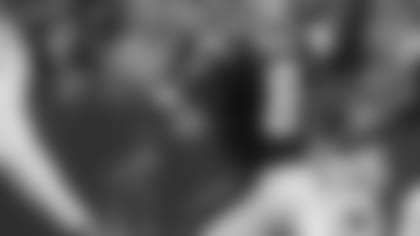 ]()After the Giants kicked a field goal, a great return by Pats rookie receiver Terrence Nunnand an unnecessary roughness penalty gave Hoyer a short field with which to operate. His first pass on the drive was a 32-yard strike to Greg Lewis down at the Giants 1-yard line. Hoyer leaned on his running back, second-year player BenJarvus Green-Ellis, to find the end zone and trim New York's lead to just 10 at the half.
At the start of the third, Hoyer came out firing again. Aided by a pair of remarkable receptions by Nunn, Hoyer patiently led the offense on another scoring march. Working both under center and from the shotgun, Hoyer mixed in long passes with short ones and got some tough ground yardage from Green-Ellis. After nearly six minutes, Hoyer rifled an 8-yard TD pass to Robert Ortiz, who was double-covered in the back of the end zone. That brought the Pats within three.
From the end of the first half to the end of the fourth quarter, Hoyer engineered five consecutive scoring drives. Although he did so against Giants reserve defenders, he would not have been able to do so were it not for his poise in the pocket and astute decision-making along the way.
He also didn't lock on to one or two favorite receivers. Hoyer spread the ball to eight different Patriots, and when no one was open, he had the presence of mind to tuck the ball and run for first downs, sliding at the last possible moment so he wouldn't risk getting hit and possibly losing the football.
Even the normally stoic Belichick had to acknowledge that his rookie signal caller had a respectable game given the varying conditions.
"Not bad," was how Belichick rated Hoyer's overall performance. "I thought he moved the team and handled the ball fairly well. Threw it accurately."
Indeed, Hoyer finished the night 18-for-25 for 242 yards and a touchdown. Those two first-quarter sacks were the only ones he suffered. Credit his fluid offensive line, which made substitutions and personnel shifts throughout the game, with giving him the protection he needed most of the night, while opening up holes through which Green-Ellis could run. The balanced offensive attack was no doubt part of the reason Hoyer was able to have such success.
And as Hoyer's confidence grew, so did his teammates' as they watched him direct the come-from-behind victory.
"Brian did a good job of controlling the offense," Green-Ellis said afterward.
"He stepped up big-time," noted tight end Alex Smith. "I think he had those jitters to begin with. But once he finally got his feet settled, we gave him a little time back there, you were able to see what he could do. He stayed very composed. It would be easy to lose our head being down 21-0 early in the game. But he stayed in that pocket and made some great throws. He's definitely got some potential.
"I was in there pass-protecting one time, and I saw him firing bullets and I was like, 'Yeah, you're getting it, man!'"
Wherever Hoyer ends up – practice squad or active roster – his performance against the Giants seems to indicate he has a future with the 2009 Patriots.