HOUSTON – Seventeen years ago, young David Givens sat in the auditorium of Timbers Elementary School in Humble, Texas, listening intently to various speakers who visited. Never for a second did he think he'd be the one doing the speaking some day.
Givens returned home last night for a Patriots pep rally at his old school. He had a few words for the students – his younger brother and sister included – speaking about the importance of setting goals and following your dreams.
Who better than Givens to deliver such words? Few players have made the kinds of strides the second-year wideout has from his rookie season to the next. And considering he was just a seventh-round draft pick to begin with, the fact he was a Patriot at all last year was somewhat surprising.
"The major point [of the speech] was to let the kids know if they work hard, eventually that hard work will pay off," Givens said. "That's kind of my game plan in life – work hard at everything I do and try to be the best at it. This offseason my goal was to work harder than the next guy. The way I look at it, if you want to be the best at anything it's going to take a lot of hard work. That's the way I approach everything."
Givens has a quiet air of confidence around him. He's neither brash nor boastful, but he firmly believes in his abilities and that he can be one of the league's best receivers. But no amount of self-assuredness could prepare him for the support he got back home at the pep rally.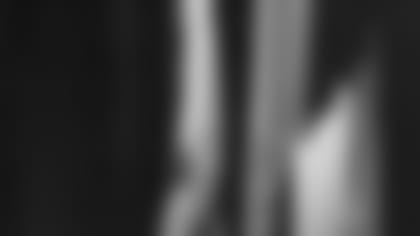 ]() "It was very touching," Givens said. "There were hundreds of kids supporting the Patriots and supporting a hometown guy. More than anything it was touching to see how supportive the people in the area are. They really know what's going on. Football is a huge thing there and they understand the importance of the game. There were first-, second- and third graders with chants going and it just surprised me how into it they are."
The way Givens developed over the course of his second season showed that he was worthy of such attention and not just a nice local-boy-makes-good story. After seeing minimal playing time as a rookie out of Notre Dame, Givens emerged as one of Tom Brady's more reliable targets in 2003.
"I've really gained a bunch of confidence in him," Brady said. "David is one of the hardest working guys we have. He's got a lot of confidence and can catch the ball in traffic. He's a big, strong guy, great in and out of his breaks. He has enough speed to be able to run past people so they have to respect his long speed, but he's quick enough on the underneath stuff to get open. He's only 5-11 but he's pretty stocky and creates mismatches with his size."
Givens finished with 34 catches for 510 yards (team-high 15.0 yards per catch among those with at least 10 catches. He also led the team with six touchdowns despite missing three games due to injuries to his hamstring and shoulder.
After finishing the season strong with 16 catches for 206 yards and three touchdowns in the final three games, Givens continued his hot play and is the Patriots leader with 12 catches for 94 yards in the postseason, including the team's only touchdown in the win over Indianapolis in the AFC Championship. Clearly, Givens' hard work in the offseason is paying dividends.
"It happened this year probably in the Washington game," Givens said of the moment he felt he'd arrived. "I had a few catches and caught my first touchdown of the year. It's kind of funny but I felt I was locked into a mode of being focused on catching the ball, getting open every time and really trying to help my team.
"When I step on the field I try to take the mentality that there's nobody out there that's better than I am. If I keep that on my mind the whole game every game, that will keep me going the way I've been going."
As Givens prepares to play in his first career Super Bowl, he took some time to appreciate the fact that the game is taking place so close to home.
"I've been thinking about the Super Bowl since I was 6 years old when I was playing Little League making Super Bowls," Givens said with a smile. "I used to tell my parents I want to play in the big Super Bowl in the NFL. It's kind of ironic that we're here in Houston playing the game."
Some people might find it surprising that Givens is here, just don't expect him to be one of them.