You've no doubt heard that it's often better to give than receive.
That's certainly true when it comes to the head-rattling, bone-crushing hits of the NFL … but not always. Just ask former Patriot Rodney Harrison.
Over the years, some players have been hit so hard (and so often) that they can't remember the worst ones they've ever suffered. Others can recall the exact time, place and person who made them see stars.
And some guys will never forget the best pop they ever delivered to an opponent.
So, which hits topped the Patriots pop charts? Let's count 'em down …
"Miami, my rookie year," the wide receiver said without hesitation. "Rodney got me pretty good on a kickoff return. Yeah, he gave me a nice little clothesline and I kind of woke up a little stunned. But I just never saw him. I was coming through the hole and never saw any safety on the kickoff coverage. He came through and really laid it to me pretty good. I thought I had a good opening, thought I was going to burst through, and he got me pretty good."
And has he ever jacked up an opponent?
"Oh, yeah, absolutely. Most memorable one, when I was in Miami, playing against the Jets, I got [Jason] Ferguson, the d-tackle. He was chasing the quarterback, and he wasn't looking [at me].
"I put him on his back," the diminutive Welker added with a smile. "That was kind of a nice one."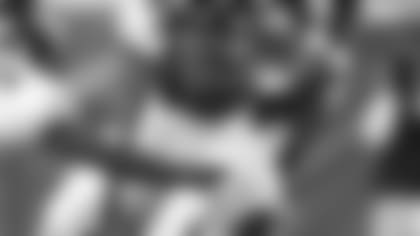 It didn't take long for the wide receiver/defensive back/special teams ace to get his unofficial NFL initiation. His hardest hit came last year in Week 6 of his rookie season, out in San Diego.
"On a kickoff return, it was Brandon Siler. I think that was one of the harder hits I've taken, as long as I've been playing."
Slater was going full-speed ahead on the return, but got de-cleated when he ran into Siler, a linebacker, on the Chargers kick coverage team.
But Slater has had his moments on defense, most recently as a member of the UCLA Bruins.
He recalled, "We were playing Oregon. I got Jairus Byrd pretty good on a punt return. He was headed to the sideline and I don't think he saw me. I laid a pretty good lick on him."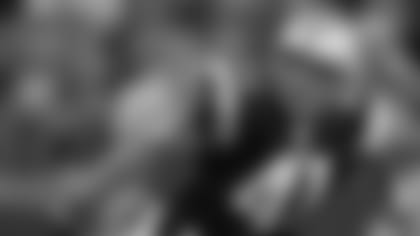 ]()Ventrone couldn't recall any one hit that jarred him more than any other.
But his most memorable tackle was a no-brainer. It came in the most important game of his career – Super Bowl XLII.
After the Patriots had scored the go-ahead touchdown late in the fourth quarter, Ventrone, gunning downfield with the kick coverage unit, nailed Giants returner Domenik Hixon at New York's 17-yard line.
At the time, it appeared to be a game-saving tackle.
"It was playing in the biggest game in the world and I was able to make a play in a crucial time in the game. It was exciting … everybody was going crazy," Ventrone recalled.
In high school down in Texas, Morris played quarterback and safety. So, he had plenty of chances to butt heads with opponents.
"It's either one of those or … one of my stiff-arms in the pros," the Pats running back debated with himself. He decided to tell both stories.
"As a safety, I dropped back into cover two and the other team threw a zero-route to my right side. The ball was in the air and I just went and laid him out [the receiver]. Then [in 2007], against Cincinnati, I got a stiff arm and kind of twisted the guy's helmet up and busted his lip."
The hardest hit he can recall taking came last season, in Week 1 versus the Chiefs.
"Outside linebacker Derrick Johnson got me pretty good. Kind of got me from the opposite side and got a good shot on me. That's the most recent one I remember."
"I've had so many big hits," Harrison said, shaking his head at the thought. "I can't say one particular hit."
Harrison, sitting on the folding chair in front of his locker last fall, leaned back, crossed his arms and began thinking. Finally, it hit him.
"Actually, the hardest hit I ever took was when I was with San Diego, when I hit Jermaine Lewis, who used to be a receiver for the Baltimore Ravens. Little bitty return guy. And I absolutely demolished him coming across the middle. It was on a deep in-route. Yeah, I destroyed him.
"But when I woke up," Harrison continued, "the whole stadium was spinning around for, like, five minutes. I stayed in the game, but, I mean, that was probably one of the most vicious hits I had that hurt me!"
Harrison couldn't help but laugh at himself.
"The ironic part about it was he was only 180 pounds. I hit him so hard, I knocked myself silly."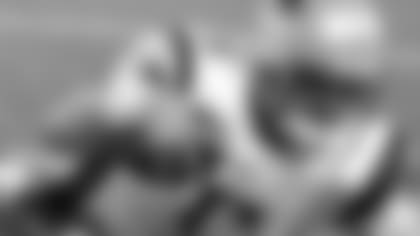 "Oh, man … shoot. Probably in college, against Ohio State," the rookie QB replied when asked to recall the hardest hit he ever received.
"They had three really good linebackers at the time. I don't remember which one in particular it was … it might have been A.J. [Hawk]. I didn't see it coming. I ran up the middle and he got me pretty good.
"You get dizzy, see stars, when you get hit like that. But more so than anything, it was just like everything went quiet for a sec, and then I finally came to and figured out I was all right and went back to the huddle. But at first, you definitely feel it a little bit."
"Most memorable tackle? Probably in the AFC Championship Game [in 2001] in Oakland," he stated.
Thomas was a rookie on the Baltimore Ravens special teams units when the team won the Super Bowl that year.
"It was a kickoff. Big game, you know. Tackle inside the 20 after we had scored. That meant a lot. I was a rookie, didn't play much that year.
"Hardest hit I've taken? It probably would have been on a kickoff return in my third or fourth year … I think we were playing Denver, and I was in the wedge. Some guys have no regard for it. He came down … I can't remember who it was … and by the time we turned around, he was there and was speeding up. Not like most people, who would slow down at that point.
"He didn't actually knock me out or anything, but I was dizzy after that one. That was the only time I ever got hit and was dizzy."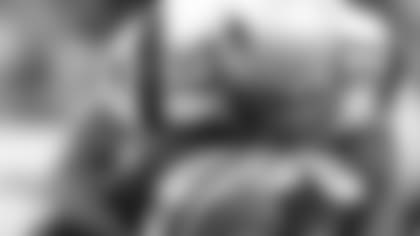 ]()"I had a lot of hits in my day," the 2008 Defensive Rookie of the Year linebacker chuckled. But he was able to remember one in particular from his college days at Tennessee. In a game against Kentucky that saw the winner advance to the SEC Championship.
"I hit Jacob Tamme [now a tight end with the Colts] coming across the middle. The ball flew up, and one of our DBs picked it off. We thought that was going to be the game, but it ended up going into five overtimes.
"It was a pretty good hit, though," he added with a playful laugh. "It's on YouTube. You can YouTube it."
He also had to laugh when he explained the hardest hits he's ever received, all of them from Patriots teammate Logan Mankins.
"He hits me hard all the time. He's a great guy. I've never really been like, 'WOW!' I mean, I've been dizzy quite a few times, but … that's probably why I don't remember it now."
"I guess, I don't … geez," Hochstein exclaimed when asked to name his most memorable encounters on the football field.
"Over your whole career, you take some and you give some. I can't remember a specific one either way. It's hard to say. When you're a lineman, you hit on every play. There's times when you get stuck and get hit pretty good. Other times, you hit someone pretty good."
New England's reserve offensive lineman also plays on special teams, but the good-natured Hochstein – try as he might – just couldn't come up with one.
"On kickoff returns, I've taken some pretty good shots, but nothing really stands out in my mind as harder than any other. Hittin's part of the game. Wish I could help you better … I'm trying to think right now … I can't bring anything to mind."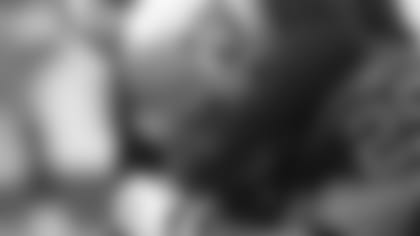 ]()"In high school, I took a guy's helmet off on an option play," said the second-year safety. "We were playing Dr. Phillips [High School in Orlando]. The quarterback pitched it and I just got there right on time and hit the running back."
"I don't know if he's still playing football or not," Meriweather laughed. "It was a hard hit. I don't think he played the rest of that game."
Meriweather remembers getting hit hardest by Quincy Wilson of West Virginia in his freshman year at Miami.
"He just ran me over real bad."
"If it was a hard one, I probably don't remember it," Faulk noted with a laugh. "The hardest one I remember was from [Denver Broncos linebacker] D.J. Williams, couple years ago, on a screen pass. He really got a good shot on me."
And what about the hardest one he ever gave?
Faulk shook his head and smiled.
"I'm not a hitter," he replied.