As has been par for the course this week, the Patriots have been tight-lipped about the trade of defensive lineman Richard Seymourto the Raiders. As of this posting, Seymour had yet to report to Oakland and the circumstances surrounding the finalization of the trade remained unclear.
When he entertained reporters at his locker Friday, fellow d-lineman Jarvis Greenwas reluctant to engage in a discourse about Seymour. But he was more than willing to talk about stepping in, potentially, in place of his former teammate in the season-opener on Monday night.
"Definitely. All the things since I've been here are an opportunity. It's another opportunity to go out there and get better as a football player," Green said.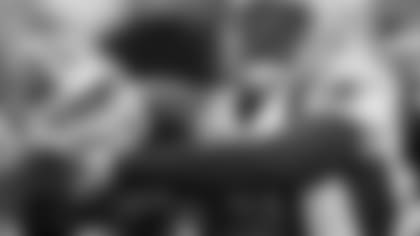 ]()He was asked if he felt that, by trading Seymour, the Patriots coaches were confident in Green's abilities to assume the responsibilities Seymour had with New England's defense.
"I would hope so," replied Green. "Everybody in this locker room is here for a reason. We're all part of the team. We have guys in backup roles and the backup guys have to be ready to step in for the guys who start."
The Pats have six defensive lineman on the 53-man roster, including a pair of rookies, and it wouldn't be surprising if all six were involved in the game against Buffalo.
"It's an unselfish team, and it's been like that since I've been here," Green continued. "The young guys, we just bring them under our wing. They ask a question, we give them an answer."
Green, now in his eight NFL season (all with the Pats), is in the final year of his current contract with the team. But even after all these years, he admitted he still gets anxious for the start of a new season.
"Everybody gets nervous, man," he insisted. "That's the thing about this game – having butterflies. If you're human, yeah."
The jitters haven't arrived yet, however. Although after watching the kickoff game between defending Super Bowl champion Pittsburgh and Tennessee last night, Green can sense them coming on.
"I'll feel that tomorrow. I'm going to go home and go to the movies and enjoy this day. But tomorrow I think it's going to hit. And after watching the game last night, hey … it's the 2009 season."
His pre-game routine, he revealed, is simple: watch TV, review his playbook, and sit down to dinner. Talking on the phone and texting is not allowed, he added.
Reserve wide receiver Sam Aikenadmitted he was surprised to learn yesterday that his teammates elected him one of five Patriots team captains. Aiken will represent special teams.
]()"Being a leader or a captain," Aiken explained, "I think it's more of a vocal role. But I show my leadership by my actions on the field and off the field."
He maintained that his new role won't change his approach, however.
"I'm still going to treat it the same. Which is running hard, showing my presence on the field, and working hard off the field."
This isn't Aiken's first experience as a captain. He was one in college at North Carolina, and says he was the same back then, letting his actions speak louder than his words.
Aiken joined the Patriots as a free agent last season, after five years in Buffalo. In his limited chances on offense, he's shown great hands and has done everything asked of him on special teams. Being elected captain, therefore, is a testament to what his peers think of his contribution to the team in a relatively short amount of time.
"Definitely. It lets me know that my hard work isn't overlooked. That they do see that I am putting in the time and doing whatever they tell me to do."
And as you might expect, count Aiken among those who considers special teams as important an element of the game as offense or defense.
"Think about it," he reasoned, "Every game, how do you start? With special teams."
Friday locker room/practice notes
To help simulate the feel game-time conditions, the Patriots held their Friday practice on their game field inside the bowl of Gillette Stadium. They wore they typical Friday outfit of shorts and shells (smaller, lighter shoulder pads). Overcast skies, intermittent showers, and autumn-like temperatures in the mid-60s set the mood on this solemn of days for our nation.
As for attendance, safety Matthew Slaterand rookie DL Myron Pryorwere the only players missing from the first 20 minutes of practice.
When asked at his locker if he was nervous about his first regular season NFL game, rookie safety Pat Chunganswered with a smile, "Can't be nervous … that's how you get beat."