Call it the dog days. Call it the grind. Call it a necessary evil. Just don't call it fun.
With seven days of practice in the books we've reached the point we're Patriots players simply have to grind it out on the practice fields behind Gillette Stadium with little change to look forward to from one day to the next.
The first preseason game is still more than a week away. Even the new wrinkle of having the Saints come join the practice festivities in Foxborough won't occur until next Tuesday
Wednesday afternoon's workout in shells and shorts was much like the previous 12 to date in camp, even if the dress code was a bit different – Patriots players competing other Patriots players. The days are different but the color of the opposing jersey -- and in many cases the actual players doing battle -- remains very much the same.
The players' bodies may feel like they've put in a week of work, and they have, but that certainly doesn't mean they can rest on their early training camp laurels.
"I think this is the kind of point, really, where the evaluation starts. Not that we haven't been evaluating up to this point in camp, but you need to put your team through stress and that's when you get the evaluations the best – when things are tough and they're tired, they're sore, and they've been through a number of practices," Bill Belichicksaid at his morning press conference. "Maybe training camp is starting to become a little bit of a grind. Well, it is; it is becoming a grind, but that is necessary. You [can] evaluate somebody in the first day when they're fresh and everything is great and [they] go out there and run around for a few plays, but that's not the NFL season that we're in.
"We're in a long, grueling, 16-game regular season schedule with intense competition every week [against] great players, great coaches. Very challenging teams we face every single Sunday. A lot of it is staying power and durability and consistency and reliability and terms like that [that] define to good/great players. I think you start to see that in training camp when you get into that, into the dog days of camp and I think we're coming into that. Our whole team needs to respond to that, too, not just one individual player. We have to find a way as a total team – players, coaches, everybody – to perform consistently on a regular basis. It's good for evaluations now."
Wednesday, Belichick's evaluation of his team revealed that it needed a break from the double-sessions that characterized each of the first six days of camp. The day's morning on-field work was canceled and replaced with some catch-up time off of it.
"We decided to back off practice this morning. It gives us a little time to catch up on film and some meetings and just clean up a few things," Belichick said. "I feel like the players are working hard and we've had a lot of contact, and we felt like this was probably the best thing we could do for our team this morning."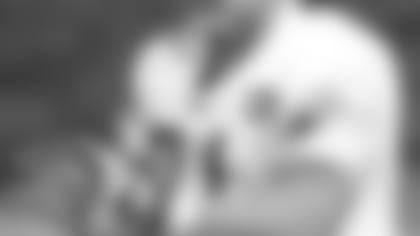 ]()Wise released, Ghiaciuc signed** The Patriots swapped offensive linemen on the roster, releasing rookie free agentJohn Wiseand replacing him with centerEric Ghiaciuc. Ghiaciuc (pronounced GUY-check) is a veteran of five NFL seasons who's started 42 of his 48 career games, all with the Bengals.
Cincinnati's fourth-round pick out of Central Michigan in 2005, Ghiaciuc actually started all 16 games for the team in 2008. The 6-4, 303 pounder finished last season on the Chargers roster, but didn't play in a game a year ago. He adds depth to a Patriots interior line group that's without Logan Mankins (contract) and hasn't fielded Nick Kaczur (unknown injury) since the early practices of camp. Belichick, though, denied any connection between Kaczur's status and the day's signing, calling the two "unrelated."
"Eric has got some flexibility. He has played the inside positions. He's been in the league so he's got a little more experience there," Belichick said of Ghiaciuc replacing the former college wrestler Wise on the roster. "He's played inside and just has a little more experience than John did, obviously. Although I think John did a good job, we just felt like with the preseason games coming up and where our team is, that he'd have a little more opportunity."
The Patriots signed Ghiaciuc after reportedly working him, Darnell Stapleton and Mark Ortmann out on Tuesday.
Schobel an option?A morning Twitter report by ESPN's Adam Schefter indicated that Bills two-time Pro Bowl defensive end and pass rush specialist Aaron Schobelwould be getting his release from Buffalo after choosing not to show up for camp. Given the Patriots need for help on the edge, Belichick was asked about his frequent AFC East foe.
"Right now I'm really just focused on our team," Belichick deflected. "I couldn't comment on anybody with anybody else. He is still under contract with Buffalo, so there really isn't anything… I mean, obviously he is a good player and he's given us great competition on the field."
Schobel had 10 sacks last fall, his ninth in the NFL, and no active player has more sacks (12) against Tom Brady.
]()Rookie free agent inside linebacker Dane Fletchergot some nice praise from Belichick. Fletcher is converting from college defensive end at Montana State, and his coach has seen a quick transition.
"Surprisingly quick, yes," Belichick said. "It's not like he's running with the first team, so he doesn't get a lot of snaps, but he's a very quick learner and he's an instinctive player. He's got a long way to go, but he's made a lot of improvement and he's done well with his opportunities in the spring and now in training camp."
The 6-2, 244-pound defensive MVP of the Big Sky conference had 67 tackles and seven sacks, giving him 16.5 sacks for his career.
His way
Brandon Spikesis just a rookie, but even early on in his career in New England he's being allowed to do things his own, unique way.
"I'm not really sure exactly what his style is," Belichick said. "Our defense is a lot different than what they ran at Florida. Obviously, he's a big, physical player, but I'd like to watch him in our defense a little bit. I think he's got some unique skills. For a tall player, he's got probably more quickness than most guys, probably a little more leverage than a lot of other tall players. He does a lot of things well. It's kind of not by the book but [it's] effective.
"I was just talking to him down there this morning about a couple things that he was doing that are not exactly the way that everybody does them, but he does them effectively and I don't think he needs to change them, but it's just a little bit different. And so how he adapts to certain situations might not be quite the same as, say, Jerod or Gary or somebody else does it, but I think he does it and has done it effectively. It will be interesting to see how some of those things come together. Some may change and become a little more conventional. Some may be a little less conventional, but hopefully equally effective. He's an interesting player to coach."
*Who's hot: *Brandon Spikes – The rookie second round pick has gotten plenty of extra reps with Jerod Mayo over the last couple days thanks to Gary Guyton's absence. He also got some pretty strong praise for his instincts from Belichick. It's still early but the rookie seems to be fitting in nicely.
]()Who's not: *Two-minute offense – Tom Bradystruggled to find any flow and consistency in two-minute work on Wednesday evening. He never got onto the same page as his receivers, was under pressure and when the ball wasn't hitting the ground it was off target and getting picked off by Patrick Chung. Not a good showing for No. 12 and his crew.
Play of the Day: Brady and Co. may have struggled in two-minute, but they hit on a bomb earlier in the day when the quarterback found Randy Moss deep down the middle for a touchdown, beating the coverage of Darius Butler and Devin McCourty. With no safety in sight, there may have been a coverage mix-up. But as they've learned to do over the last three-plus seasons Brady and Moss took a coverage glitch and made it a big-play touchdown.
NotesThirteen players were either absent from the field or did not take part in the afternoon workout. Jonathan Wilhite, Thomas Clayton, Terrence Johnson, Myron Pryor, Ron Braceand Mike Wrightwere all on hand in sweats, while Matthew Slater, Bret Lockett, Gary Guyton, Logan Mankins, Derrick Burgess, Nick Kaczur and Ty Warren were nowhere to be seen. … The session was the first of camp in helmets, shorts and shells – a lighter type of foam shoulder pads. … Beyond just taking his roster spot, Ghiaciuc also took Wise's No. 71 jersey. For what it's worth, Ghiaciuc said his name is Romanian. … Julian Edelman worked with the running backs taking handoffs from the quarterbacks in group drills early in practice. … Fred Taylor threw an option pass to Taylor Price in red zone work for the scout team. Taylor caught the wobbly pass but was out of the end zone. … Zoltan Mesko'spunting is seemingly growing more consistent by the day as he's adding improved situational accuracy to his strong leg. … Brady and Brian Hoyeronce again took turns trying to throw deep balls into a garbage can. Brady hit the can three times, including one on the rim, while Hoyer never touched it. … Belichick's update on whether things were any closer to a conclusion on Burgess' situation? "I don't know." … How 'bout Belichick's prediction as to how likely it would be that Mankins would be part of the team for the regular season opener? "Right now I am focused on the players that are here and trying to get our team ready for a good practice this afternoon. That's really what I'm thinking about." … Belichick characterized Brace's condition as "day to day." … The Patriots will return to the practice field on Thursday for with a pair of practices on the schedule. As stands now New England is slated to work out from 9:30-11:15 a.m. and again from 3:45-5:30 p.m. But, as always, be sure to check back to Patriots.com for any last-minute schedule updates or changes.