Boston Children's Hospital has an ally in Rob Gronkowski. The 2016 Champion for Children's came through again for the hospital, and though this time he left the onesie at home, Gronk still made an impression.
Gronk raised and donated a total of $110,000 to Boston Children's Hospital through a Super Bowl experience raffle. The raffle sent one lucky winner and a guest to Houston for the game, and all of the proceeds benefited Boston Children's Hospital, as well as his Gronk Nation Youth Foundation.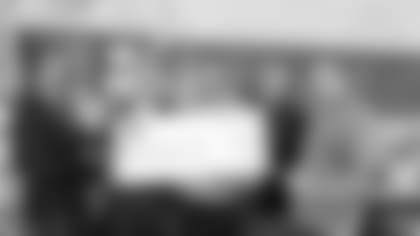 Gronk delivered the check himself, alongside his dad, Gordie Sr., and his brothers, Dan and Gordie Jr., on Feb. 17. While he was there, he of course made sure to visit with patients and their families. 
Gronk hasn't been the only Patriot to give back to Boston Children's Hospital since the offseason began. Martellus Bennett, who accepted the Champion for Children's award on Gronk's behalf in November, has also been dedicated to spending time with patients at Boston Children's Hospital, and he spent this month selling "Hug Football Marty" pillows.
https://twitter.com/MartysaurusRex/status/829192488636280833
For each pillow that was purchased, one was donated to Boston Children's Hospital for patients recovering from heart surgery. Those recovering from heart surgery use pillows for support and to relieve pain when they cough, so Marty's pillows will provide those patients with something to hug after surgery. 
It may be the offseason, but the Patriots take no days off -- especially when it comes to giving back. 
RELATED LINKS