QUINCY, Mass. – Planes descending toward Logan International are so close overhead you can nearly reach up and brush them. To the north, downtown Boston springs up from the horizon. To the northeast, the waters of the Atlantic sparkle.
With pristine visibility from the summit of Granite Links Golf Club, you have a sweeping panorama of the shining city upon a hill. Indeed, with the gentle bay breeze blowing, the soothing, midday sun shining, you get the sublime sensation of being on top of the world.
This is what life must feel like every day for Rob Gronkowski since signing his six-year $54-million contract extension earlier this month.
"I'm just really happy. Both sides are happy," he said Monday, with beaming Boston serving as his backdrop. These were his first public comments on the new deal.
"Very happy to be here. I love all my fans out there. We have a great community, great team. It's awesome going out there every single Sunday in front of that crowd. So, I'm happy to be here long-term, definitely. I just feel like both sides are really happy. It all worked out well."
The ubiquitous Gronkowski has been going seemingly non-stop since being the talk of Super Bowl XLVI, when his left ankle, injured in the AFC Championship Game, left him at less than full strength for the biggest game of his career. He had surgery shortly thereafter, but has kept a frenetic schedule this offseason, culminating with his mega-deal some 10 days ago.
Clearly reluctant to discuss his new fortune, the All-Pro tight end tried to stress that he won't let success go to his head. He said he hasn't made any grand purchases, and that he's "grinding" – working out, eating right, running routes, and catching passes – to be in shape in time for training camp at the end of July.
Bounding onto the practice green, just before teeing off for the fourth annual Joe Andruzzi Foundation Golf Tournament, Gronkowski proclaimed his surgically repaired left ankle "great," but wouldn't definitively say if he'd be ready to practice once camp begins.
He seemed to know the answer, but when asked, simply replied with a laugh, "Not telling you."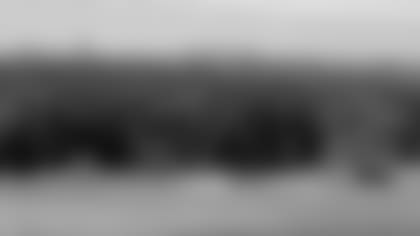 Gronk was more than willing, however, to discuss his reason for appearing on the links this glorious Monday. Though a self-described "hack" who rarely golfs, Gronkowski didn't think twice when asked to help former Patriots guard Joe Andruzzi, who is one of New England's assistant strength coaches. Andruzzi, a cancer survivor, started a charitable foundation four years ago to help families dealing with a loved one with cancer.
"He's been through so much, his family," remarked Gronk, who served as a guest co-host with teammate Rob Ninkovich. "It's a great cause. We're out here, just going to have a blast and support him."
"What we're about is to help families who are struggling," explained Andruzzi. "I was fortunate to play in the NFL for 10 years. Others aren't as fortunate. I know those walls close in on you at the hospital. I'm getting poked with needles, but my wife and kids were going through it to. Many people out there are doing the same thing.
"Sometimes a caregiver has to leave their job, and, you know, the mortgage still has to be paid, rent needs to be paid, utility bills… and that's where our foundation steps in. Since 2008, we've helped over 100 families, donated over $300,000 to brain cancer research. We're excited to do more. That's why we're here today."
"Anything I can do to help out, I think it's great what Joe's doing to help families," added Ninkovich, the Patriots linebacker. "Being a part of something like the NFL where you can actually help someone and make a difference in their life, I'm really happy to be able to do it. So, I'm happy to be here and … see if I can hit a golf ball straight."
Joining them on a perfect day for 18 holes of golf were several corporate, group, and individual sponsors, as well as numerous Patriots coaches and players, including left guard Logan Mankins, center Dan Koppen, and others. Running back Kevin Faulk, listed on the official program as a Patriots alumnus, reiterated that he would be willing to play one or two more years in the NFL… but only for the Patriots, and only if they ask him to come back.
He's made that point clear on more than one occasion this offseason, and so far hasn't heard word one from the team – a fact that he admits has frustrated him.
"Of course. I'm human. But at the same time, you keep your trust in God, you understand the business, and you move on," he stated.
And if that call never comes?
"Kevin Faulk is done. It's as simple as that," Faulk declared. "Your career comes to an end at some point."